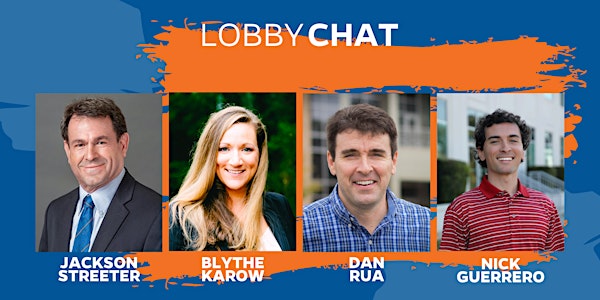 Lobby Chat @ The Hub: To Venture or Not to Venture
Join us for an afternoon caffeine pick me up, some networking, and a chat about venture capital
When and where
Location
UF Innovate | Accelerate @ The Hub 747 Southwest 2nd Avenue Gainesville, FL 32601
About this event
June's Topic: to Venture or Not to Venture
Join us in the Hub lobby for a casual chat where we drink great coffee and learn all the best startup hacks. This month we'll be talking about which funding source is a good fit for your startup. Is venture right? Maybe yes, maybe no. Hear from our panel and choose for yourself!
Your Moderator:
Jackson Streeter, UF Innovate Ventures
As the director of UF Innovate | Ventures, Dr. Jackson Streeter will lead efforts to fuel consistent growth in the number and quality of UF technology-based startup companies. He will source new venture investments, prepare in-depth financial and data analyses for potential investments, work closely with angel groups and other investment funds, and develop entrepreneurs. Jackson will serve as a liaison between public and private sectors in the application and implementation of an investment program intended to support UF startups.
Before joining UF Innovate, Jackson was the CEO and executive director of the Florida Technology Seed Capital Fund, a seed-stage venture fund investing in companies commercializing technologies developed at Florida universities, colleges or research institutes. Under his direction, the fund created more than 50 companies with private investment matching Florida state funding at a 9:1 ratio. Jackson also served as the CEO of Banyan Biomarkers, a UF startup commercializing the first-ever blood test for traumatic brain injury that received FDA clearance in early 2018. Jackson also founded and served as CEO for PhotoThera, Inc., where he raised more than $120M in private capital and designed and managed five U.S. and international clinical trials for the treatment of stroke. He also co-founded American Veterinary Laser, which was acquired in a private transaction.
Jackson is the inventor of more than 20 patented technologies and the author on multiple scientific publications.
He earned his B.S. degree in biology from the University of Nevada Reno and his M.D. from the University of Nevada School of Medicine. He served as an officer in the U.S. Navy, completing a general surgery internship at Naval Regional Medical Center in Portsmouth, Virginia, and then primary flight school at the Naval Air Station in Pensacola. During his military service, he was the first naval flight surgeon selected as a Top Gun staff instructor, served on several overseas deployments, and was awarded the Navy Achievement Medal and the Navy Commendation Medal.
Your Panelists
Nick Guerrero, PS27 Ventures
As an Investment Analyst with PS27 Ventures, Nick is responsible for identifying and evaluating investment opportunities and supporting portfolio company management teams. In addition, Nick also contributes to PS27's Scout Program and travels throughout the region to search for the latest technology startups in SaaS, Fintech, E-Commerce, Healthtech, and companies focused on sustainability.
Blythe Karow, Karow Consulting
Blythe Karow is a medical device executive with over 20 years of experience in the industry, working both as a strategic consultant and on the industry side including medical device companies ranging from Fortune 100s to co-founding her own startup. Award-winning speaker and panelist at medical device and innovation conferences, she brings a background of strategic business management with deep expertise in human-centered product design and development. Blythe also has a demonstrated ability to develop innovative and cost-effective solutions for enhancing competitiveness, manage products from conception to market launch, and identify & evaluate acquisition, licensing, and market growth opportunities. Blythe's main strength is the ability to quickly analyze complex business issues and devise customer-centric solutions.
Dan Rua, Admiral
Dan Rua is CEO of Admiral, The Visitor Relationship Management (VRM) Company. Admiral VRM helps thousands of digital publishers worldwide grow visitor relationships and revenue, via adblock recovery, paid subscriptions, registration walls, email/identity, GDPR/CCPA privacy consent and more. Admiral VRM offers one tag, one vendor, one consistent visitor experience; cleaning up the multi-vendor Frankenstein of 5-10 vendors fighting over a visitor's attention -- improving UX and growing Average Revenue Per Visitor (ARPV).