Description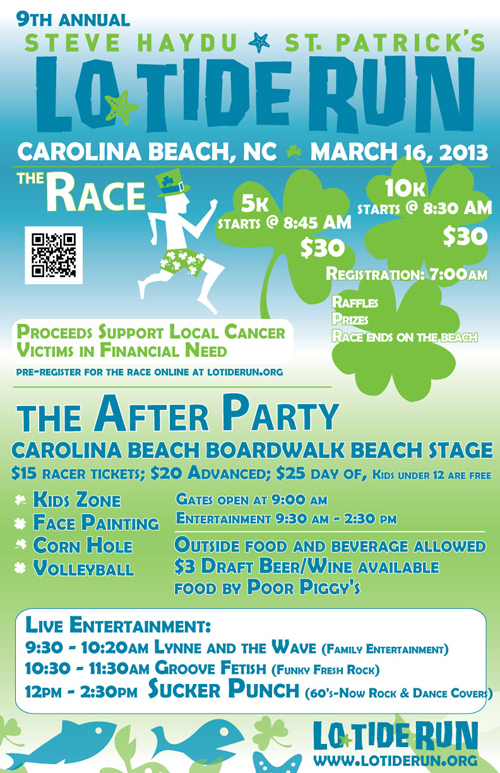 The 9th Annual Steve Haydu St. Patrick's Lo Tide After Party is back!! This year it is being held at the Carolina Beach Boardwalk Beach Stage. Gates will open at 9am and live entertainment will start off for the kids with Lynne and the Wave, then the local soulful tunes of Groove Fetish, and Sucker Punch will be providing the best mix of Rock, Pop, and R&B covers from the 60's through today's music to close out the party.

Tickets are $15 for pre-registered racers (www.lotiderun.org) or at selected sponsor locations, $20 online (http://lotide.eventbrite.com), or $25 on the day of the event.

This year outside food and beverages are allowed into the party. So pack up a cooler with any type of beverages and snacks and make a day of it at the beach while supporting a great cause. $3 Budweiser draft beer and wine products will also be available for purchase. There will be loads of beach activities, a family fun zone, face painting, and food served by local favorites Poor Piggy's.

Starting at 930AM is Carolina Beach's own Lynne and the Wave. They will bring you the same family fun that they do every Tuesday Night during the summer at the Boardwalk. Hula hoops, dancing, sing-a-long, and maybe some green hairspray for the kids. This is going to be an exciting start to an awesome After Party.

At 1030AM Groove Fetish will take the stage. Groove Fetish is a 4 piece Jam Rock band from Wilmington, NC that will surprise you with their eclectic sound from a wide variety of influences. Groove Fetish's influences include: Grateful Dead, Widespread Panic, Phish, Talking Heads, Galactic, Moe, 90's rock, and blues music. Coming from varying musical influences and ability, the band is focused on creating a fun, upbeat sound that people can't help but move to and hopefully be moved by.

The headliner is Sucker Punch out of Greensboro, NC is an all-out party with something for everyone. Since forming in 2001, Sucker Punch has established themselves as the "go to" band for anyone wanting the best possible music and party experience. Sucker Punch plays the best rock, pop, dance, and R&B from the 60's to Now. Sucker Punch performs an average of 100 dates per year, at some of the Southeast's most prestigious colleges, festivals and clubs, as well as weddings and corporate events, and were the 2006 Stanley Cup Champion Carolina Hurricanes' game 7 good luck charm, performing at both The Eastern Conference Finals Game 7 and The Stanley Cup Finals Game 7! Sucker Punch covers all the bases with a constantly expanding play list of over 100 songs sure to keep you entertained and dancing through the afternoon on the beach.

While you are enjoying the sun, sand, surf and sounds for the Lo Tide After Party there will also be beach games available to play, a Kids Zone, Poor Piggy's selection of St. Patty's Day foods and Budweiser products available for purchase.

This is an event that you don't want to miss. So after you run, walk, or crawl your course, hang out the rest of the day at the beach and have a great time while supporting a great cause! Race registrants can purchase discounted After Party Event tickets atwww.lotiderun.org for $15 each (with no limit on quantity) when they register for the race. If you are not planning on racing you can purchase tickets for the After Party Event and still help out a great cause and have a great time by going towww.lotide.eventbrite.com for $20 each, and children under 12 are FREE.


Organizer of Lo Tide Run After Party