Event Information
Refund policy
Contact the organizer to request a refund.
Eventbrite's fee is nonrefundable.
LnF Events ONLINE presents: PRIMAL PLAY 101 w/WileyWolfe!!
About this event
Topic - PRIMAL PLAY 101
scroll down for details...
May 14th, 2021 6-8pm (pst)
Eventbrite link for tickets:
# https://primal-play-101.eventbrite.com
Please purchase tickets BEFORE ticket cut off on May 14th at 5:30PM (pst)
You will receive Zoom info approx 20-25 min before class begins.
Fetlife Event page: https://fetlife.com/events/986588
Class Description:
Have you ever experienced the urge to growl, scratch, or howl? Do you feel connected to animalistic energy in a way that does not necessarily resonate with pet play? Does the concept of the hunt, to capture or be captured, entice you? Do you prefer to act in ways that are in tune with your inner instincts?
If so, you might be primal.
This class is designed to introduce you to the concepts of primal play, provide vocabulary, and give you the right tools to get started on your primal journey.
You'll also learn:
What it can mean to engage in the primal lifestyle;
Tips to get to know your primal self;
Ways to tap into this energy both while alone and with a partner;
Negotiation tips specific to primal;
Physical and psychological safety;
Types of scenes;
How primal can relate (and not relate) to traditional BDSM dynamics;
And ways to explore from there!
The primal lifestyle is a rich, nuanced, and profoundly personal experience. The adventure starts here.
My Bio:
Mistrexx Wiley Wolfe (she/they) is a Professional Dominant and Ethically Polyamorous Primal Daddy based in Los Angeles, with over 5 years in the lifestyle. Her Primal energies align primarily with the Wolf, though also with the Coyote and Hyena.
She is the Co-Founder of SoCal Creatures, an inclusive pet play group; Quench, a LGBTQIA+ munch/meetup; and created the Wolfe Academy of Kink, an online kink education series. Pre-pandemic, she often worked various clubs and events, including LA Pride, Torture Garden LA, Bar Sinister, and more.
As a gay genderqueer person, her driving desire is to foster connection, education, ethics, and expansive inclusivity in BDSM.
She welcomes the curious to follow her at-
Website: www.WorshipWileyWolfe.com
Instagram/Twitter: @wileyxwolfe
FetLife: @WileyWolfe
~~~
ACCESS:
Zoom does not provide closed captioning, however, I recommend the Live Transcribe App. It is free, easy to use, and works well with virtual events.
This will be a live, online class offered through Zoom. To participate, you will need to download the free, basic version of the Zoom app before the class! This class will not be recorded and is not available for later viewing.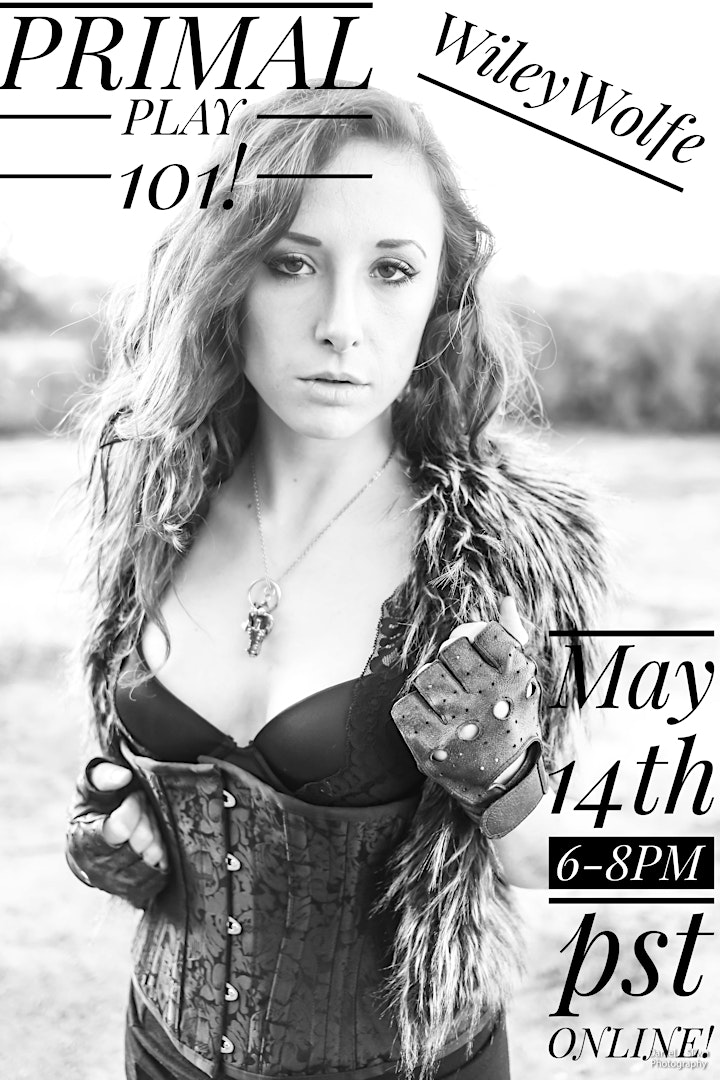 Date and time
Location
Refund policy
Contact the organizer to request a refund.
Eventbrite's fee is nonrefundable.
Organizer of LnF Events ONLINE presents: PRIMAL PLAY 101 w/WileyWolfe!
Jenn Bio
Lostnfound1 (aka Jenn) has been active in the BDSM lifestyle and community since 2010. She is a licensed Marriage and Family Therapist who specializes in BDSM, power exchange, ethical non-monogamy, and relationship therapy. She has also been teaching the BDSM 101 Class Series every Monday night at SanctuaryLAX since Jan 2014. After every class, she hosts a munch at the local tiki bar.
Jenn also leads the SoCal Polyam Support group once a month for anyone interested in or already living a polyam lifestyle.
Jenn runs LostNFound Events which hosts several local parties at SanctuaryLAX. Club Awakening, a party she designed for newbies, has been a monthly party for over 4 years. Kinky Karaoke Play Party is another monthly event that is over 3 years old, combining the fun of karaoke (with a professional KJ) and kink! Keep an eye out for Pet Play Extravaganza – an annual party completely devoted to those interested in or actively enjoying pet/animal play (and their owners/handlers of course!), and our
newest party – the Dungeon Drive-In Play Party! A movie marathon party with different themes plus a chance to play as well!
Jenn has been a presenter at DomCon LA 2016, 2017 & 2018 and has taught various classes at her local dungeons all over SoCal.
Please check out any of these with the links below!
Jenn has a website with info for her events and practice, along with blog articles. Please sign up for her newsletter there so you can stay on top of all her events, classes, and special engagements!
For more info:
BDSM 101 Class Series: https://fetlife.com/groups/89185
SoCal Polyam Support Group: https://fetlife.com/groups/113039
Club Awakening: https://fetlife.com/groups/138431
Kinky Karaoke Play Party: https://fetlife.com/groups/158264
Pet Play Extravaganza: https://fetlife.com/groups/169788
Dungeon Drive-In Play Party: https://fetlife.com/groups/186753
Website: www.akinkshrink.com
Follow on Social Media:
Instagram: https://www.instagram.com/lostnfoundevents/
Twitter: https://twitter.com/lostNfoundOne  
Facebook: @Jenn Lostnfound
Fetlife: lostnfound1  AND lostnfoundEvents