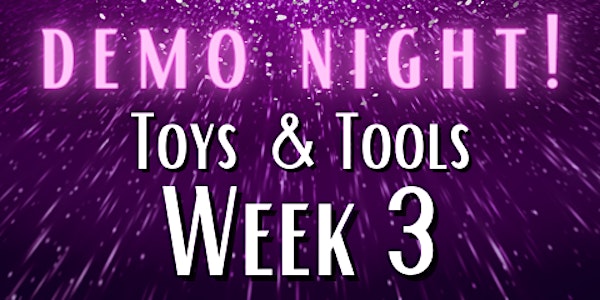 LnF Events: BDSM 101 class Feb 7th!! DEMO NIGHT!
LnF Events: BDSM 101 class Feb 7th!! DEMO NIGHT! **FULLY VACCINATED IN PERSON & ONLINE EVENT**
Date and time
Monday, February 7, 2022 · 7 - 9pm PST
Location
Sanctuary Studios LAX 10914 S La Cienega Blvd Lennox, CA 90304
Refund Policy
Contact the organizer to request a refund.
About this event
BDSM 101 DEMO class Feb 7th!!
Toys and Tools: What Are They and How do I Use Them?
## Eventbrite link for tickets (must pre-order tickets for in person AND on-line!)
# https://bdsm101-demo-feb2022.eventbrite.com
___
THIS IS A HYBRID CLASS!!!
This means that a limited number of tickets will be sold to those who wish to attend this group in-person, while a larger number of tickets will be made available for those who wish to attend this group virtually. Even though SanctuaryLAX is taking every precaution to make sure that this event is safe and in compliance with CDC codes, please understand that public gatherings, even socially distanced ones, involve a higher risk than virtual encounters.
SanctuaryLAX will only be allowing vaccinated guests to attend this in-person group!
Please bring proof of your vaccination by showing us your completed vaccination card at the door! If you show up and cannot provide proof of your full vaccination, you will be turned away with no refund. Please do not purchase a ticket for this event if you are not fully vaccinated. Thank you!
~~~~~~~~~
What is SanctuaryLAX doing to ensure that this event is safe, controlled, and compliant with current covid-19 restrictions?
SanctuaryLAX is taking great care to make this in-person event as safe as possible. We are aware of CDC guidelines and will be instigating the following measures to ensure that guests and volunteer staff are not exposed to unnecessary risk:
Social Distancing: Social distancing is strongly encouraged, especially for guests who are not part of the same pod. However, this is not mandated at a fully vaccinated event.
Requiring Masks: Masks are now mandatory at vaccinated-only events and classes.
Administering Hand Sanitizer: Guests will be required to use hand sanitizer before entering our facility and may be asked to use hand sanitizer again upon exiting.
Tickets Purchased Beforehand: All tickets will be purchased beforehand to minimize the need for contact. This means that nobody will need to handle credit cards or cash. Please do not attempt to purchase a ticket at the door. We will only allow people through who have registered online via eventbrite and reserved their space by paying in advance.
Upholding CDC Occupancy: As CDC guidelines continue to change, we will continue to honor them. Our in-person events and classes are vaccination only, which means that our occupancy numbers will reflect that.
**Los Angeles County Department of Public Health Protocols
For Private Events where ALL guests are fully vaccinated against COVID-19 and the event holder verifies ALL attendees' full vaccination status, the event operations may be altered as follows:
•Attendees need not maintain a physical distance from other guests, including for any seating arrangements. Attendees must still maintain at least a six-foot physical distance from all employees of the establishment or any performers/speakers.
•Attendees may move freely around the event space while consuming food and beverages, provided that the event space is contained, and attendees do not come in contact with individuals who are not attendees at the event.
For purposes of this protocol, people are considered fully vaccinated against COVID-19at ≥2 weeks after they have received the second dose in a 2-dose series (Pfizer-BioNTech or Moderna), or ≥2 weeks after they have received a single-dose vaccine (Johnson and Johnson [J&J]/Janssen).
___
DEMO NIGHT!
Come learn the basics if you're new to the scene or refresh your memory if you've been at this a while! Watch demonstrations of many toys and hands on play and get the chance to check out the toys up close!
There is usually also a vendor there if you'd like to start (or add) to your toy bag!
Every 1st Monday night at Sanctuary LAX 7-9pm and Online. Class begins at 7pm.
Click here for Fetlife event page: https://fetlife.com/events/1074180
Click here for the group page: https://fetlife.com/groups/89185/about
Can't wait to see you there!
Toys and Tools: What Are They and How do I Use Them?
LIVE DEMO!! This class will go over various toys/tools/implements and basic information about how to use them. From different ways to use your bare hands to fun things like crops and floggers! We will also cover basic protocol (common courtesy) when you are playing - or watching others play - publicly.