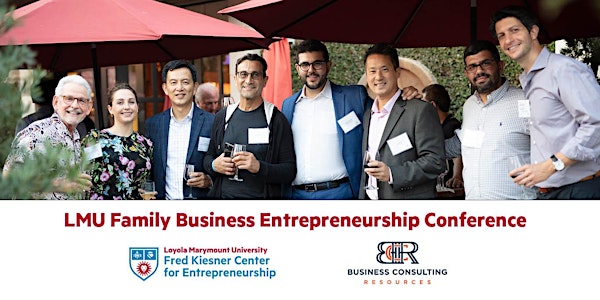 LMU Family Business Entrepreneurship Conference
Join us for our second annual LMU Family Business Entrepreneurship Conference!
When and where
Location
Loyola Marymount University - Playa Vista Campus 12105 E Waterfront Drive Los Angeles, CA 90094
Refund Policy
Contact the organizer to request a refund.
Eventbrite's fee is nonrefundable.
About this event
YOU'RE INVITED!
Join us for our second annual LMU Family Business Entrepreneurship Conference! This will be a truly special event with an exceptional lineup of speakers and panelists.
Don't miss the opportunity to hear top thought leaders and business leaders share their approaches to emotional intelligence, innovation, family office investing, and governance.
Conference Schedule
9:00 a.m. | Doors Open, Networking, and Light Breakfast
Sponsors Tabling + Swag Giveaways
9:30 a.m. | Opening Remarks - Emcee Professor Sona Gala
Lee Andrews, Chair, LMU Family Business Entrepreneurship Advisory Board
Dayle Smith, Dean, LMU College of Business Administration
David Choi, Conrad N. Hilton Chair of Entrepreneurship
Jean Santos, President, BCR
10:00 a.m. | Keynote by David C. Bentall – "Emotional Intelligence for You and Your Family"
David is a third-generation executive and educator, from Vancouver, After 2 decades working in the family's real estate business, he has now spent the past 25 years serving other families as a family enterprise advisor. David is also co-founder of the Business Families Centre at UBC's Sauder School of Business, and an award-winning author. His second book, Leaving a Legacy, is a practical and highly personal exploration of how to successfully navigate family business succession. His most recent book, Dear Younger Me: Wisdom for Family Enterprise Successors, will be presented at the conference.
There will be time for Q&A
11:00 a.m. | Dear Younger Me
Panelists will share personal reflections regarding what advice they would offer to their younger self, if they could only travel back in time, to share the wisdom and insights they have picked up along the way. This star studded panel will include Beatriz Porto of the famous Portos Bakery & Cafe, Dennis Parnagian of Fowler Packing, and Karen Dial of Drollinger Properties.
Panel Moderator: David C Bentall
12:00 p.m. | Lunch + Table Discussions
Over lunch David C. Bentall – will facilitate a thought provoking exercise, during which we will all be invited to share our own "Wisdom and Insights" as we look back, with the benefit of hindsight. (you won't want to miss this opportunity to learn from yourself and your table mates!)
1:15 p.m. | Coffee Break and Book Signing with David C. Bentall
1:45 p.m. | Keeping the Entrepreneurial Mindset in Every Generation
How can we keep the entrepreneurial spirit alive in family businesses? LMU Professor Alex Glosenberg will introduce his cutting-edge research on the entrepreneurial mindset and recommend strategies for enhancing it in ourselves and our future generations.
2:30 p.m. | Fireside Chat | Growth Story of Porto's
Porto's Bakery & Café has been a beloved bakery and restaurant for decades, but in recent years, it has embarked on a growth strategy that has significantly expanded its presence. The fireside chat will ask Beatriz Porto to reflect on the family business' remarkable growth as well as the mindset and strategies it employed to successfully achieve their growth goals.
3:30 p.m. | Family Office: Investing in High Growth Ventures
A panel on managing the family office with a special focus on investing in and growing a startup. Panelists will include representatives of King's Hawaiian, TYLT Ventures, and others.
4:30 p.m. | Conference Close & Happy Hour
Learn more about the LMU Family Business Entrepreneurship Program here.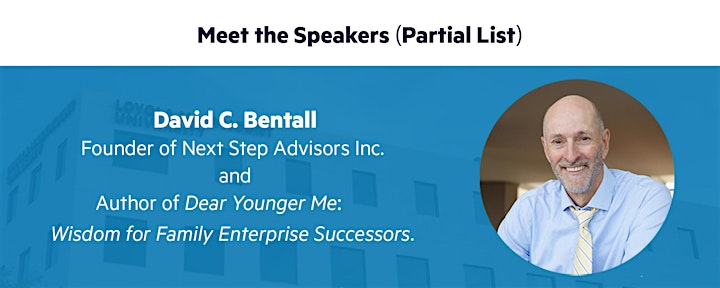 David is a third-generation member of the Bentall family from Vancouver. Educated at UBC and the Harvard Business School, he worked for the family business for 20 years, including 7 years as President and CEO of Dominion Construction. After the family business was sold in 1998, he co-founded the Business Families Centre at UBC's Sauder School of Business, where he served as founding chair for 5 years. Since that time he has been as an adjunct professor, teaching undergraduate and MBA courses, as well as workshops for professional advisors, on behalf of the Family Enterprise Exchange. As the founding principal of Next Step Advisors Inc., David provides family business advisory services for clients globally. He is an executive coach, certified by the International Coaches Federation. In 2012, was recognized as a Fellow of the Family Firm Institute for his dedication to the field. David is the award-winning author of The Company You Keep. His second book, Leaving a Legacy, is a practical and highly personal exploration of how to successfully navigate family business succession. His most recent book, Dear Younger Me: Wisdom for Family Enterprise Successors will be released in December 2019. David is a four-time gold medalist at the Canadian National Water Ski Championships, and in 2013, he was ranked the number one male slalom skier in the world ( in his age group). He and his wife Alison have been married for over 40 years. They have four children and eight grandchildren.

Betty Porto was born in Cuba and migrated with her family to California in 1971. Her mother opened the first Porto's Bakery location shortly after arriving and Betty and her siblings worked there after school every day, throughout high school and college. Betty earned a Bachelor's degree from Cal State LA and received her Master's degree in Political Science from UCLA. Once she graduated, she focused on helping with the expansion of her family's business and settled into her role as Vice-President and Director of Community Relations.
In 2005, Betty was named Latin Business Woman of the Year by The National Latin Business Women Association. That same year, Porto's Bakery was named the Nations Retail Bakery of the Year by the prestigious Modern Baking Magazine and Business of the year by the Glendale Kiwanis Club in 2007. In 2008, The Glendale Latino Association named Betty Woman of the Year. The Glendale Chamber of Commerce celebrated their 100th anniversary by naming Porto's Bakery business of the year for 2011. In 2016, Porto's received the distinguished Elizabeth Burns Lifetime Achievement Award given by The California Restaurant Association. In 2019, Yelp named Porto's the number one spot of the top 100 places to eat in the US. In 2020, the Porto Family received the Robert Mondavi Wine & Food Award at Hospitality Uncorked. Most recently, Betty was honored with the 2022 5th District Women of the Year Award by the Los Angeles County Commission for Women.
Today, Betty has the pleasure of working alongside hundreds of local organizations such as the Los Angeles Union Rescue Mission, The Boys and Girls Club of Burbank, Giving Children Hope Buena Park, AltaMed, CHLA and the Food Help Program of Downey, just to name a few. Betty is also a member of the Glendale Arts-Alex Theatre Advisory Board and the Magnolia Park Merchants Association Board.

Dennis Parnagian leads their family business, Fowler Packing, started by his father Sam in 1950. Dennis and his three brothers expanded the business to include brands such as peelz™ California Mandarins, SamSonS Table Grapes, pistachios, almonds, and other citrus. Four years ago, he and his generation stepped down to let the next generation run the show! Fowler Packing is one of the largest growers, packers, and shippers in the fresh produce business, handling over 7 million boxes of stone fruit and table grapes, and 15 million boxes of citrus per year.
Parnagian is a graduate of the University of San Francisco, has been a member of several boards, and currently serves on Fresno State's President's Commission on the Future of Agriculture, the Jordan College's Institute for Food and Agriculture advisory board, and the Armenian Artists Project.

Karen and her family have a long-standing history and connection to the Westchester community. Her grandmother built the first commercial building in Westchester in 1943 when the community consisted of only wheat and barley fields next to a small airport called Mines Field. Karen's parents were guiding forces in the development of Westchester through their business Drollinger Properties, and their community involvement in the YMCA, Rotary, Flight Path, Aero Club and the Chamber of Commerce, just to name a few.
At age 20, Karen married her junior high sweetheart, Ken Dial, and spent the next 15 years working as a secretary and office manager while her husband completed his education. Once Ken became a professor at the University of Montana, she was able to embrace raising her children while serving on the Boards of several non-profits. Beginning in 1997, she served on the Drollinger Properties' Board of Directors and began working for her dad where she got to learn about his thought process, priorities and passions. Following his passing in 2006, she was appointed president and set out to take on the responsibility of his company and community.
As she learned the business and became reacquainted with her hometown, she realized she wanted to bring a bookstore to Westchester. Unable to lure an existing bookstore, she decided to open one with the help of her daughter, Natalie. Karen believes a bookstore is the heart of a community, a gathering place for learning, camaraderie, dreaming, empathy and acceptance. Fast forward a few years, during the global pandemic, they opened The Book Jewel in The Triangle Neighborhood of Westchester.
Natalie and her daughter took their time to create a bookstore that exudes warmth and charm. They opened The Book Jewel with faith and determination and continue to grow their relationships with an open mind and heart. Their goal is to offer a safe space for learning, dreaming and exploring the world. Karen continues to serve on the following Boards: Westchester Streetscape Improvement Association, Westchester Town Center BID, Westchester Farmer's Market, Drollinger Family Charitable Foundation and Focus on Tanzanian Communities.
The Drollinger Family Charitable Foundation happily supports local non-profits such as Westside Pacific Villages, Westchester Rotary Foundation, Sunrise Rotary Foundation, EmpowerTech, Airport Marina Counseling Services, Westchester Farmer's Market and the YMCA. They also support the local schools and colleges including LMU and Otis.

Andrew '17 is a Los Angeles-based investor and entrepreneur who currently serves as the lead venture investor for Outcomes Fund, a single-family office with a focus on climate. He also advises on fund strategy as a venture partner at both Starshot Capital, an early-stage climate firm, and Conscience, an early-stage consumer-focused science firm.
Previously, Andrew founded SMSages, an early company in the push notification space; Shrewd Travel; and most recently Orana, a data collection and prediction platform for mental healthcare. He has spoken on entrepreneurship and investing for the South Korean Government, UCLA, and Novartis, among others.
In his free time, Andrew is an entrepreneur-in-residence and serves on the advisory board of the Fred Kiesner Center for Entrepreneurship at Loyola Marymount University.

Rami Rostami is an entrepreneur and investor. He is founder and CEO of Tylt, a leading manufacturer and distributor of consumer products including consumer electronics, phone accessories and others best-selling consumer products. Tylt has been a recipient of numerous CES Innovation awards. Rami is also CEO of Tylt Ventures, a venture capital firm with portfolio companies in a number of industries that include robotics, healthcare technology, and logistics, among others. He was an EY 2014 Entrepreneur of the Year finalist. Rami enjoys working with his two sons Ryan and Rustin who are both involved in the business.

CyVan (Sai-Ven) Yamamoto was born and raised in Hilo, Hawai'i and is a graduate of the Loyola Marymount University College of Business Administration. He is currently the Director of Strategy and New Ventures at Irresistible Foods Group (IFG) and Director of the Family Office During his time at King's Hawaiian and now at IFG, he has been responsible for investment and acquisitions, corporate reorganization & governance, been involved in strategic planning, and led multiple strategic projects. In his role at the Family Office he currently works with a team of advisors on estate planning, governance, tax strategy, and philanthropy. What really drives him is the opportunity to work alongside a team of inspiring, like-valued individuals to create value in various areas. There's nothing more he could ask for. A friend once told him, "it's ok to take as much as you can from the world… just make sure you put twice as much back," and he's tried to live his life with that in mind ever since. During his free time, he enjoys attending live music events, playing guitar, singing, binging a good television series, and spending quality time with family and friends.