Description
Calling all yogis! Join us in the fight against blood cancers at the 1st Annual YOGA MARATHON, proceeds benefitting the Leukemia & Lymphoma Society of Canada (LLSC).

- WHAT'S A YOGA MARATHON? -
A Yoga Marathon is yoga performed over an extended period beyond the traditional one-hour long class format and performed either continuously or with intermittent breaks (aka complete 3 classes and get a sweet prize!)

- WHY PARTICIPATE? -
To get your sweat, drink and social on! All while raising meaningful FUNds for the LLSC to help cure leukemia, lymphoma, Hodgkin's disease and myeloma and improve the quality of life for patients and their families.


- EVENT LINEUP -
- Keynote speaker
- 9 Yoga classes (across 2 fitness studios)
- Classes starting every hour, on the half hour from 3-8pm
- Each class is 45 minutes (15 min break in between)
- Max 25-28 yogis per class
- Variety of themes, styles and difficulty levels
- Sign-up for the themes that interest you!
- Refuel between classes with complimentary food & juice
- Happy Hour following last class with $5 drinks and DJ!


- PRICING -
- 1 class $20
- 2 classes $35
- 3 classes $45 (*marathon status)
*Marathon status qualifies for surprise gift bag
(Note multi-class packages can only be used by one participant and cannot be shared)
- CLASS SCHEDULE -
- Class schedule below
- Register for your class(es) after purchasing your ticket!
- Classes fill on a first-come, first-served basis
*As of May 2nd all classes still have spots available!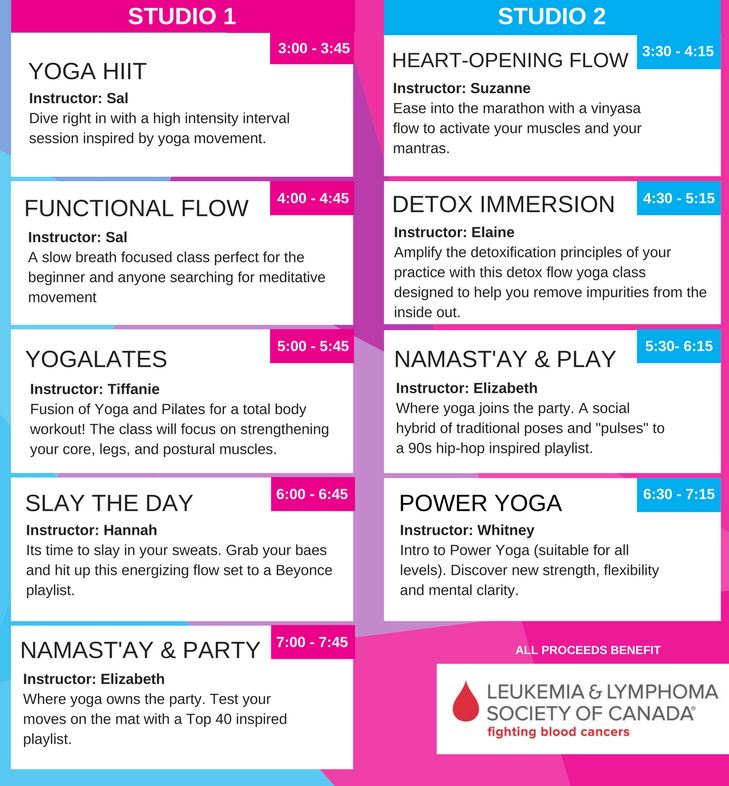 - THANK YOU TO OUR EVENT SPONSORS! -
- KPMG
- The Hydrafacial Company


- FAQs -
Q: What do I need to bring to the event?
Bring your own Yoga Mat if you have one, rentals will also be available for $5.
Q:What if I am BRAND new to Yoga ?
All skill levels are welcome! Classes will be available for all experience levels
Q: How do I complete the marathon?
Complete 3 yoga classes and complete the yoga marathon! Special prizes for marathon finishers. Yoga marathoners can either complete 3 classes in a row (15 minute break between each class) or choose to break up their 3 classes by taking a class off and enjoying a longer hour break inbetween classes.
Q: How do I sign-up and choose which class I want to attend?
Sign-ups for your favorite class after purchasing your ticket to the event!

Q: Are there change rooms / lockers / showers available?
Yes! There are separate female and male change rooms and there will be access to lockers. Women's change rooms also have showers (sorry men!)
Q: Do I need to bring a towel?
Nope, elle fitness has towels for you!
Q: Are there ID or minimum age requirements to enter the event?
The event can only be attended if you are 19 years of age or older. Please bring your ID if you wish to enjoy drinks at the cash bar!
Q: Can I buy drink tickets online?
Yes! Buy your drink tickets online via Eventbrite and pick them up when you arrive.
Q: Can I use plastic at the cash bar?
No, the cash bar will only be able to take cash! Try and buy your drink tickets ahead of time online and get your drink tickets when you arrive!

Q: Can I purchase 2, 3, or 4 class packages and split them amongst my friends?
No! The discounts applied for 2, 3, 4 class packages are to encourage people to push themselves by completing multiple classes. Multi class packs can only be used by one participant.