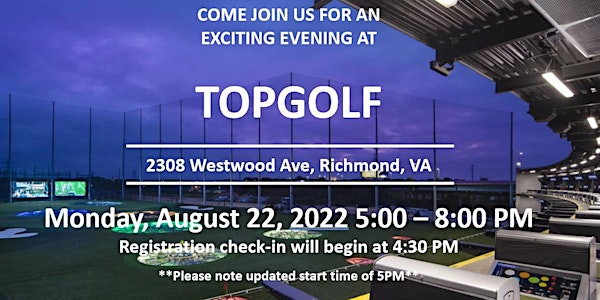 Location
Topgolf
2308 Westwood Avenue
Richmond, VA 23230
Join us for an evening of exciting golf, great food, awesome raffles, with 100% of the proceeds going to the Leukemia and Lymphoma Society!
About this event
We have an exciting evening planned for you at TOPGOLF in Richmond!
Time and Location:
**Updated Time**
Registration begins at 4:30 PM. Golf and dinner buffet begin at 5:00 pm. The raffle will end at 7:30 pm to review winners.
Where: TOPGOLF, 2308 Westwood Ave, Richmond, VA 23230
Tournament Info:
3 hours of unlimited Topgolf play including the TopContender Tournament with TopContender Team Leaderboard scoring automation displayed on in-bay TV's across all event bays!
Dinner:
Topgolf's All-American Buffet which includes chicken tenders, pulled pork sliders with secret BBQ mop sauce and house made slaw, fresh seasonal fruit, assorted kettle chips, chocolate chip cookies, and fountain soda, iced tea, coffee and water.
Ticket Types:
**To pay with credit/debit, click buy ticket through this website. Please note, there is a transaction fee to pay via credit/debit which results in less of your donation going to support LLS. If possible, please pay through the Venmo link below and there is no transaction fee!**
All tickets include gameplay and dinner at the buffet. Non-alcoholic drinks are included in the buffet.
Teams of 6 -$450
Golfers who purchase a full bay receive a reserved bay for a group of 6 golfers during the tournament games.
Individual Player -$75
Individual golfers who purchase a single ticket will be paired with a team for the tournament games. If you want to be paired with another individual golfer please indicate on the registration form.
Donation
Individuals who are unable to attend, but would still like to support our mission, can select the "donation" ticket and make a gift.
Deadline:
The deadline for all registration, donations, and fees is August 12, 2022, at 5 pm.