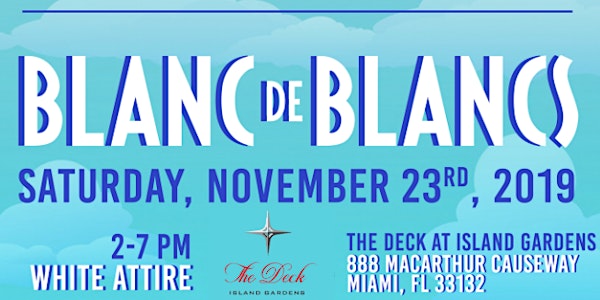 LLF Season Opening Party: Blanc de Blancs
When and where
Location
Island Gardens 888 MacArthur Causeway Miami, FL 33132
Description
Miami's Season Opening Party
TICKETS ARE AVAILABLE AT THE DOOR!!

Join the Little Lighthouse Foundation ("LLF") for our 2nd Annual Blanc de Blancs Season Opening Party on Saturday, November 23rd from 2-7 PM at the Deck at Island Gardens.
Guests will enjoy an open bar all day, delicious bites from some of Miami's top restaurants and caterers, and an incredible day with the best views in South Florida. Take in the vibrant crowd dressed in all white. Grab a glass of champagne at the bar and feel the music and the pure energy of the start of the season in Miami. Don't miss this opportunity to be part of this incredible event with Miami's top movers and shakers while supporting LLF's incredible programs.
VIP INFORMATION: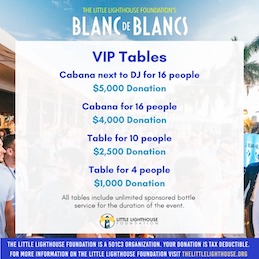 To purchase a VIP Table, or for more information, please contact Jonathan Babicka at Jonathan@TheLittleLighthouse.org or (305) 401-3949.
Your donation will go to The Little Lighthouse Foundation, Inc., www.TheLittleLighthouse.org, a registered 501(c)(3) and is tax-deductible.
For more information please visit LLFBlancdeBlancs.com.
Limitation of Liability:
IN NO EVENT WILL WE OR OUR EVENT PROVIDERS, SUPPLIERS, ADVERTISERS AND SPONSORS, BE RESPONSIBLE OR LIABLE TO YOU OR ANYONE ELSE FOR, AND YOU HEREBY KNOWINGLY AND EXPRESSLY WAIVE ALL RIGHTS TO SEEK, DIRECT, INDIRECT, INCIDENTAL, SPECIAL OR CONSEQUENTIAL DAMAGES OF ANY TYPE OTHER THAN OUT OF POCKET EXPENSES, AND ANY RIGHTS TO HAVE DAMAGES MULTIPLIED OR OTHERWISE INCREASED, ARISING OUT OF OR IN CONNECTION WITH THE SITE, THE CONTENT, OR ANY PRODUCT OR SERVICE PURCHASED THROUGH THE SITE, EVEN IF WE HAVE BEEN ADVISED OF THE POSSIBILITY OF SUCH DAMAGES, AND REGARDLESS OF WHETHER THE CLAIM IS BASED UPON ANY CONTRACT, TORT, OR OTHER LEGAL OR EQUITABLE THEORY. WITHOUT LIMITING THE FOREGOING, YOU EXPRESSLY ACKNOWLEDGE AND AGREE THAT WE WILL HAVE NO LIABILITY OR RESPONSIBILITY WHATSOEVER FOR (a) ANY FAILURE OF ANOTHER USER OF THE SITE TO CONFORM TO THE CODES OF CONDUCT, (b) PERSONAL INJURY OR PROPERTY DAMAGE, OF ANY NATURE WHATSOEVER, WHETHER ARISING IN CONTRACT OR IN TORT, RESULTING FROM YOUR ACCESS TO AND USE OF OUR SITE, (c) ANY UNAUTHORIZED ACCESS TO OR USE OF OUR SECURE SERVERS AND/OR ANY AND ALL PERSONAL INFORMATION AND/OR FINANCIAL INFORMATION STORED THEREIN, (d) ANY BUGS, VIRUSES, WORMS, TROJAN HORSES, DEFECTS, DATE BOMBS, TIME BOMBS OR OTHER ITEMS OF A DESTRUCTIVE NATURE WHICH MAY BE TRANSMITTED TO OR THROUGH OUR SITE, (e) ANY ERRORS, MISTAKES, INACCURACIES OR OMISSIONS IN ANY CONTENT, OR (f) ANY LOST, STOLEN OR DAMAGED TICKETS, OR THE FAILURE OF A VENUE TO HONOR A TICKET. YOUR SOLE AND EXCLUSIVE REMEDY FOR DISSATISFACTION WITH THE SITE IS TO STOP USING THE SITE. THE LIMITATIONS IN THIS SECTION WILL APPLY EVEN IF ANY LIMITED REMEDY FAILS OF ITS ESSENTIAL PURPOSE. THE ALLOCATION OF RISK BETWEEN US IS AN ESSENTIAL ELEMENT OF THE BASIS OF THE BARGAIN BETWEEN US. OUR AGGREGATE LIABILITY ARISING OUT OF THESE TERMS OR THE USE OF THE SITE WILL NOT EXCEED THE GREATER OF ONE DOLLAR ($1). SOME JURISDICTIONS DO NOT ALLOW THE EXCLUSION OR LIMITATION OF DAMAGES, SO THESE MAY NOT APPLY TO YOU. IN SUCH CASES, OUR LIABILITY WILL BE LIMITED TO THE FULLEST EXTENT PERMITTED BY APPLICABLE LAW. IN NO EVENT WILL ATTORNEYS' FEES BE AWARDED OR RECOVERABLE.
License; Ejection and Cancellation; No Redemption Value: LLF reserves the right, without refund of any amount paid, to refuse admission to, or eject, any person whose conduct it deems disorderly, who uses vulgar or abusive language or who fails to comply with the event rules. Breach of terms or rules will terminate your license to attend the event without refund. A ticket is a revocable license and admission may be refused upon refunding the ticket's face amount. A ticket is not redeemable for cash.
You Are Subject to Search: You and your belongings may be searched on entry to the event. You consent to such searches and waive any related claims that may arise. If you elect not to consent to such searches, you may be denied entry to the event without refund or other compensation. Under certain facility rules, certain items may not be brought into the premises, including without limitation, alcohol, drugs, controlled substances, cameras, recording devices, laser pointers, strobe lights, irritants (e.g., artificial noisemakers), bundles and containers.
Unlawful Resale of Tickets; Promotions: Unlawful resale (or attempted resale), counterfeit or copy of tickets is grounds for seizure and cancellation without compensation. Certain maximum resale premiums and restrictions may apply in some states and we cannot be responsible for providing legal advice regarding resale or pricing of tickets. You are responsible for complying with all applicable ticket resale laws. In addition, we reserve the right to restrict or deny ticket purchasing privileges to anyone that we determine to be, or has been, in violation of our policies. Because we do not guarantee the authenticity of tickets purchased from any non-authorized third party reseller (such as brokers or individuals), we recommend that you purchase tickets directly through us, authorized partners or from the venue box office to ensure ticket authenticity. Tickets may not be used for advertising, promotions, contests or sweepstakes, unless formal written authorization is given by us, provided that even if such consent is obtained, any use of our trademarks and other intellectual property is subject to our written consent.
By purchasing a ticket and registering for this event, you acknowledge that you are 21 years or older and you give LLF the right to photograph, videotape or otherwise record or collect your name, likeness, voice and sounds ("Works") during your attendance at the event. You irrevocably assign and grant to LLF all rights in these Works and the right to use or sublicense these Works and your name, likeness and biography, in LLF's discretion, in all media and for any purpose, including without limitations, advertising and other promotions for LLF, without any further consideration to yourself, your heirs, assigns or legal representations, and without any right to review any such use beforehand.
ACCEPTANCE OF TERMS OF USE:
BY USING THIS WEBSITE AND/OR PURCHASING A TICKET OR TABLE, YOU SIGNIFY YOUR AGREEMENT TO THE TERMS OF THIS AGREEMENT. If you do not agree to the terms in this Agreement, you must not purchase a ticket or table.
Privacy Policy: By using our site, you consent to our privacy policy.
We collect information from you when you purchase tickets or make a donation for processing transaction and to send you periodic emails of LLF events, programming and other information related to the charity.