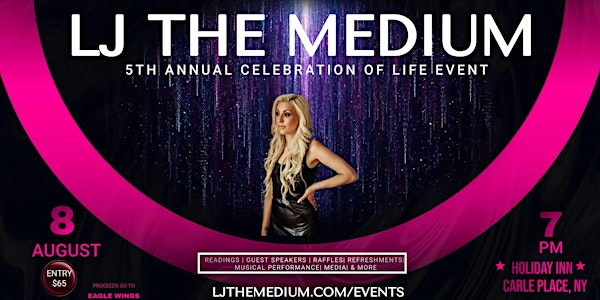 LJ THE MEDIUM AT THE HOLIDAY INN
Join NY's Best American Psychic and Living Kidney Donor LJ THE MEDIUM for her 5th Annual Celebration of Life Event on 8/8!
Date and time
Tuesday, August 8 · 7 - 9:30pm EDT
Location
Holiday Inn Westbury-Long Island, an IHG Hotel 369 Old Country Road Carle Place, NY 11514
About this event
2 hours 30 minutes

Mobile eTicket
HEY LONG ISLAND! LJ THE MEDIUM IS COMING TO A HOLIDAY INN NEAR YOU!
It's that time again for my Annual Celebration of Life Fundraiser where everything I am about comes together in one magical night!
I am honored Holiday Inn Westbury has opened their doors to me!! I will be having my 5TH ANNUAL Mediumship/ Fundraising event there on Tuesday August 8th at 7pm.
369 Old Country Road, Carle Place, NY
We've reached a milestone and as everything in my life is synchronistic we will be celebrating on 8/8! The timing couldn't be more perfect! Every year is more amazing than the last! 5 years ago my life changed when I saved a life by donating a kidney due to a rare disease (Nutcracker Syndrome) & saving my life in the process. I think that calls for a celebration don't you?!
The night includes speakers, raffles, giveaways, refreshments, mediumship readings , a musical performance, & fun! Of course, Spirit always has some surprises in store!
If you've been to one of my fundraising events before you know the energy is through the roof! With it falling on Infinity Day I'm sure it will be not only magical but powerful!
I would love for all my supporters, friends, family, clients & warriors to come celebrate life with me!! If we never met in person I want to meet you!!! I want to personally thank you for your love & support that keeps me going!!
It's going to be an amazing night & this year we will be donating net proceeds to Eagle Wings https://www.eaglewingspageantry.com
Eagle Wings Pageantry was founded in March 2021 by director Beth Espada. No stranger to the pageant world Beth decided to combine the things she loved into one unique system. With community service top of mind Beth wanted to create a scholarship pageant system upholding the three basic principals of pageantry; PRIDE, POISE & PRESENTATION.
In loving memory of her son Eagle M. Ryan who passed away in January 2020 Beth set out to raise awareness of Organ Donation and Substance Abuse. Working with Dollars for Scholars, Eagle Wings Pageantry is a registered 501C Charitable Organization raising money for the Eagle Wings Pageantry Scholarship and various community programs.
I am also reigning the title Elite Queen for EWS this coming October! More Synchronicity!
Life is a gift & I can't wait to celebrate this milestone with all of you!! Join me for a night of hope, inspiration, and love from above.
Tickets are on sale now!! Let's live it up shall we?!!!
Can't wait to see you in my LIVE audience!!
**There are no refunds or exchanges for future events**
**All services are for entertainment purposes only. By requesting a reading and/or scheduling an appointment with LJ The Medium, you understand and acknowledge that LJ The Medium is not a medical professional, attorney, accountant or other licensed professional, and can not give medical, legal or tax advice. LJ The Medium is not liable for anything that anyone chooses to do with the messages brought forward and delivered by LJ The Medium.
**Not everyone is guaranteed to get a reading. LJ gives as many readings as time and energy permits but always sets the intention that everyone takes something away from her event.
***LJ The Medium shall not be responsible for any damages or injuries – actual or consequential – arising from any aspect of this Proposal and/or the performance or lack of performance of the Services.
THE BEST IS YET TO COME!
💗LJ
To learn more about LJ THE MEDIUM, visit WWW.LJTHEMEDIUM.COM
Any questions please call our office (516) 477-0187
About the organizer
LJ The Medium is certified and tested by Best American Psychics and they awarded her Psychic of the Year for 2022. She's an approved member of the Certified Psychic Society. LJ has been nominated Best Psychic of Long Island for 2022 and is the host of the new TV show, The LJ Show, airing on the Z Living network. LJ is also an Ordained Interfaith Minister, Certified Personal Trainer, Certified Sports Nutritionist, Kidney Donor, Reiki Practitioner and Author of 'The Spirit of Hope' and star of The LJ Documentary - The Story of a Warrior Spirit. Her favorite title is 'Warrior'.