Liza's Life of the Party Holiday Party Food & Menu Planning Event

Friday, November 11, 2011 from 3:30 PM to 5:30 PM (EST)
Event Details
Dreading Hosting A Holiday Gathering This Season? 
Cooking for 20 people on a budget & have no idea where to start? 
Celebrity restaurateur Liza Utter Can Help!
PERK UP and grab your pen as LA celebrity restaurateur Liza Utter sets you up for SUCCESS and guides you through what it takes to host a STRESS-FREE holiday party.  From organizational tips and menu design to simple party foods and cocktail creations, Liza makes sure you will be the Life of the Party this holiday season.
One part FOOD, one part DRINKS and 10 parts FUN…  Whether you are a novice host or a seasoned pro, join Liza for an engaging evening at Tribeca's hippest wine store New York Vintners, as she shares with you her SUREFIRE WAYS to guarantee you are the life of the party. 
Welcome to the Party!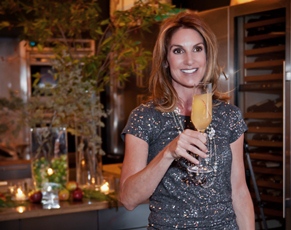 From the moment you arrive, the party begins!  With the room BUZZING of excited chatter from  fellow guests you make your way inside and  are WARMLY WELCOMED by Liza – as she  whisks you by the arm, puts a drink in your hand  and ushers you to DELICIOUS NIBBLES. Genuine  introductions are made  and NEW FRIENDSHIPS thrive – now you are  experiencing the Life of the Party. Before you can  say refill, Liza is in full on party mode and ready to  share her surefire steps to becoming the life of the  party!
 ENTERTAINING doesn't have to be exhausting  and hosting can be DELIGHTFULLY FUN! Liza covers it all – from her original and EXCLUSIVE organizational techniques used in professional kitchens and dining rooms around the world to quick and simple PARTY FOOD you can make at home for a party of one or one hundred. Before you know it, you're on your way to creating your own SIGNATURE HOSTING STYLE! Life of the Party will teach you how to LET GO of fears, anxieties, stress, and unrealistic ideas of perfection which are all too often tied to hosting.
A class that truly speaks to the host, Life of the Party has been hailed as "INSPIRING" and "ENGAGING from start to finish." Whether you want to be the life of the party or just go to one, Liza's 21st century approach to effortlessly creating a MAGICAL and MEMORABLE affair will forever change the way you look at hosting and entertaining.
---
Here's what people are saying…
"Her lessons are a far cry from the Emily Post rules our parents followed, nor do they call for Martha Stewart-eque talent (really, who can actually make elegant decorations from cotton balls?). It's for the modern day host, one who wants to create his or her own signature style for bringing together friends from different walks of life, for an evening where the chatter never stops and the glasses never go dry. And Liza will help you get there."
"From start to finish, Liza's Life of the Party class encompasses her skills as the ultimate host. From the welcome cocktails, to the easy recipes, to the group discussions, Liza convinced me that being a host doesn't mean I have to dread the planning and preparation or stress out!"
-Adrienne from California
"I had no idea what I was getting into coming to this class…all I can say is I'm totally blown away by how inspiring it was! Now I want to go home and host a party!"
-Alex from New York
 "I couldn't imagine a more perfect way to spend a night with my girlfriends! Not only was Liza engaging from start to finish, but the cocktails, food and takeaways were perfection! Such a fun way to get together as a group and find inspiration for the next party I host!" 
-Camille from Florida
Five Star Review on 
When & Where

New York Vintners
21 Warren Street
(between Broadway and Church Street)
New York, NY 10007


Friday, November 11, 2011 from 3:30 PM to 5:30 PM (EST)
Add to my calendar
Organizer
Meet Liza
Nationally acclaimed and award winning celebrity restaurateur Liza Utter is recognized as a celebrated and beloved host, according to Los Angeles Magazine, The Hollywood Reporter and more. Her vitality, warmth and genuine charm has won the hearts of her many thousands of customers and celebrity fans at both La Cachette and Beach House restaurants, which included the likes of stars such as Courteney Cox, Goldie Hawn, Michelle Pfeiffer,  Woody Harrelson, Tom Hanks, and Denzel Washington to industry moguls, politicians and everyone in between. Her unique gift for making people feel welcome and bringing life to any party has earned her an expert reputation as well as being one of America's most sought after hosts.
Liza has appeared as an expert contributor for ABC, NBC, and Fine Living as well as host of the Style Network's "The Big Party Plan Off," a program that showcased Liza's quest to help real people put on the party of their dreams. She also contributes articles on entertaining and hosting for numerous newspapers and magazines, including The Daily Meal, Hybrid Mom, The Huffington Post, Modern Mom, and EW Magazine, where her brand of warm hospitality, expertise and humor springs off of every page.
What is the Life of the Party?
Today's HOST/ESS is a social TRI-ATHLETE – one part PARTY PLANNER, one part CHEF and one part DESIGN STAR! The great ones make it look EFFORTLESS, as they cross from the kitchen to dining room with confidence, joy and skillful agility – but we all know how much work it really takes to pull off even the SIMPLEST party!
Whether you're entertaining for a party of two hundred or two – the KEY to making any party successful is a JOYFUL host/ess! So how do you keep a GENUINE SMILE when things start getting stressful and nasty insecurities begin creeping up?
That's the MISSION of the Life of the Party Tour – to give YOU the tools, tips and shortcuts to create magical & memorable affairs, keep that BEAUTIFUL smile on your face and start having FUN at your own party – even when things go wrong!