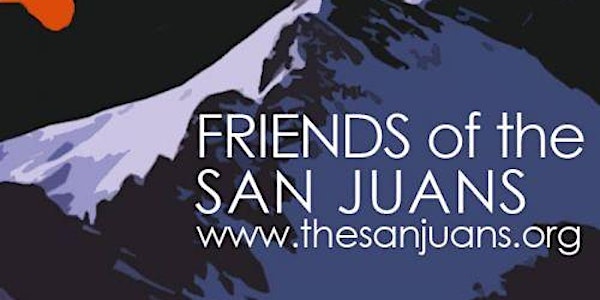 Lizard Head On-Snow Avalanche Awareness Field Session
Friends of the San Juans free on-snow avalanche awareness and safety course Sunday, January 22, 2023
When and where
Location
Cross Mountain Trailhead on CO-145 Lizard Head Pass(approx 2 miles South of Lizard Head Pass proper) q3w7+c94 AMES Rico, CO 81435
About this event
IN THE CASE OF A FULL COURSE, YOU CAN STILL REGISTER TO BE PUT ON THE WAITLIST AND IF A SPOT OPENS UP YOU WILL BE NOTIFIED.
WE HOPE YOU ARE ABLE TO JOIN US! -FOSJ FIELD TEAM
**PLEASE NOTE THIS REGISTRATION IS FOR LIZARD HEAD PASS SESSION ON SUNDAY, January 22, 2023**
Course Details:
SUNDAY, January 22, 2023; 10:00am-3:00pm;
Cross Mountain Trailhead on CO-145 Lizard Head Pass(approx 2 miles South of Lizard Head Pass proper)County Road 61, Rico, CO, 81332
Course Description: In a 5 hour field session, participants will be able to apply the basic concepts covered in our classroom session, including preparation & communication, terrain recognition & avoidance, smart travel protocol, basic snowpack understanding, and safety gear use.
Course Outcomes:
Understand the importance of group dynamics, communication, and decision making
Identify avalanche terrain based on slope angle, including terrain traps and gullies
Understand the complexity of snowpack and layering
Learn basic smart travel protocol
Beacon, probe and shovel basics with practice
Understand what we don't know
Participants in FOSJ's On-Snow Session must meet all of the following requirements:
Highly recommended--watch the CAIC Know Before You Go video and review the CAIC daily snowpack and avalanche forecast before the event. Links will be sent with registration email.
Have the minimum required safety equipment—beacon, probe, shovel, pack.
Have sufficient uphill winter travel gear by one of the following methods: AT/Tele setup with climbing skins; split board setup with climbing skins; backcountry nordic/hybrid skis with metal edges and fish scales; snowshoes
Be in moderate physical shape—although we will not be going on any extended tour or even that far from the parking area, throughout the day you will be exerting energy while traveling through variable terrain and snow conditions as well as practicing with rescue gear and digging.
Participants must register in advance online via this Eventbrite site. There are a limited number of spots available, and it is on a first come first served basis. Please register only if you are 100% committed.
Liability Waiver form must be submitted by confirming you agree to the additional terms and conditions at the end of this event registration. We will also request any medications, allergies, and medical conditions your instructors should be aware of and an emergency contact/phone number.
Participants must be comfortable traveling in variable backcountry conditions that may include ice, deep snow, thin spots and some uphill routes. Due to these constraints, we are UNABLE to accommodate for boot packing, conventional Nordic/skate skis, toboggans, saucers, sleds, or snow-blades. Pine Needle Mountaineering rents AT/Tele setups as well as snowshoes, with FOSJ members receiving a 20% discount. Backcountry Experience rents split-board setups.
Day-of details:
In the morning, participants will be broken up into small groups. You will be led by one of FOSJ's Lead Instructors, plus an additional Assistant Instructor. These Instructors are there to make sure everyone in the group feels comfortable, is engaged & participating, and has a good time. Your active participation and questions are welcomed! Instructors have been trained on topics that will need to be covered throughout the day. All Instructors have met strict requirements set forth by both FOSJ and the American Avalanche Association (AAA) for their experience and teaching ability. For your safety, our Lead Instructors are also certified in Wilderness First Aid or higher.
We ask that you are totally geared up and ready to go no later than 10:00am. Please come prepared to be outside for the entire day. We ask that you bring your own supply of water, food, clothing, sunscreen, etc. If you have a first aid kit, inclinometer, or any other cool avalanche tools or gadgets, please bring them! We will debrief and wrap things up by 3:00pm. Please carpool with your friends and colleagues if you can.
Registered students will receive a follow up email confirming registration with additional information. We look forward to spending the day with you!