Description
Proceeds from this event will be donated to Tracy Baker for help in paying for her ongoing cancer treatment.


Liz Gherna
Liz is a Los Angeles based songwriter and performer. Hard Folk. Punk rock rebel, angry, lyrical, melodic, eclectic, radical and thoughtful. lizgherna.com


The Viper Room

Since its stellar opening in 1993, the world-famous Viper Room (also known as Johnny Depp's joint) has hosted the likes of Johnny Cash, Tom Petty and the Heartbreakers, Stone Temple Pilots, Bruce Springsteen, Oasis, Queens of The Stone Age, Courtney Love, Natalie Cole, Elvis Costello, Pete Yorn, Lenny Kravitz, Pearl Jam, The Strokes, Weezer, Maroon 5, John Mayer, Iggy Pop and Sheryl Crow, as well as an array of other internationally established artists and the cult favorites of America's underground. This intimate nightclub, situated in the heart of the world famous Sunset Strip, is styled in the fashion of Harlem's great jazz clubs of the 1920's.
Ages 21+
TRACY BAKER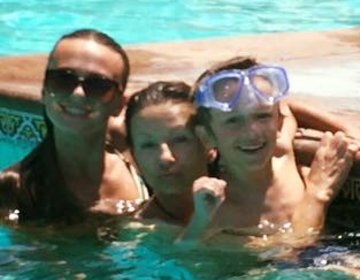 ▪︎There is a less than a 1% chance of getting Breast Cancer again after undergoing double mastectomies but cancer has shown no mercy to Tracy Baker and her kids.
▪︎Tracy tackled breast cancer in 2005 at the age of 34. She endured months of chemotherapy and her breasts were removed. One battle with cancer is tragedy enough for a family but this family is faced with a SECOND cancer.
▪︎Tracy is a person that opens her home to folks that have no where else to go. More often than not, someone in need is taking up residence on "God's sofa" in her living room. When it rains, Tracy heads out into the storm to hand out tarps, umbrellas and hot food to those that do not have access to shelter. She carries blankets and clothes in her car just in case she comes across someone that may need them. She dedicates her life to helping others, caring for the less fortunate, to raising her children, supporting other women with struggles and to eliminating health disparities through her Profession.
▪︎Tracy's kids have learned from her. Abby and Jonah take every opportunity to be kind and to give what they have to those who need it. This is a family that brings hope, joy, compassion and laughter to the world. Let's not let cancer take that away!
▪︎ Tracy's very serious diagnosis requires her to undergo chemotherapy for more than one year this time. Being the sole bread winner and provider for this family the physical, emotional and financial impact cancer treatment - even with Insurance is beyond what this family can handle on their own.
▪︎They need our help. We are asking you to make a donation of any size to help Tracy get the cancer treatment that she needs to Take On Breast Cancer One More Time!