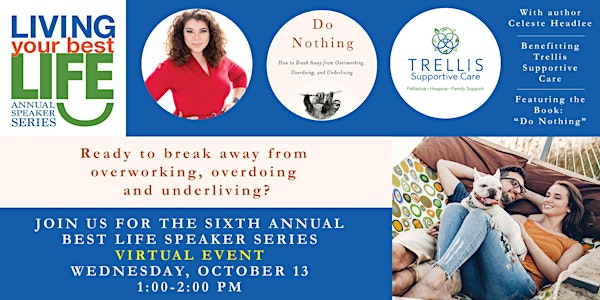 Living Your Best Life Speaker Series Virtual Event '21 with Celeste Headlee
Trellis Supportive Care (formerly Hospice & Palliative CareCenter) is excited to host the sixth annual Living Your Best Life Speaker Series
About this event
Trellis Supportive Care (formerly Hospice & Palliative CareCenter) is excited to host the sixth annual Living Your Best Life Speaker Series on October 13, 2021! We recently made the decision to make this year's event virtual. Attendees can register online (free of charge) and we'll email a secure link a couple of days before the event goes live.
We're excited to hear some inspiring thoughts from our speaker Celeste Headlee, author of Do Nothing: How to Break Away from Overworking, Overdoing, and Underliving. Headlee believes instead of thinking "time is money," it's time for us to spend our time on things that actually matter and make us happy. Headlee says, "Despite our constant search for new ways to optimize our bodies and minds for peak performance, human beings are working more instead of less, living harder not smarter, and becoming more lonely and anxious. We strive for the absolute best in every aspect of our lives, ignoring what we do well naturally and reaching for a bar that keeps rising higher and higher. Why do we measure our time in terms of efficiency instead of meaning? Why can't we just take a break?"
ABOUT OUR SPEAKER
Celeste Headlee is an award-winning journalist, professional speaker, and the bestselling author of We Need to Talk: How to Have Conversations That Matter and Do Nothing: How to Break Away from Overworking, Overdoing, and Underliving. She is cohost of the weekly series Retro Report on PBS and the Scene on Radio podcast's third season, MEN. Celeste serves as an advisory board member for ProCon.org and the Listen First Project. In her twenty-year career in public radio, Celeste has been the executive producer of On Second Thought at Georgia Public Radio and has anchored NPR's Tell Me More, Talk of the Nation, All Things Considered, and Weekend Edition. She also cohosted of the national morning news show The Takeaway for PRI and WNYC, anchored World Channel's presidential coverage in 2012, and received the 2019 Media Changemaker Award. Celeste lives in Washington, DC.
ABOUT THE LIVING YOUR BEST LIFE ANNUAL SPEAKER SERIES EVENT
This is the sixth annual event in the Living Your Best Life Speaker Series and our second virtual event. The mission of the series is to provide "an acclaimed, proven speaker that will bring to life subjects consistent with the theme of the series, a message that if followed, will bring about a life-changing experience." Register today to join us on Wednesday, October 13, 2021.
Organizer of Living Your Best Life Speaker Series Virtual Event '21 with Celeste Headlee
Since our founding in 1979, we've been providing kind and compassionate care to communities throughout the Piedmont. Trellis Supportive Care, North Carolina's original hospice and palliative care provider, is your community-based nonprofit, accessible and comprehensive to address any need that arises. Anyone, including family and friends, can make a referral. Hospice care is covered by Medicare, Medicaid, and most private insurance. And thanks to community support, no one is ever denied care. We also provide help and support long before hospice is required through such services as Advance Care Planning and Palliative Care.