Living Your Best Life Speaker Series 2019 with Mary Matalin, James Carville...
Description
Trellis Supportive Care (formerly Hospice & Palliative CareCenter) is excited to host the fourth annual Living Your Best Life Speaker Series scheduled for September 25, 2019 in Winston-Salem. This year's event brings three nationally known political icons and strategists, each with decades of notoriety and recognition as frequent guests on network and cable news shows; Ann Compton, Mary Matalin, and James Carville.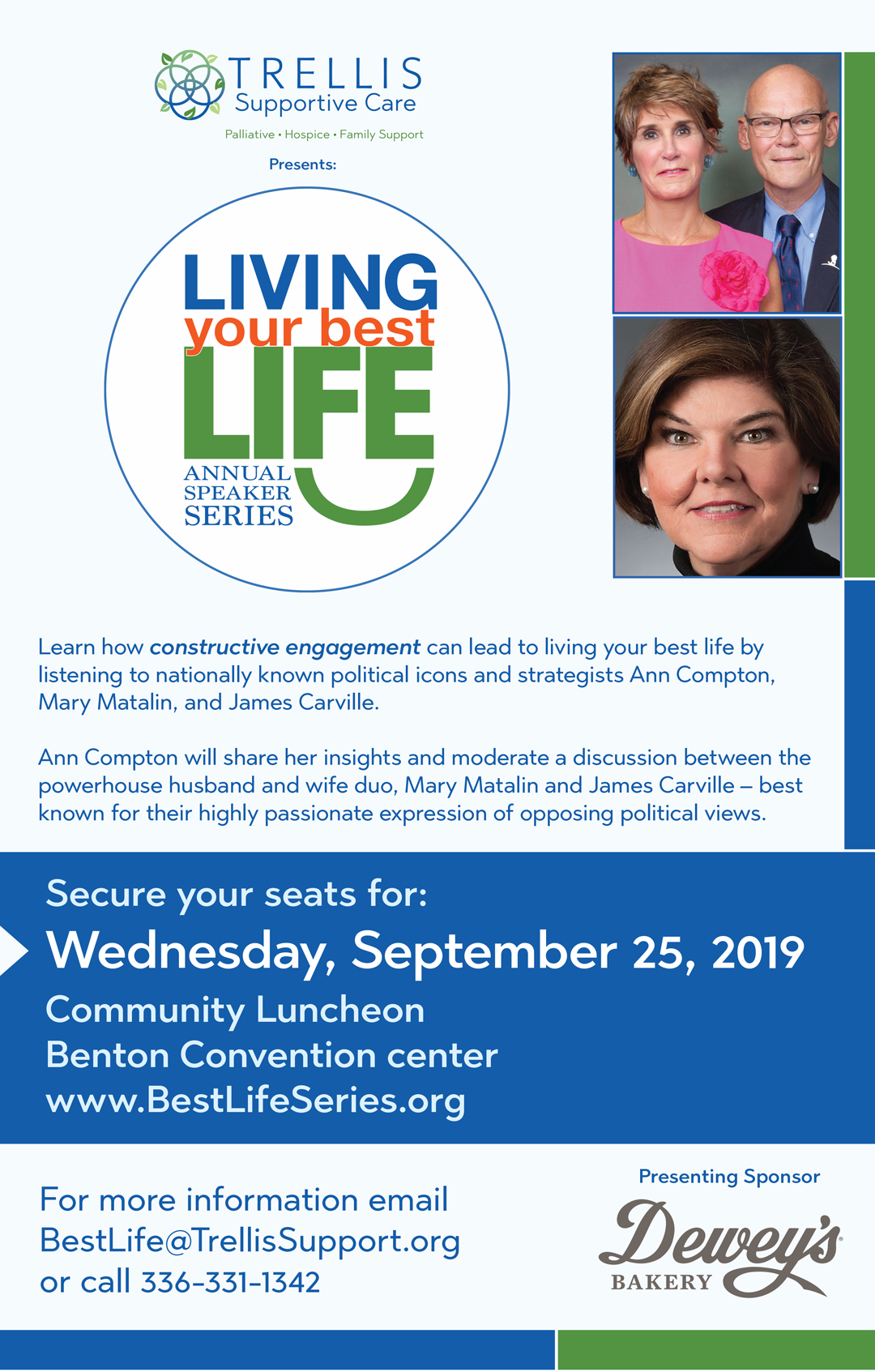 ABOUT OUR SPEAKERS AND MODERATOR


MARY MATALIN - Political Commentator, News Personality
Mary Matalin is one of the country's foremost conservative political strategists and commentators, admired for her astute insights, intellectual integrity and her outspoken views on Congress and the future of the Republican Party. Matalin was deputy campaign manager for President George H. W. Bush, assistant to President George W. Bush, and counselor to Vice President Dick Cheney.
JAMES CARVILLE - Political Commentator, News Personality
James Carville is one of the most recognizable figures in politics. He is an insider, frequently seen on TV analyzing the Trump Administration, Congress, the 2020 Presidential election as well as the global political landscape. He is well known for his bombastic, enthusiastic, shoot-from-the-hip, political commentary. His quick wit and Southern drawl earned him the nickname "Ragin' Cajun."
ANN COMPTON - Reporter, Political Analyst, Moderator
Ann Compton joined ABC News in 1973 as the first woman assigned to cover the White House by a television network. From her front seat at the White House for ABC News, Compton covered seven presidents as well as innumerable life-changing and globe-altering events that made the daily headlines. She knows first-hand of the people and issues that are shaping the future of this country.
ABOUT THE LIVING YOUR BEST LIFE ANNUAL SPEAKER SERIES EVENT
This is the fourth annual event in the "Living Your Best Life" Speaker Series. The mission of the series is to provide "an acclaimed, proven speaker that will bring to life subjects consistent with the theme of the series, a message that if followed, will bring about a life changing experience."