Living with Water in an Interconnected World - Roundtable Discussion & Rece...
Description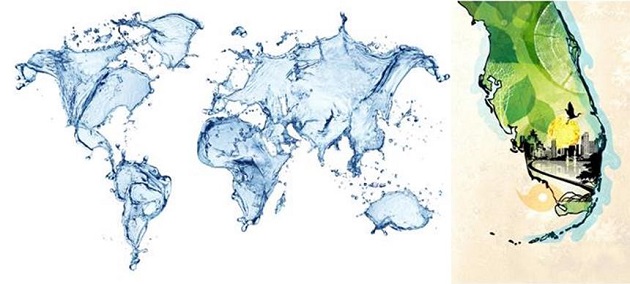 Living with Water in an Interconnected World:
A Roundtable Discussion
► Vizcaya Village Garage, 3250 S. Miami Ave., Miami, FL 33129

This program takes place in Vizcaya's historic Garage, across the street from the Main House and Gardens. The Garage is not currently open to the public and shares the parking lot with the former Science Museum on the west side of South Miami Avenue.

Friday April 29, 2016
Reception at 6:30 pm| Program 7:00pm-8.30pm
Co-Sponsored by Vizcaya Museum & Gardens, the FIU Jean Monnet Project, and the FIU Ecohumanities for Cities in Crisis Project
Funded in part through the Humanities in the Public Square Initiative of the National Endowment for the Humanities and the European Commission
Water is simultaneously a vital resource and a powerful threat, especially to those of us living in coastal communities. As a constant in our lives, people have brought tremendous ingenuity and imagination to their relationships with water.
Join local and international scholars to reflect on how we have lived with water now and in the past, in Miami, Spain, Italy, The Netherlands, and the ocean in between. How can we imagine living with water in the future? How can our local experience of coastal co-existence with the sea inspire an awareness of our common global interconnections?
We invite you to a water-based reception followed by a conversation with international experts
Aurora Morcillo is a professor of history and the Director of the Spanish and Mediterranean Studies Program at FIU. She is the author of four books and numerous articles on the history of women, gender, and sexuality in Francoist Spain. Recently she collaborated with artist Rufina Santana on a project called "Water Cartographies" that reimagines the significance of the sea in Atlantic history.


Fernando Nardi is the Director of the Water Resources Research and Documentation Center (WARREDOC), International University "Stranieri" of Perugia, Italy, Horizon 2020 SC5 (Climate Action)



Nathalie Olijslager is the Consul General of the Kingdom of the Netherlands in Miami.


Ian Simpkins is the Deputy Director for Horticulture and Urban Agriculture at the Vizcaya Museum & Gardens. He will share his knowledge about this unique historical landmark. Built by industrialist James Deering in the early 20th century, the estate is a modern & subtropical interpretation of an 18th century Italian villa. It's location at sea level on Biscayne Bay brings both unique beauty and risk.

► For directions to Vizcaya Village Garage, click here
This program takes place in Vizcaya's historic Garage, across the street from the Main House and Gardens. The Garage is not currently open to the public and shares the parking lot with the former Science Museum on the west side of South Miami Avenue.

► To view flyer, click here

Co-Sponsored by Vizcaya Museum & Gardens, the FIU Jean Monnet Project, and the FIU Ecohumanities for Cities in Crisis Project
Funded in part through the Humanities in the Public Square Initiative of the National Endowment for the Humanities and the European Commission