Description
LIVING WITH INTENTION 2018
"Owning Your Story"
Learning to Forgive, Reconcile and Reconnect
with guest speaker
KARA SUNDLUN
dinner remarks by
JEANETTE KOLL
---
Wednesday, May 23, 2018
The Mark Twain House
385 Farmington Avenue | Hartford
Community dinner | 5:30 p.m. SOLD OUT!
Program and dessert | 7:00 p.m. TICKETS STILL AVAILABLE!
---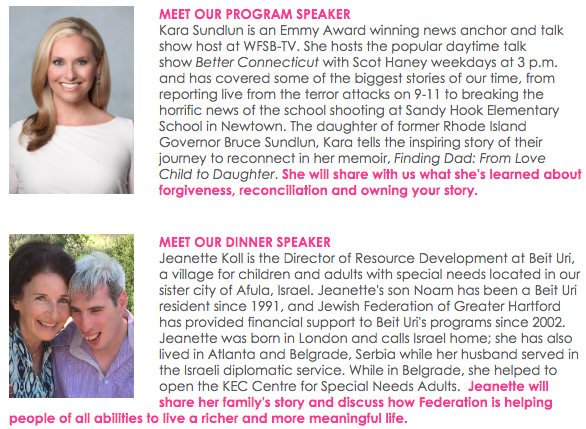 ---


Robin Landau
LIVING WITH INTENTION CHAIR
Ann Baidack Pava and Nancy Gershman
DINNER CO-CHAIRS
Dana Keller
2018 WOMEN'S PHILANTHROPY CHAIR


Sponsorship opportunities are available. For more information, contact Simi Benita at 860.727.6118 (office), 860.964.0729 (cell), or sbenita@jewishhartford.org.