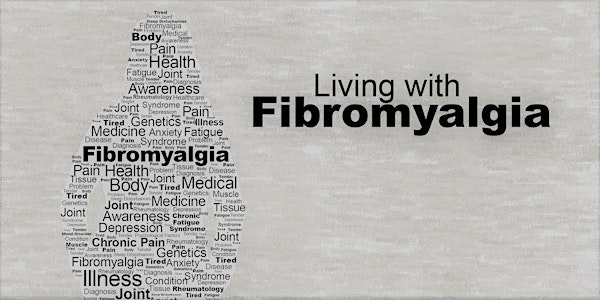 LIVING with Fibromyalgia, Chronic Fatigue and Chronic Pain Syndrome Seminar
When and where
Location
Meadowbrook Country Club 3700 Cogbill Road Richmond, VA 23234
Description
The Question
Do you feel as though you're missing out on life due to an invisible, yet life altering, illness? Have you been told that "we don't know what is wrong with you" or "it's all in your head"? Do you get derailed and lose yourself to pain? Is the change of season the reason for your body's treason?!
If you or someone you know can relate to any of those questions, you must attend.
The Journey
Let's start our year with a brighter outlook and discover how to live again and not just survive with chronic-pain related issues. This one-day seminar offers collective research, education, resources for alternative treatments and most importantly - support. Together we will learn more about available options other than just being over medicated and cast aside.
The Beginning
Our day will be packed with information from respected local experts, camaraderie, a yummy brunch and new beginnings. We will send you a detailed itinerary as the day draws near, but don't delay. So, you are now tasked with the following: sign up to attend, tell a friend, take your vitamins (B12 is great), bring a comfy seat cushion if you so desire and a cute shawl! It's really that simple.
Register today. You are worth it.

*PLEASE READ*
Early Ticket pricing is only $39.95 through 1/14/17 ($54.95 procrastination pricing effective 1/15/17). Once you register we'll send you a PayPal Invoice. Seminar includes brunch buffet! Reserve your seat today, limited space. Payment in full required to guarantee seating at event. Be sure to provide proof of purchase at time of check-in.
9 am – 9: 30 am Registration, Coffee and Open Networking with Speakers
9:35 am – 9:40 am Welcome & Introduction
9:45 am – 10:30 am Session 1: Lisa Hazelgrove
10:35 am – 10:44 am Break – Get up and Stretch
10:45 am – 11:30 am Session 2: Melissa Peterson
11:45 pm – 12:30 pm Brunch Buffet
12:30 pm – 12:55 pm Open Networking. Step outside to get some fresh air!
1:00 pm – 1:30 pm Session 3: Cleary Maly
1:35 pm – 1:44 pm Break – Time to move around
1:45 pm – 2:30 pm Session 4: Dr. Kat Mayes, D.C. & Dr. Tess Graf, D.C.
2:35 pm – 2:44 pm Break – Get up and Stretch
2:45 pm- 4:00 pm Session 5: Josephine Crawford
4:05 pm – 4:25 pm Thank you and Network with Speakers
4:30 pm See you next time