Living Proof Acupuncture works on me: Recently diagnosed with MS

Weekly Event - Every Monday Tuesday Wednesday & Thursday: 7:00 AM to 7:00 PM (PST)
Event Details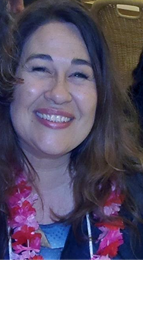 Have questions about Living Proof Acupuncture works on me: Recently diagnosed with MS?
Contact Patty Luna
Where

Torrance

Torrance, CA 90504


Weekly Event - Every Monday Tuesday Wednesday & Thursday: 7:00 AM to 7:00 PM (PST)
Add to my calendar
Organizer
Patty Luna
Living Proof Acupuncture works on me; Recently diagnosed with MS
Hello, My name is Patty Luna. At age 45, I was recently diagnosed with MS on 1-24-14.
My breaking point was when I  suddenly lost vision in my right eye. The findings were
Optic Neuritis brought on by MS of which I had no idea I had. There were many signs
over the years that I just ignored thinking I just had poor circulation. Losing sight in my
right eye was still not enough to get me to the hospital right away, as I thought it would
soon clear up on it's own. But after a day and after many, many friends suggested I go to
the doctor, I finally decided to go to the ER. My stay in the hospital after sitting in the ER
waiting for 24 hours, was 8 days. After being seen by a team of ophthalmologists and neurologists,
I was admitted &pumped up with steroids for 6 of the 8 days. It was awful. Typically I don't
even have aspirin in the house so I didn't take any pain medication while in the hospital due
to the fact I was already having something so unbelievably foreign injected into my body. On
the 6th day, it was a confirmed diagnosis of MS having manifested in the Optic nerve. Upon
discharge, I refused the self- injectable medications the doctors insisted I take before even leaving
the hospital. They really wanted me to quickly decide on 1 of 4 medications tacking on horrible
consequences of how my condition would get worse if I didn't listen to them. Knowing somehow
I would find a more holistic way, I left the hospital with no medications. I didn't even want the
information pamphlets about the medications in my home. After going off of the steroids cold
turkey, after the gut wrenching, out of this world withdrawals, followed by drug- free, intense
nutraceutical, self-detoxing was nearly over for the most part, a dear friend led me to a phenomenal
holistic doctor with a solid medical background as well. I am fascinated and so happy I found this
gem of a person. Located in Torrance, CA, this holistic doctor is in high demand and so worth the
trip from wherever you are. Parkinson's, MS, Cancer, Scoliosis, Depression, Sexual dysfunction,
Sciatica, Sports Injuries (both new & old), Weight Loss, Diabetes & Vision problems, are just a few
of the tons of ailments this naturolpathic doctor, martial arts master & healer treats regularly with
great success. Patients as young as 3 years old to seasoned ones of 95 years old, get great relief and
elongate their lives, as I am. My tremors have subsided incredibly, my heat aches are lessening with
every visit. (and  this is after only 3 visits thus far). Not to mention, a tendon in my wrist contributing
to a carpal tunnel diagnosis since 1989, was adjusted back in place and I no longer have that pain.
I can now see more clearly out of my right eye with    no fear of losing vision in my left eye. I am forever
grateful to my friend for leading me to Torrance, CA and to this incredible individual.  I am confident
I'm on the right track of healing. I feel going through this journey & finding   this doctor was to help
others too. Write me or call and let me know what is ailing you or someone who you hold dear and I am
certain you will find answers.
Be Well,
Patty Luna 310-691-3501, xoxo2chant@yahoo.com
Living Proof Acupuncture works on me: Recently diagnosed with MS