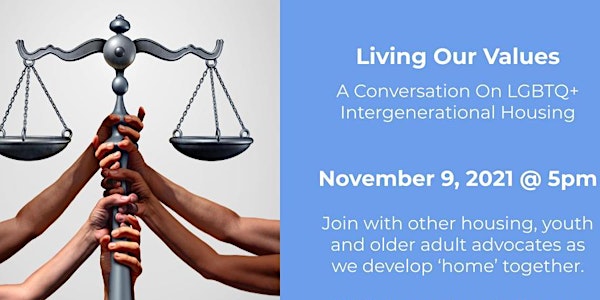 Living Our Values - A Conversation With One Roof Chicago
Join us for an intentional, open conversation on what it means to live our values in an LGBTQ+ intergenerational home.
About this event
Zoom Link: https://us02web.zoom.us/j/82996792846
One Roof Chicago is building an LGBTQ+ centered intergenerational community and housing complex for older adults and young people most in need of affirming housing and meaningful connection. We host these conversations quarterly to listen to community wisdom, build authentic relationships and innovate with intention.
This conversation will center on how do we live our values as we design and develop this home? Our values are
People, Pride and Possibilities. We are in love with our young people and older adults. We desire to create environments where our vibrant LGBTQ+ communities can dream, hope, and pursue their joy. We know that we are embracing a new way of living that combats loneliness, isolation, and invisibility in our communities. We believe community innovation leads to our collective liberation!
Care, Healing and Liberation. We build this table together, and hold the trauma, pain, and resilience that often contributes to a loss of home. LGBTQ+ youth and elders experience many barriers to safety and security. We are committed to a healing justice approach; building safety together, holding each other in care, and keeping the people most impacted at the center of our work.
Inclusion, Intersections and Accountability. We enter into community together at many intersections; age, gender, ability, race, sexual orientation, religion, and more. We listen to and act in alignment with the knowledge and needs of trans women of color, black and brown elders and youth, people with disabilities and people living with HIV, young people most in need of affirming housing and meaningful connection.
Bring a friend, bring your questions and we are so looking forward to meeting you! Contact jacqueline@the-care-plan.com with any questions.