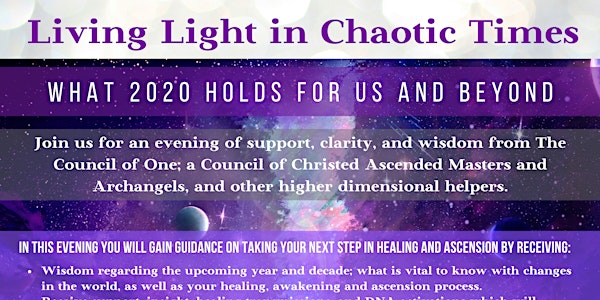 LIVING LIGHT IN CHAOTIC TIMES - What 2020 Holds for Us and Beyond
Join us for an evening of wisdom and activation from higher dimensional helpers to help you deeply align with the light of your higher self.
When and where
Location
The Temple on Pleasant Hill Address Provided with Ticket Purchase Sebastopol, CA 95472
Refund Policy
Contact the organizer to request a refund.
Eventbrite's fee is nonrefundable.
About this event
In this evening we will be connecting to many councils of higher dimensional helpers, ascended masters, and angelic guides to help you take your next step in healing and ascension through:
-Gaining wisdom, clarity, and guidance regarding this upcoming year and decade; where we are on the timeline of Earth, as well as with our healing, awakening and ascension process.
-Learning about the vital importance of embodying our light, how to do so with ease and grace, and how this important process stabilizes both our individual healing and the worlds.
-Receiving support, insight, healing transmissions, and DNA activations which will anchor, stabilize, and embody the core of your light body to the core of your physical body. Thus helping stabilize you and the world.
-There will also be a Q & A where you can receive personal insight to your questions.
This event is for you if:
You consider yourself a lightworker, healer, and/or change agent and want to prepare yourself for what you are being asked to hold and awaken into in this next stage of humanity's evolution locally and globally.
You're wanting to step deeper into the embodiment of the light of your higher self on all levels of your being in your day to day reality.
You want to align yourself with the higher light, wisdom, guidance, and evolutionary activations of higher dimensional helpers who are aligned to the Law of Love and Law of One.
You are wanting to receive DNA activations that will help you heal and evolve on all levels.
You are ready to see reality clearly beyond your ego-mind constructs and into who you truly are.
With Melissa Sophia Joy: Ordained Oracle of The Council of One, Spiritual Teacher, Founder of Somatic Awakening®, Naturopathic Doctor, Priestess in the Magdalene-Sophia Lineage, Mind-Body-Spirit Specialist, and Intuitive.
What People Are Saying...
"If you want to experience the energies of the Masters, among them Mary, Magdalene, and Jesus, then I highly recommend Melissa Sophia Joy's events. When I am in her oracle presence, I always feel the authentic communication and healing vibrations of these and other great beings come through, and it is an incredible balm. It's clear that Melissa is an initiate into such powerful lineages, something she holds with maturity, grace, courage, and humility. This is the kind of Holy Woman ministry we need more of on the planet to help us individually and collectively in our time of great transformation".
Marguerite Rigoglioso, Ph.D., founding director of Seven Sisters Mystery School
"I have worked with dozens of spiritual masters and healers over the last 25 years and have had the most profound healings and experiences with Melissa Sophia Joy, ND… Her loving style and pure presence set the stage for the unfolding of one's soul in a safe and held way."
Tiffany Bass-Bukow, Co-CEO Mindrise Meditation, and Wellbeing App
"Words cannot describe the peace, love, and deep connection to the divine I felt (with Melissa's transmissions and teachings).
Gianna Frazee, MD