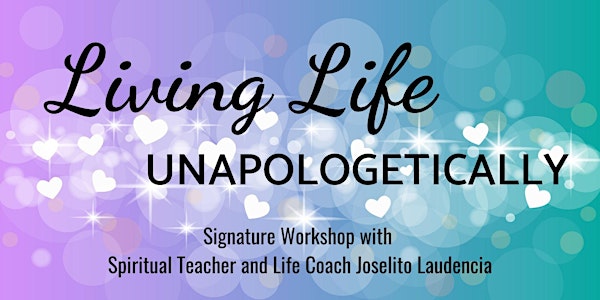 Living Life Unapologetically Signature Workshop with Joselito Laudencia
By Abundant Good Coaching & Training
Date and time
Saturday, July 27, 2019 · 10am - 1pm PDT
Location
WeWork Gas Tower 555 W 5th Street 1st Floor Los Angeles, CA 90013
Description
The Living Life Unapologetically Signature Workshop with Spiritual Teacher and Life Coach Joselito Laudencia takes the three key life lessons from his signature talk and guides you to take the first steps to living life on your own terms.
Here are the three key life lessons to living your life unapologetically:
Learn how to listen to your own inner guidance rather than what anyone else is telling you what you "should" do.
Know that when you decide to live your life unapologetically, you're embarking on a journey where you will have to blaze your own trail. There are no cookie-cutter approaches. All that you need to get started is to take a first step.
There's a cost to you not living your life on your own terms, and those costs are negative effects to your own health, your relationships, your finances, your career and your own growth. What life energies are you giving away when you don't live your life unapologetically?
This workshop is for people who are tired of drifting through life and who are ready to let go of the hamster-wheel approach of going to work, coming home, eating, sleeping and repeating the whole cycle all over again.
This workshop is also for people who are ready to take your life to another level, yet need some guidance and direction on your vision and what specific next steps you can take.
If you are ready to make a change in your life, and you're needing support in taking those first few steps, then this workshop might just be right for you.
In this three-hour workshop, you will:

Get clear on your vision for what life can look like on your terms, in all areas of life
Pinpoint your next steps that you can take in the next few weeks to making that life a reality
Connect with the greater part of you that is wanting to emerge more fully in your life and find out what you specifically need to focus on in order to express it.
The workshop will be held on Saturday, July 27, 2019, from 10am to 1pm, at the WeWork Gas Tower in downtown Los Angeles.
Seating is limited, so please make sure to buy your ticket soon if you are interested. Light refreshments and coffee will be provided.
Note: this workshop is non-refundable, but can be transferred to another person.
For more info, contact Joselito Laudencia at joselito@abundantgood.com.
Here's to taking your first steps to Living Your Life Unapologetically!
About the organizer
Dr. Joselito Laudencia is the author of The Creative Impulse: Answering the Highest Calling of Your Heart. He is a spiritual life coach and teacher, and the Founder of Abundant Good Coaching & Training and Abundant Good University. Joselito's signature programs are "Re-Write Your Money Story," "Finding Your Right Work," and "Create & Energize Your Vision Board". He holds a Doctorate in Religious Studies from the Emerson Theological Institute, a Master of Divinity from the Pacific School of Religion / Graduate Theological Union in Berkeley, CA, and is a licensed prayer practitioner with Centers for Spiritual Living. If you have any questions, you can contact Joselito at joselito@abundantgood.com and learn more about his work at www.abundantgood.com.