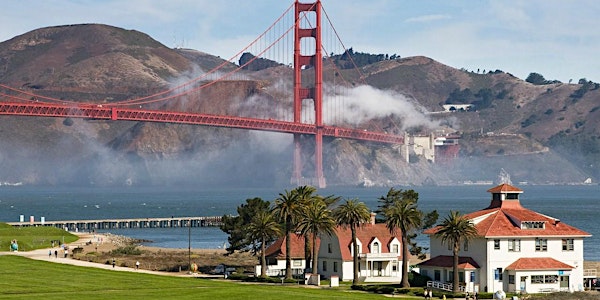 Living Life on Purpose February 2023 - San Francisco Presidio
Being in alignment with Self means knowing what you value, what's most important to you, building ability to discern, & receiving support
When and where
Location
Open Square Meeting Space (Inside the Non-Profit: Futures Without Violence) 100 Montgomery St San Frnacisco, CA 94129
About this event
1 day 6 hours

Mobile eTicket
Are you ready to live a life with clarity and purpose?
Being in alignment with yourself means knowing what you value and what is most important to you. It also means being clear on your values, your vision, your limiting beliefs, and the roles you play in your life, as well as listening to the voice in your heart that always guides you.
The Living Life on Purpose journey is an extraordinary two days of exploring together how to live life with intentionality and purpose. We've also built in plenty of time to walk, enjoy fresh air, and relax.
Here's how we help you discover your path:
Your two-day session is designed to walk the group through eleven thought-provoking questions that allow greater understanding of what it means to be aligned and living with personal integrity in work and life. Through individual reflection, coaching, small and large group discussions, breakouts, walks in nature, and time outside, each person completes this session with a personal life plan and a concise one page roadmap.
Participants track all of these discussion outcomes in a workbook that guide you through our process and capture every reflection, question, answer, vision, and idea. We also have other surprises that we give to you during the session in support of alignment with your purpose.
The Living Life on Purpose journey is an extraordinary two days of exploring together, what it means it means to live life with conscious intention, purpose and choice. You will get plenty of time to walk, enjoy fresh air and relax and enjoy the great view by the bay!
How this program makes an impact:
Since our last session, LLOP alumni have taken specific and sustained measures to improve their health. Some have even changed jobs or careers to be more aligned with their soul's purpose and the gifts they bring to the world. Many have improved relationships with loved ones, and some have started new businesses! All participants walk away with the clarity of what is truly important to them and a road map for how to cut out the noise and distractions. Ultimately, they have new discernment skills that enable them to use their energy and talents to focus on alignment and purpose.
Follow Up and On-Going Support
Following the retreat, you are invited to participate in monthly community calls with your retreat participants and/or all LLOP alumni to continue to check in on your journey.  We use these calls to share what we're learning, celebrate our successes and support each other through our challenges.  There is transformation that can only occur as a result of working in community.  You are automatically part of one as a graduate of LLOP.
THE DETAILS
Timing: Day one starts at 9:00 am and ends around 4:00pm.   Day two starts at 9:00 am and ends by 3pm. We ask that everyone be respectful of these timings and not leave early as the process requires 11 steps and it takes the full amount of time to finish all steps. 
Pricing:  this program, since its creation over 20 years ago, has been a labor of love.  As we continue to offer it in more cities and locations, me and my facilitators have been self-funding the experiences.  It's most important to us that anyone that is called to this work, anyone that is willing to show up and do the work, has access to the retreat.  We are in the middle of experimenting with a gift economy model that allows anyone to attend no matter what they can or cannot afford.  Those that can afford full price are helping create scholarship spots for those in need.  A portion of your full price ticket contributes to the scholarship fund and covers the expenses. If you want to attend but can't quite cut the entire ticket price, please don't let that prevent you from attending.  Just talk to us.  Use the "donation" option to pay what you can. Our recommended amount is no less than $100 for this category, but again, we want to take off the table any financial obstacles for you to attend.
Accommodations:  if you are visiting from out of town please make your reservations asap as it books up fast.  
San Francisco has a wide variety of options for varying price levels.  We have listed our recommended hotels/resources for you here.  If you are traveling into SF, the Presidio is approximately 30-40 minutes from SFO without traffic (45-60 max minutes on the long end.)
#1 Recommendation:  stay IN the Presidio and walk to our meeting room.  There are two hotels with a variety of pricing that are both within walking distance.  These are beautiful lodges that are newly furnished and are right in the heart of the Presidio with views of the Golden Gate Bridge.  Price range for SF is moderate.
This is a higher end hotel with a spa, outdoor heated pool and breathtaking views of the Golden Gate Bridge. Less then 10 min from our location, it's the perfect place to treat yourself to a luxury accommodation while enjoying their amenities.    You will need to take a Lyft/Uber/Car or Bike to get back and forth.  You could actually walk as well if you're a really good walker - and up for some hills and some time (60-90 min.)
Higher end quaint boutique hotel in very quiet neighborhood of exclusive Pacific Heights.  10 min ride to our location, and amazing walk (and workout) if you wanted to walk.  
#4 Recommendation: Alton Hotel: a Kimpton Hotel, cute, hip, GREAT restaurant, and nice location - easy to get to the retreat. https://www.altonhotelsf.com/
#5 Recommendation:  you can look into Airbnb's if you're going with a group or check any travel sites (Hotels.com, Expedia, Travelocity, etc.) for the best hotel deals in San Francisco or Sausalito.  
#6 Recommendation:  you can use Hotels.com or Hotel Tonight (app) or a variety of sources to find a hotel room in San Francisco that meets your needs.  Downtown SF/Union Square, where a bulk of the hotels reside, are about a 20 min Uber/Lyft/Taxi ride from the Presidio.
Meals:   Your event ticket covers lunch on both days.  We will take your lunch order each morning. Snacks will be provided throughout the day but bring what you need to nourish yourself.   We recommend you bring a refillable water bottle as well.   We are right by the Presidio Tunnel Tops (https://www.presidiotunneltops.gov/) where the view and park is amazing and there are some food options. There is wonderful Mexican restaurant right next door as well you might want to reserve for dinner as well as Cavallo Point restaurants right over the bridge for dinner.
Important Info/What to Bring/Pack: Please know that the weather in the Bay Area can change dramatically throughout the day. You should be prepared for anything from 55-75 degrees, possible fog and even maybe some rain. Please bring layers and dress comfortably. We want you to be as comfortable as possible during the retreat. We will be using the property to take advantage of the spacious outdoors and fresh air. We will spend time in nature on Sunday morning which includes hiking trails of all levels, from all flat by the Bay to slightly strenuous through the forest.  This really expands the intuitive process of tapping into what's really wanting to be noticed by and for you. Please bring hiking shoes or shoes appropriate for trails and appropriate layers for 50 degree weather and warmer.  (all hikes and walks are optional).
Cancellations and Refunds: We understand that people have to cancel. We have found that as soon as people register for the session, the work actually starts. It sends a signal to our deeper self that we care, we want to listen, and we want to be in alignment. Pay attention to any distractions that want to lure you away from doing this work. We encourage you to be super sensitive to cancelling. Notice why you want to cancel; are you potentially shutting down an opening that was ready for exploration?  Do you have a hard time putting yourself first and are afraid?  That said, we do understand that extenuating circumstances come up!  Sometimes cancelling has to be done.  But please note that we count on your attendance to support your own soul as well as others that can benefit from your presence. We also use your contribution to pay for materials and make space for others to attend.
We are here to serve and believe in our mission.   When we live our life on purpose, we take responsibility for sharing our best self and we become more somatically intelligent (another way of saying in tune with our inner wisdom and knowing)... When we're more somatically intelligent, we can contribute in the most beneficial and beautiful ways.  Our lives, our family, our community, our organizations, all flourish because of it.  We would be honored to work with you on your journey to living life on purpose!
If you can't make this session, please sign up for alerts for future sessions https://www.thesoulpurpose.com/llop/