About this Event
Do you find yourself constantly running around, checking the boxes on your to-do list, exhausted and tired at the end of the day? "Living in the Moment" is a half day retreat, where you'll learn key skills to help you slow down and accomplish tasks in a mindful way.
We'll begin the morning with a gentle yoga and meditation practice. Then we'll move into the kitchen, where you'll learn how to prepare a nourishing and wholesome ayurvedic meal, in a demonstration style cooking class. We'll talk about how yoga and ayurveda can be used to create a daily self-care routine. To end, we'll sit down and enjoy the meal together. You will leave refreshed and equipped to continue your yoga and cooking journey at home!
Please wear comfortable clothes, bring a yoga mat, and a journal to take notes. The yoga practice will be for all levels, even if you've never done yoga before!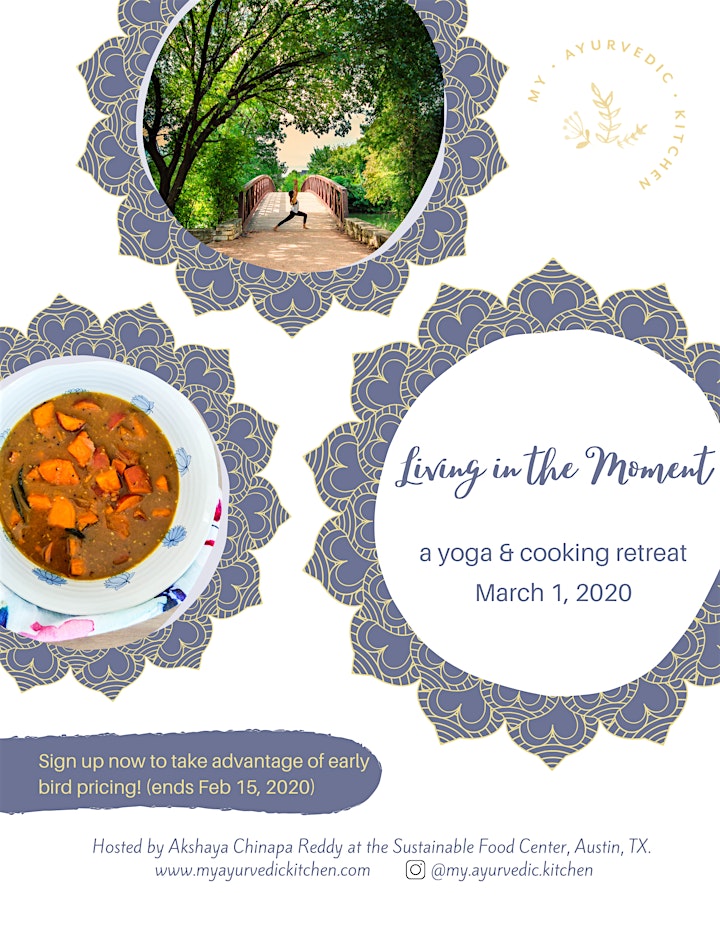 FYI
Waiver: You will be required to sign a general exercise waiver.
Organizer Refund Policy: Due to the nature of this event, NO cancellations and NO refunds are permitted. You may transfer the ticket to a friend if you cannot attend the event.
Akshaya Chinapa Reddy
I am a Yoga teacher, a passionate home cook, and a loving mother to two rambunctious boys. As a practitioner of Yoga for over 20 years, I have been on a journey to broaden my knowledge about Yoga and its many benefits. I completed my 250-hr. teacher training in Toronto, Canada, back in 2009. Currently, I'm working toward my 1000-hr Yoga Therapy Certification with Yoga Well Institute, and will soon be a practicing Yoga Therapist!
I specialize in Beginner's, Gentle, Hatha and Prenatal Yoga. I also work with private clients who are looking for a complete lifestyle change through the practice of Yoga and healthy eating. My purpose as a teacher is to share my knowledge of Yoga and Ayurveda with students through challenging and nurturing classes, while also inspiring them to make Yoga practice a part of their daily lives. In my classes, students will be able to turn inward and work on developing their mind-body-breath connection, release their daily stresses, and hopefully fall in love with Yoga over and over again.
I have been fortunate to have been a cooking instructor at the Sustainable Food Center's Happy Kitchen, where I taught many sold-out classes, specializing in Indian cuisine and Ayurvedic cooking. I have also taught a 7-week, Ayurvedic cooking series for Yoga Well Institute. I have years of yoga and cooking instruction under my belt, and bringing the two together in this special workshop is a dream come true!