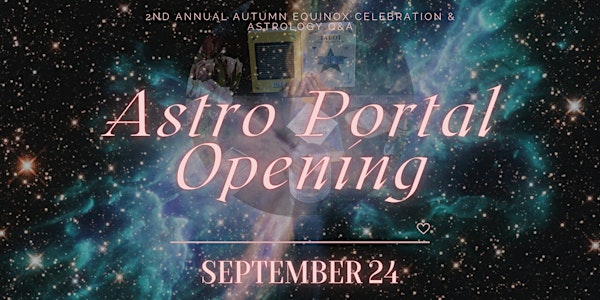 Living in Sync w/ the Signs ~ 2nd Annual Autumn Equinox Celebration
Celebrate the process of integrating astrology into your life and use its magic for deep understanding, growth and healing
Refund Policy
Contact the organizer to request a refund.
Eventbrite's fee is nonrefundable.
About this event
The calendar year may be winding down, but the autumnal equinox marks the midpoint of our astrological cycle. What better way is there to observe this than to reflect on the seeds we've planted in the spring and how they've begun to sprout for harvest? It's time to celebrate the changing of seasons and zodiac signs! With this energetic shift, we are invited to celebrate the growth we have experienced and embrace the magical possibilities ahead including tapping into our natural gifts and learning how to use them.
You are more than just your sun sign. We each are crafted with a unique blend of gifts and characteristics, none of which should be ignored. Most of them lie just beneath the surface. We just need to do a little digging.
Our planet aligns us with the natural rhythm of our solar system. Just as we are connected to the daily orbit of the moon and sun, we are connected with our planets and constellations in between, the zodiac. Like gravity, energetic influences come into play through our personalities, relationships, events and more.
Now, how do we begin to discover our cosmic curriculum? Don't worry, we'll tread lightly. This class is for beginners! Anyone who is curious about expanding their astrological experience and might not know where to start is welcome here! Advanced astrologers are welcome to join the fun as well!
Enter the Astro Portal on September 24, 2022 at 1p PT/ 2p MT / 3p CT / 4P ET virtually!
Hosted by Katherine Myles, founder of Blended Experience, featuring her personal journey with astrology and how to use its tools in modern life. This session will contain an astrology lesson, interactive Q&A and opportunity to join monthly Astro Portal membership. Admission includes something special!
Celebrate the changing of seasons and embrace what's to come!