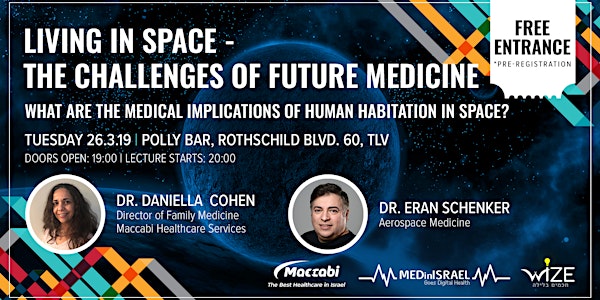 Living in Space | The Challenges of Future Medicine
When and where
Location
Polly bar Rothschild Blvd 60 Tel Aviv-Yafo, Tel Aviv District Israel
Description
Colonizing space- be it on the Moon, Mars, an Asteroid or a space station, is the future we are heading towards at an ever-increasing pace.
No longer just the vision of Science Fiction writers, TV shows or governmental agencies, Space exploration is emerging as one of the most exciting industries, with people like Elon Musk, Richard Branson and Jeff Bezos developing affordable, reusable human space travel- with the goal set at colonization.
But what about the human body? Are we able to sustain life in prolonged low gravity? How will prolonged exposure to radiation affect us? If we were to live in space- what effects would that have on our genetics? Immunity?
During our discussion, we will describe some of these challenges and what is already being developed to address them. We will also describe some of the fascinating spinoffs from space medicine research already in use in daily medical practice.
**About the Lecturers**
Dr. Daniella Cohen - Director of family Medicine Maccabi Healthcare Services
Dr. Eran Schenker Aerospace Medicine
The event will take place on Tuesday, 26/03, at Polly Bar, Rothschild Blvd 60, Tel Aviv.
Doors open - 19:00
Event starts - 20:00

MEDinISRAEL is the flagship event of the Digital Health industry in Israel. Our goal is to promote the use of transformative technology in healthcare for a brighter – healthier – future of society. We do so by bringing the global healthcare ecosystem closer together and creating better alignment and collaboration across borders and sectors. In the course of 4 inspiring days healthcare community members will come together to enjoy a rewarding experience of taking a firsthand look at outstanding achievements, understanding potential breakthroughs, gaining insights into diverse investment opportunities and sparking productive collaborations
*the lecture will be held in English

See you at the bar!