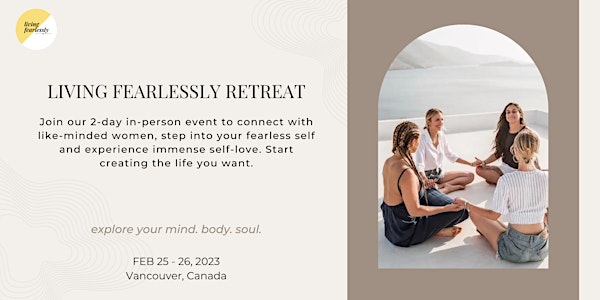 Living Fearlessly Retreat
Connect with like-minded women, discover your authentic self, embrace your true beauty and break-free from what's holding you back.
When and where
Location
The Garden Strathcona 868 E Hastings St Vancouver, BC V6A1R6 Canada
Refund Policy
Contact the organizer to request a refund.
Eventbrite's fee is nonrefundable.
About this event
1 day 7 hours

Mobile eTicket
Welcome! 💛
If you are looking to connect with like-minded women and support each other to experience unconditional self-love, this retreat is for you!
This retreat provides a safe space to connect deeply with yourself and other like-minded women. You will step into your true essence, immerse in self-love and return home with tools to fearlessly live your life. We want you to leave with the tools you need to step into your full power, become more confident and create a life that you love.
This experience is for you if you are...
feeling like you are not good enough
struggling with negative body image
unable to express your authentic self
pleasing others at the expense of your happiness
trouble finding or keeping love
feeling stuck in all aspects of life
Our retreat may be just what you need, if you are ready to:
love yourself unconditionally
fully embrace every curve of your body
unleash your authentic self
attract love into your life
connect with like-minded women sharing a similar journey
replace negative thoughts into self-love
live your life fearlessly
Our expert coaches will be leading you through interactive sessions to uncover your blindspots and break-free from what's holding you back. Get ready to immerse yourself in inner reflection, breathwork, art therapy, confidence building, meditation and more.
Hot tip: Use the limited time code "Fearless20" until January 10th, 2023 to get 20% off your ticket on our website thelivingfearlessly.com!
Cheers to meeting the fearless you.
Meet Our Expert Coaches
Lucas Mattiello: Confident Communication Trainer
I am a Confident Communication Coach, specializing in conquering what holds us back, and to becoming our confident, authentic self.
​I lived with anxiety and experienced panic attacks for 15 years. I was struggling, but the fear of looking bad or weak prevented me from getting the help I needed. When I finally got help, I applied stress management and personal development techniques to overcome my anxiety. This inspired me to become a public speaker. I have coached many entrepreneurs, TEDx speakers, conference speakers, and even Miss Universe contestants to win the crown and be in front of an audience of millions of people.
I have been featured in Forbes, and I am also an official TEDx Speaking Coach and a best selling author.
​During my session, I will guide you through conquering your fear to becoming the most confident and authentic version of yourself.
​Watch my TedTalk on "How to Speak with Confidence".
Raman Samra: Counsellor, Art Therapist
My expertise is in Art Therapy and Clinical Counselling. As a Clinical Counsellor specializing in Forensic Psychology, I work with a variety of individuals in the community, ranging from mood disorders, trauma, substance use recovery, personality disorder and those in correctional facilities.
Art is an integral part of my life - I started painting as an outlet for me to express my creativity, and have been able to experience the therapeutic aspect of art. I have been able to combine my passion for art with my counselling practice to offer a unique lens in helping people with their self-discovery and recovery.
In my personal journey, I have struggled with self-acceptance. I tried to please everyone at the expense of my authenticity. Art and music have been a catalyst in helping me express my authentic side. As I discovered to be my authentic version, people around me also started to accept me for who I am.
At the retreat, I will be facilitating exercises utilizing art therapy and counselling to transform your relationship with your body. We will also dive into how you can harness your feminine energy to cultivate self-love.
​Get to know me more through my share on "How Creativity Helps Mental Health".
Mindy Branigan: Ki Meditation Sensei
I have been practicing Ki meditation for 28+ years, while holding a Black Belt in Aikido. I have also been teaching both Ki meditation and Aikido to people of all ages for 20+ years.
​Ki Meditation is a traditional Japanese meditation technique. It has been derived from Aikido, which is an ancient form of Japanese martial art. Ki Meditation helps to develop a calm, focused mind, increases energy, puts us in "flow state", improves our health while reducing stress and tension. It is a unique, experiential way to combine mind, body, spirit as one, allowing us to unlock our full potential.
​By practicing Ki principles, I have been able to connect and embrace my authentic, natural and ageless grace and beauty.
​During the retreat, we will learn the key principles of Ki meditation, experience calmness by connecting with our mind, body and soul as one, and learn to navigate our daily life with grace and confidence.
Cancellation Policy
You may cancel your booking until 60 days before the event start time, and will receive a full refund. You may cancel your booking between 60 days and 30 days before the event start time, and receive 50% refund.
Cancellations submitted less than 30 days before the event start date are not refundable.