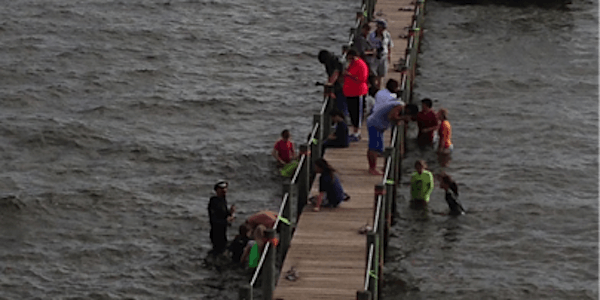 Living Dock Deployment on Melbourne Beach Pier
When and where
Location
Melbourne Beach Ryckman Park Melbourne Beach, FL 32951
Description
Benthic organisms such as oysters, sponges, barnacles and tunicates are filter feeders, which have the potential to significantly improve local water quality and provide habitat and food for crabs and fish. The Indian River Lagoon Research Insitite (IRLRI) at Florida Tech and local community groups have been working together to create Living Docks, which promote the growth of filter feeders at private and public locations along the Indian River Lagoon. This is done by attaching oyster wraps and bags to docks.
Join the IRLRI as we team up with the town of Melbourne Beach to create a Living Dock on the Ryckman Park Pier. Volunteers are needed to assist on land as well as in the water. Please come prepared to get wet and learn about the benthic organisms in the Indian River Lagoon!
Available the day before? Join Engineers, Scientists, Contractors, and Students who are actively working and researching in the field of coastal water quality remediation and restoration, as they present their research at the 2017 Tech Con. This is a technical conference focused on water quality solutions. More information and to register can be found on our website: https://give.fit.edu/irlri-techcon. Note: this is a paid event.