Living Beyond the Vision Board - Session II "In Pursuit of Vision"
Description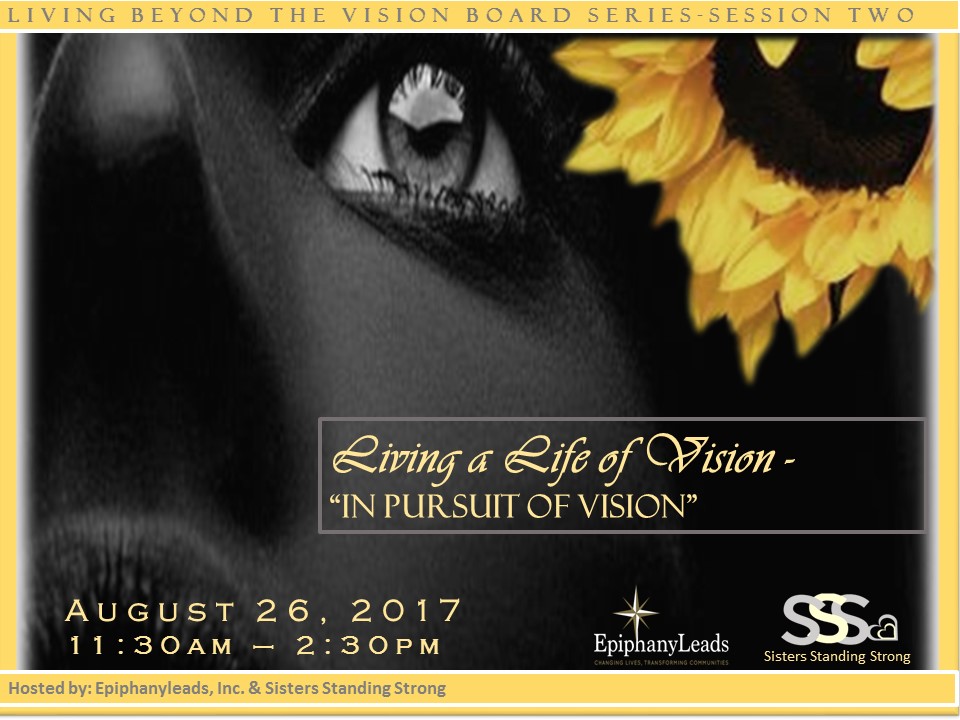 Course Description:
Living Beyond the Vision Board is a five-part course designed to discover, ignite, and actualize vision in our lives. Living a Life of vision requires a commitment to examining your life's purpose and then living it "on purpose." The discovery and pursuit of vision is the gateway to living full and complete lives. A true vision is a life journey upon which we allow God's divine plan and purpose to unfold. One of the greatest misfortunes is to lack the knowledge and confidence of who we are and why we are on this earth. Once we discover the vision for our lives, the next big step is to be in pursuit of accomplishing it entirely in our lives.
In recent years, vision boarding has become more and more popular. There are those who say, "create the board" that powerful visualization of your future envisioned. Once created vision boards place the things which motivate and drive you in your line of sight every day. The problem with vision boarding alone, is they lack the personal devotion of your divinely infused will and personal investment necessary for vision attainment. Living Beyond the Vision Board contends that the courage, commitment, and discipline needed to actualize vision in our lives requires not only a clear understanding of God's vision but also, an active pursuit of this revealed vision in and through our daily lives.
The Promise of Living Beyond the Board Series:
You will experience the journey and process of vision discovery;

You will develop an operational vision board;

You will crystallize and clarify your vision;

You will gain focused discipline through goal setting and action-planning to fulfill vision in your life; and

You will meet other like-minded individuals seeking to unveil and live out their unique life's purpose.
Living Beyond the Vision Board Series:
Session - 1. The Power of Vision
(Vision Defined) Offered June 24, 2017
Note: If you missed this session, you still can attend Session 2 (Vision Board supplies will be available)
Session - 2. The Pursuit of Vision
(Clarify and Crystallize Your Vision) If you already have a vision board, bring it with you. If not, we will provide boarding materials for your use
Session - 3. The Process of Vision
(Strategy Planning for Vision Fulfillment - Goal Setting and Actionable Tasks)
Session - 4. The Productivity of Vision
(Assess progress toward vision fulfillment and continued planning)
Session - 5. The Praise of Vision (The Vision Celebration)
Included in the Course:
Course Booklet and Materials

Vision Board Materials

Refreshments

Give-A-Ways






Date and Time
Location
Refund Policy