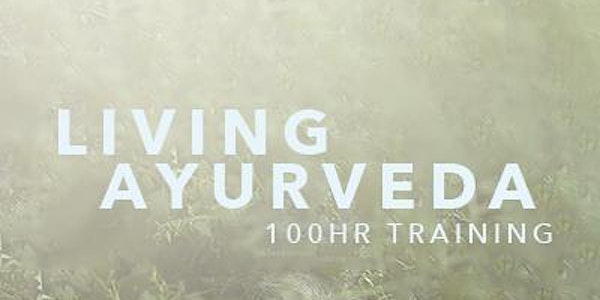 Living Ayurveda
This training is for life coaches, yoga practitioners and anyone interested in diving deeply into the science and lifestyle of Ayurveda.
Refund Policy
Contact the organizer to request a refund.
Eventbrite's fee is nonrefundable.
About this event
learn the life-transforming practices & philosophy of Ayurveda online with Dhyana Masla, Syama Masla, Richard Masla
dates – 5 consecutive weeks
*note: we will also have an orientation session ​is Thursday, March 25th from 5-6:30pm.
*all times are EDT (Eastern Daylight Time)
location – online
Our online sessions will be conducted via zoom. The teacher will email you 30-60 minutes before class starts to send the zoom link which you can use to access the live video. This link will be sent to your email address you enter on eventbrite or mindbody upon registration.
tuition: early bird special first 5 Students $1800 | regular – $2,200
contact: dhyanamasla@gmail.com
_______________________________________________________________________________________________________
This training is for yoga teachers, life coaches, yoga practitioners and anyone interested in diving deeply into the science and lifestyle of Ayurveda. It consists of 100 hours which can be applied to the advanced, Yoga Alliance certified 300 hour yoga teacher training. This training is also certified for continuing education hours for NAMA certified Ayurvedic practitioners.
COURSE CURRICULUM:
Ayurvedic Digestion and Nutrition
Dinacharya & Rtucharya ( Daily & Seasonal routines for self care )
History and Philosophy of Ayurveda
Ayurvedic Cooking
Ayurvedic Yoga, meditation and pranayama
Fundamental theory of the doshas, subdoshas and dhatus
Psychology from an Ayurvedic Perspective
Non Violent Communication & Coaching skills
Customized yoga classes for balancing doshas
PRE-REQUIRED READING:
– Read the Introduction to Everyday Ayurveda Cookbook by Kate O'Donnell  (Introduction + Part 1, chapters 1-3)
– Ayurveda the science of self healing by Dr Lad
SUGGESTED READING:
– What to eat for how you feel by Divya Alter
WHAT IS AYURVEDA?
Ayurveda, Yoga's sister science, is a 5,000-year- old system of natural healing rooted in the ancient culture of India. More than a mere system of treating illness, Ayurveda is a science of life (Ayur = life,Veda = science or knowledge), guiding us not only towards vibrant physical and mental health, but also deeper connection to our spiritual nature. It offers a body of wisdom designed to help you stay vital while realizing your full human potential. Providing guidelines on ideal daily and seasonal routines, diet, behavior and the proper use of our senses, Ayurveda reminds us that health is the balanced and dynamic integration between our body, mind, spirit, and environment.