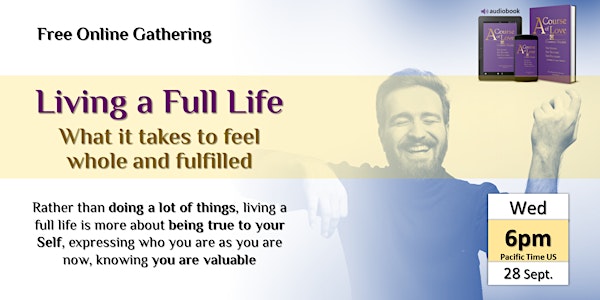 Living a Full Life: What it takes to feel whole and fulfilled
A full life is more about being your true Self than doing lots of things, expressing who you are as you are now, knowing you are valuable.
Refund Policy
Contact the organizer to request a refund.
Eventbrite's fee is nonrefundable.
About this event
Let's share our insights and experiences together in this free online gathering that will explore Living a Full Life: What it takes to feel whole and fulfilled in light of the transformative ideas presented in A Course of Love, a book that guides its readers along the journey of Self-knowledge.
Contrary to what you might think, a full life is not about getting busy and involved in a lot of activities. As you have probably experienced or observed in others, a busy life may feel meaningless or hollow.
As A Course of Love says, "Have you not long wished to know your purpose? To be given a goal that would fulfill the longing in you? ...Have you not become increasingly convinced that you have not been living, and wondered what it is you have been doing? Have you not grown weary of what passes for life in your world? Have you not wished you could throw out all the thoughts and worries that fill your mind and begin anew?"
This gathering is not a talk or a lecture, but an invitation for you to dialogue and discover what living a full life means to you, and how to be done with the way things have been and to begin a new way. Are you not ready to listen to a new voice? "Can you let the worries of today leave your mind? Can you let the disappointments of yesterday go and be no more? Can you let the planning for the future cease? Can you be still and know your Self?"
Brought to you by a team of A Course of Love facilitators

Note: If you have any difficulties registering for or getting into this event, please contact us directly via WhatsApp (+1 242 376-4440) or email (social@acourseoflove.org).