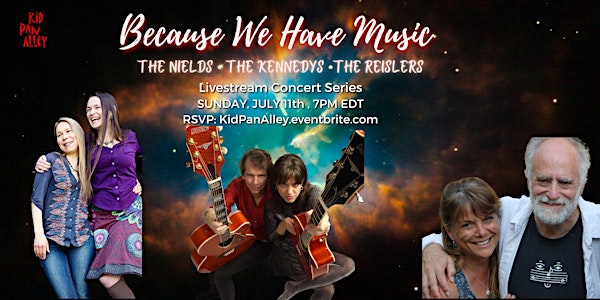 Livestream--The Nields, The Kennedys and The Reislers
Livestream featuring The Nields, The Kennedys, and The Reislers
About this event
The folk music is really going to rock out on Sunday, July 11th at 7pm EDT at Kid Pan Alley's Because We Have Music free livestream concert series. The program features the Nields, the Kennedys, and the Reislers—an evening of duos related to each other.
The Nields story begins with the two sisters. Nerissa and Katryn a grew up singing folk songs in the kitchen and in the back seat of the family car. They are now celebrating their 30th anniversary of performing together professionally with the release of their 20th album called November.
The Chicago Tribune wrote, "As the work of the Everly Brothers or the McGarrigle Sisters has amply demonstrated, there are few sounds as sublime as close harmonies rendered by siblings. In the case of western Massachusetts folk rockers the Nields, the siblings are sisters Nerissa and Katryna Nields, and their inimitable vocal blend is a disarming mix of clean folk harmonies and clenched Generation-X angst.
Pete and Maura Kennedy are known nationwide as the hosts of the late lamented Dharma Café program on Sirius Satellite Radio, and on Broadway, where they are regular cast members of Theatre Within's annual tribute to John Lennon — working in that capacity with Patti Smith, Debbie Harry, Jackson Browne, Cyndi Lauper and a host of others.
Pete is an amazing guitarist and has won 9 WAMMY awards as Best Instrumentalist. Veterans of tours backing Nanci Griffith and Mary-Chapin Carpenter, as well as thousands of sessions and duo concerts, the Kennedys focus their repertoire on songs that uplift, encourage and empower.
Paul Reisler was also the leader of the seminal chamber folk group Trapezoid for almost 25 years until he founded Kid Pan Alley in 1999. Since then he's written close to 3,000 songs with children as well as 2 musicals and lots of instrumental music. Cheryl has been singing with Paul since they met 9 years ago.
The Greenville (SC) News said, "Paul Reisler is certainly a leader among those who blend the categories, who redefine eclectic or take eclectic to new and wonderful territories."
RSVP at http://KidPanAlley.eventbrite.com to enjoy that electric boundary where folk and rock collide on July 11th.
Join us as folk and rock collide in our zoom living room where you can talk with the performers and come as close as possible in these times to the magic of a house concert.
The concerts are free, but there is a tip jar where you can help support the artists: Paypal.me/kidpan or @kidpan, Venmo: @KidPanAlley