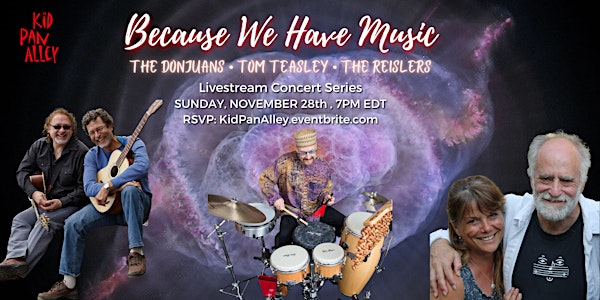 Livestream--The DonJuans, Tom Teasley, Paul & Cheryl Reisler
Livestream featuring The DonJuans, Tom Teasley, Paul & Cheryl Reisler
About this event
Kid Pan Alley's Because We Have Music virtual house concert series returns from vacation on Sunday, November 28th at 7pm EST for a free concert featuring Grammy winning songwriters The DonJuans, world percussion master Tom Teasley, and hosts Paul and Cheryl Reisler. Their awards would fill a room--or at least a walk-in closet.
By their name you might assume that the DonJuans rely merely on their good looks. However, you will be impressed to know that the group includes two GRAMMY® Award-winning songwriters, Don Henry and Jon Vezner. Their song, Where've You Been (recorded by Kathy Mattea) was the first song in country music history to sweep all major song of the year honors including the GRAMMY®, ACM®, CMA, and the Nashville Songwriter's Association International (NSAI) awards. Their songs have been recorded by a multitude of artists including Janis Ian, Ray Charles, John Mellencamp, and Miranda Lambert to name a few. Working as a duo, the DonJuans bring an impressive array of songs, experience, and gifted musicianship. www.theDonJuans.com
Tom Teasley, described in the Washington Post as "a multi-instrumental genius," maintains a unique career as a solo percussionist, composer and collaborator. He's won 3 Helen Hayes Theatre awards, Wammies for 4 years running as World Instrumentalist of the Year and he was named the World Percussionist of the Year by Drum! Magazine in 2016. A six-time recipient of a Fulbright-Hayes grant for performances in the Middle East, Tom collaborated with indigenous musicians and gave historic performances by invitation of U.S. embassies in Saudi Arabia, Bahrain, Iraq, Samoa, Oman and Jerusalem. He has been the subject of numerous feature articles in both Modern Drummer Downbeat and Drum! magazines. www.tomteasley.com
Paul Reisler is the founder and Artistic Director of Kid Pan Alley and has written thousands of songs and instrumentals as well as two musicals. He toured for 20 years as the leader of Trapezoid.
Come join the musicians in our Zoom living room on November 28th for an evening that will take you around the world and back again. Reserve your place at KidPanAlley.eventbrite.com.
The concerts are free, but there is a tip jar where you can help support the artists: Paypal.me/kidpan or @kidpan, Venmo: @KidPanAlley