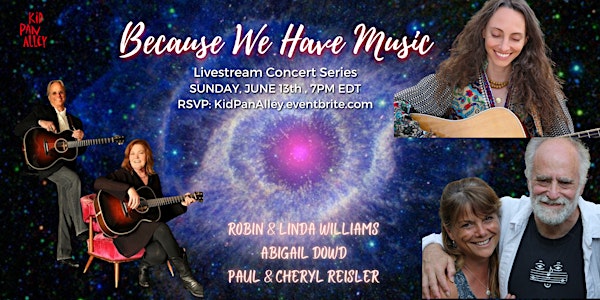 Livestream--Robin & Linda Williams, Abigail Dowd, Paul & Cheryl Reisler
Livestream featuring Robin and Linda Williams, Abigail Dowd, Paul & Cheryl Reisler
About this event
Kid Pan Alley's Because We Have Music free virtual concert series continues on June 13th at 7pm (EDT) with Robin and Linda Williams of Prairie Home Companion fame, singer-songwriter Abigail Dowd, and hosts Paul Reisler and Cheryl Reisler.
For more than four decades now, Robin & Linda Williams have made it their mission to perform the music that they love, a robust blend of bluegrass, folk, old-time and acoustic country that combines wryly observant lyrics with a wide-ranging melodicism. Today some might call it "Americana," but these two revered music masters were living and breathing this elixir 20 years before that label was turned into a radio format.
Having always sung gospel music, they teamed up with their old friend and Prairie Home Companion host Garrison Keillor to for the Hopeful Gospel Quartet which released several albums and toured the USA, British Isles and Europe.
As live performers they are second to none. Their stirring concerts have earned them a huge body of fans over the years. But as gifted songwriters Robin and Linda have earned an even rarer honor, the devotion and deep respect of their musical peers. As The Washington Post put it, "The Williamses are able to sum up a life in a few details with moving completeness."
The list of artists who have covered their original songs include some of the greats of country music, names like Emmy Lou Harris, Tom T. Hall, George Hamilton IV, Tim & Mollie O'Brien, Mary Chapin Carpenter, Kathy Mattea and The Seldom Scene.
Singer/songwriter/guitarist Abigail Dowd grew up under the longleaf pines of North Carolina and comes from a long line of musicians. Known for her storytelling and command of an audience. All Scene Eye called her "a writer of the highest caliber." Acoustic Guitar magazine said, "The guitar-driven introspective folk of the 1970s is a touchstone, but so are blues and roots rock 'n' roll."
Dowd's latest album, "Beautiful Day" was recorded live with a full band. It's a collection full of resilience, hope and grit that American Songwriter Magazine called "a friendly reminder that life's blessings are happening in the here and now."
Paul Reisler has written more songs than the Beatles, Bob Dylan, Joni Mitchell, and Stephen Foster combined—somewhere north of 3,000 compositions thanks in no small part to his army of 70,000 short collaborators in Kid Pan Alley residencies as well a handful of Grammy-winning co-writers. Artists including Sissy Spacek, Raul Malo, Darrell Scott, Cracker, Corey Harris, Jesse Winchester and many others have recorded his songs. He's been recording, performing, and writing for the last 45 years. He'll be joined by vocalist Cheryl Reisler. Who knows, they may even sing some songs from their wedding the previous week.
Join us for an intimate evening of song in our zoom living room where you can talk with the performers and come as close as possible in these times to the magic of a house concert.
The concerts are free, but there is a tip jar where you can help support the artists: Paypal.me/kidpan or @kidpan, Venmo: @KidPanAlley