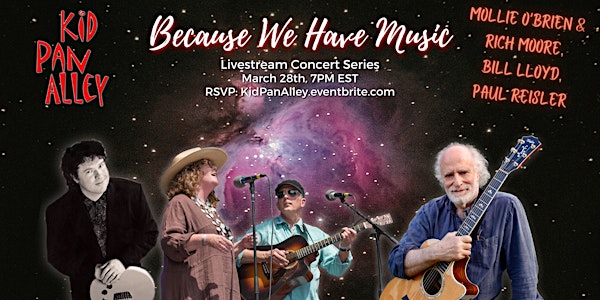 Livestream-- Mollie O'Brien and Rich Moore, Bill Lloyd, Paul Reisler
Livestream of American Roots Music with Mollie O'Brien and Rich Moore, Bill Lloyd, Paul Reisler and Cheryl Toth
About this event
Kid Pan Alley's Because We Have Music free livestream series taps into the roots and branches of American roots music on Sunday, March 28th at 7pm EDT with Grammy winner Mollie O'Brien and guitarist Rich Moore, Bill Lloyd of the popular 80's country-rock duo Foster and Lloyd, and hosts Paul Reisler and Cheryl Toth.
American roots music, a broad range of styles that include among others blues, gospel, country, folk, and zydeco, is the foundation of so much of our popular music. These contemporary songwriters and musicians expand on that tradition and take it to new and wonderful places.
O'Brien and Moore have steadfastly made it their mission to unlock the secrets of the diverse array of styles that comprise the canon of American Roots Music. Mollie has long been known as a singer who doesn't recognize a lot of musical boundaries, and audiences love her fluid ability to make herself at home in any genre while never sacrificing the essence of the song she tackles. As songwriters they add their own tunes to the canon of American roots music they inhabit and show us they're completely at home with their musical selves.
The Washington Post wrote, "The precision of her phrasing, the smooth flow of her delivery and the sheer beauty of her alto make her one of the best interpretive singers in American pop today." And other artists sing their praises. Like Darrell Scott who said, "We do not have another singer like Mollie O'Brien – she stands and delivers in a completely original way – no matter the material. Together Mollie and Rich have made a sure and honest recording of Saturday nights and Sunday mornings that runs as deep as family."
Bill Lloyd is a Nashville based songwriter, musician, recording artist and producer who is most often remembered as half of the late '80's RCA country-rock duo, Foster and Lloyd. His diverse musical activities have had him working with artists including Carl Perkins, Ray Davies of The Kinks, Buck Owens, Steve Earle, Poco, Marshall Crenshaw and Cheap Trick. As a songwriter, his songs have been recorded by Trisha Yearwood, Martina McBride, Sara Evans, Keith Anderson, Hootie and the Blowfish and many others. In reviewing one of his albums, Pure Pop Radio said, "Lovely melodies, nimble acoustic guitar playing, and emotive vocals combine for an affective experience from a contemporary music master."
Paul Reisler is the founder of Kid Pan Alley as well as the chamber folk group Trapezoid, and Paul Reisler and Three Good Reasons. The All Music Guide called his music, "…Pure poetry. The ensemble treats these original tunes by Trapezoid's founder Paul Reisler with the reverence of old traditional ones but with a daring of Promethean proportions." He'll be joined by vocalist Cheryl Toth.
One of the things that sets this series apart from just watching something on Facebook or YouTube is that the audience is part of the show in the Kid Pan Alley zoom living room.