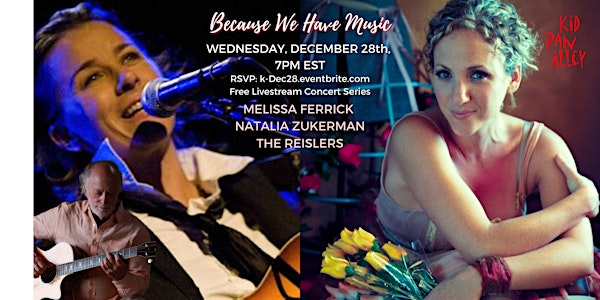 Livestream--Melissa Ferrick, Natalia Zukerman, The Reislers
Free Livestream with Melissa Ferrick, Natalia Zukerman, The Reislers
About this event
Visit KidPanAlley.org to learn more about Kid Pan Alley and our mission to inspire creativity, build confidence, and foster community among children of all ages through the group songwriting process. This fall we are providing our workshops virtually to schools across the country,
On Wednesday, December 28th at 7pm (EST) Kid Pan Alley's free Because We Have Music livestream concert series features Melissa Ferrick, Natalia Zukerman and hosts Paul and Cheryl Reisler.
Melissa Ferrick was signed to Atlantic Records in 1992 at the age of 21, after opening for Morrissey in the US and UK. Melissa has released seventeen albums over the last twenty-five years that have won numerous awards for songwriting, production, and performance. Regarded in the industry and by their peers as one of the most prolific and hardworking artists in the business, Ferrick still tours regularly playing throughout North America sharing the stage with Morrissey, Joan Armatrading, Weezer, Mark Cohen, Paul Westerberg, Bob Dylan, John Hiatt, Ani DiFranco, k.d.Lang, Suzanne Vega, Shawn Colvin, and many others.
Melissa is a Professor of the Practice at Northeastern University in the Music Industry Department at the College of Arts Media and Design. Previously, Melissa was an Associate Professor of Songwriting at Berklee College of Music.
Glide Magazine said, "Her earnest passion for her music and the potency and ferocity of her live performances continue to thrust her forward."
Natalia Zukerman is a musician, painter and educator who grew up in a classical music family. Her father is the violinist Pinchas Zukerman and her mother is flutist Eugenia Zukerman. She's released eight independent albums and has toured internationally as a solo performer since 2005 and performed, opened for and recorded with some of Folk music's greatest legends including Janis Ian, Holly Near, Tom Paxton, Ani DiFranco, Richard Thompson, Susan Werner, Willy Porter and more! Zukerman is also a Cultural Diplomat with the State Department and recently worked with social justice musicians virtually in Zimbabwe with the band Raining Jane (Jason Mraz.)
The New Yorker Magazine said, "Natalia Zukerman's voice could send an orchid into bloom while her guitar playing can open a beer bottle with its teeth." She's been working with Kid Pan Alley as a teaching artist and is now the Program Director for the organization.
Paul Reisler has been performing, writing, and teaching songwriting for almost 50 years with Trapezoid, A Thousand Questions, Three Good Reasons and with his Kid Pan Alley songwriting project. He'll be joined by vocalist Cheryl Reisler.
The Greeneville (SC) News said "Paul Reisler is certainly a leader among those who blend the categories, who redefine eclectic or take eclectic to new and wonderful territories."
This free concert is a benefit for the Kid Pan Alley songwriting program for children. Join us in the intimate atmosphere of our Zoom living room to celebrate these stories, these artists, and these songs on December 28th at 7pm EST.
Tip Jar: www.Paypal.me/kidpan • Venmo:@ KidPanAlley
We also simulcast to YouTube, so if the zoom room is sold out you can watch on our pages on those services.