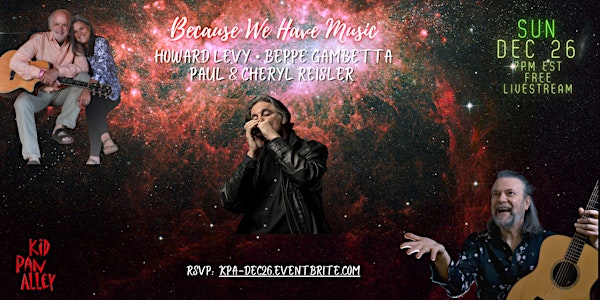 Livestream--Howard Levy, Beppe Gambetta, Paul Reisler
Free Livestream with Howard Levy, Beppe Gambetta, Paul Reisler
About this event
Kid Pan Alley's Because We Have Music free livestream concert series continues with two masters of their respective instruments Howard Levy of the Flecktones and Italian guitarist Beppe Gambetta. The concert, on December 26th at 7pm EST will also include songs by hosts Paul and Cheryl Reisler.
Howard Levy is a musician without limits. His musical adventures include journeys into jazz, pop, rock, world music, Latin, classical, folk, blues, country, theater, and film. He has appeared on hundreds of CD's, won two Grammys, a Joseph Jefferson Award for Best Original Music for a Play, and has performed many times on American and European television and radio.
Universally acknowledged as the world's most advanced diatonic harmonica player, Howard developed a fully chromatic style on the standard 10 - hole diatonic harmonica, revolutionizing harmonica playing and taking the instrument into totally new territory. He is also an accomplished pianist and composer, and plays many other instruments as well, including flute, ocarina, mandolin, saxophone, and percussion.
Levy was a founding member of the Bela Fleck and the Flecktones. He toured and recorded two albums with Kenny Loggins, and formed Trio Globo with Eugene Friesen and Glen Velez . Howard has also performed and/or recorded with Dolly Parton, Styx, Bobby McFerrin, Paul Simon, John Prine, Paquito D'Rivera, Ken Nordine, Trapezoid and many others.
"Italian guitarist, Beppe Gambetta is considered by many musicians in the world as one of, if not the best, acoustic guitarists," according to Bluegrass Unlimited Magazine. The Cornish Guardian said, "His incredible versatility combined with his charm and engaging stage presence make Beppe's concerts evenings of high quality music and relaxed entertainment. Over-riding all else, however, is the brilliance of his talent..."
His reputation in the U.S. and Canada is reinforced by his participation in prestigious festivals like the Walnut Valley Festival, Merlefest, Winnipeg and Edmonton Folk Festivals, as well as events like the radio shows "All Things Considered" and "E-Town". Beppe has performed in prestigious rooms like the Ryman Auditorium and the Metropolitan Museum of Art. In his career he has performed with some great heroes of the folk scene like David Grisman, Gene Parsons, Doc Watson, Norman Blake and Men Of Steel. He is truly a musician's musician.
Paul Reisler is the founder of Trapezoid, Kid Pan Alley, A Thousand Questions and Three Good Reasons. Over his 45-year career, he's written thousands of songs and instrumentals as well as two musicals. He'll be joined by vocalist Cheryl Reisler.