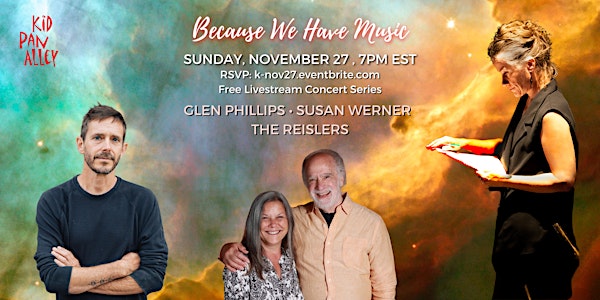 Livestream--Glen Phillips, Susan Werner, Paul and Cheryl Reisler
Livestream with Glen Phillips, Susan Werner, Paul & Cheryl Reisler
About this event
Kid Pan Alley's Because We Have Music free livestream concert series starts up again on Sunday, November 27th at 7pm featuring Glen Phillips of Toad the Wet Sprocket fame, Susan Werner, and Paul and Cheryl Reisler.
Best known as the front man and primary songwriter for alt rock band Toad the Wet Sprocket, Glen has also forged an extensive solo career full of eclectic collaborations and side projects. In the early '90s, Toad broke into the mainstream with a thoughtful, folk-driven sound that yielded jangling hits like All I Want and Walk on the Ocean. Following the group's initial breakup at the end of the decade, Phillips applied his warm baritone and introspective lyrics to a series of solo albums.
He has also collaborated with a member of Nickel Creek as Mutual Admiration Society and was part of the 2009 supergroup Works Progress Administration. By the 2010s, a reunited Toad the Wet Sprocket had issued a comeback album, even as Phillips forged ahead with tightly crafted albums of his own including 2016's Swallowed by the New and 2022's There Is So Much Here.
Over the course of her 25-year career, Susan Werner has earned a reputation as "one of the most innovative songwriters working today" (Chicago Tribune). With formidable chops on guitar (she began playing at age 5) and piano (she was a guest on Marian McPartland's Piano Jazz), along with a graduate degree in voice performance, her shows are a one-woman master class in musicianship. The New Yorker Magazine said, "Susan Werner, a clever songwriter and an engaging performer, brings literacy and wit back to popular song."
Although best known as an acoustic songwriter that came up through coffeehouses and folk festivals, the Chicago-based artist has written songs in the style of Gershwin and Cole Porter (I Can't Be New, 2004), gospel music (The Gospel Truth, 2007), traditional Cuban "son" (An American inn Havana, 2016), and New Orleans junk piano (NOLA, 2019). In 2014 she composed the music and lyrics to the musical theater score Bull Durham, The Musical (MGM). Her songs have been recorded by Tom Jones, Michael Feinstein, and Shemekia Copeland, and her latest recording of originals, The Birds of Florida, takes flight in 2022.
Paul Reisler is the founder of Trapezoid, Kid Pan Alley, A Thousand Questions and Three Good Reasons. Over his 45-year career, he's written thousands of songs and instrumentals as well as two musicals. He'll be joined by vocalist Cheryl Reisler. His songs have been recorded by artists including Sissy Spacek, Pinchas Zukerman, Darrell Scott, Raul Malo, Lisa Loeb, Nashville Chamber Orchestra, Corey Harris, and many others
Join the fun in the zoom living room where you can talk to the musicians and listen to some great music in the comfort of your own living room by registering at https://k-nov27.eventbrite.com
Proceeds from donations at the concerrt go to support the Kid Pan Alley songwriting programs for children. Tip Jar: www.Paypal.me/kidpan • Venmo:@ KidPanAlley
We also simulcast to YouTube, so if the zoom room is sold out you can watch on our pages on those services.
Visit KidPanAlley.org to learn more about Kid Pan Alley and our mission to inspire creativity, build confidence, and foster community among children of all ages through the group songwriting process. This fall we are providing our workshops virtually to schools across the country,