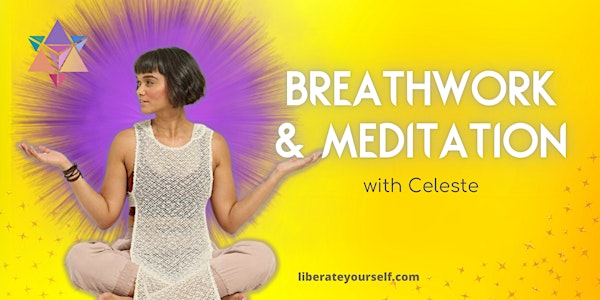 LIVESTREAM | Breathwork & Meditation with Celeste
Online Breathwork Class.
Refund Policy
Refunds up to 1 day before event
Eventbrite's fee is nonrefundable.
About this event
MONDAYS & WEDNESDAYS | 8AM | LIVESTREAM ONLY! REPLAYS AVAILABLE
Breathwork as your new Morning Workout.
The Conscious Awareness of your Breath is a practice that is thousands of years old, and while there are many variations, all types of Breathwork offer the opportunity of personal transformation through improved mental, emotional, physical, and spiritual well-being.
There are many studies now showing that the state of our Breath, is the underlying cause of all physical, mental and emotional symptoms. So rather than beginning with a drastic change in diet or exercise, we can begin to see that what needs our most immediate attention is the activity that we do 22,000 times per day: Breathing. Our Breath is literally what keeps us alive, and yet, so often, we go through the day chronically shallow breathing, which physiologically speaking, keeps us in a state of fight or flight.
It is said that how we Breathe is how we live, and so to live life to its fullest, we believe we should Breathe to our fullest. Breathwork bridges Ancient Wisdom with Modern Science, to allow us to Bio Hack our beautiful physical vessels that have been subject to our environments for far too long and to Co Create the internal AND external realities that we desire.
Join Celeste McMillian for an hour of education, meditation and exploration utilizing your Breath, to Heal, Empower and Invigorate your life.
Benefits of Breathwork include but are not limited to:
+ Reduced Stress, Anxiety & Depression
+ Increased Energy & Stronger Immune System
+ Increased Presence, Self Awareness & Joy
+ Improved Sleep
+ Releasing Fear & Trauma
+ Reduced Pain
+ Improved Digestion
+ Exploration of altered states of Consciousness
+ Lower Blood Pressure
+ Increased Attention Span
For more information on your Practitioner visit: