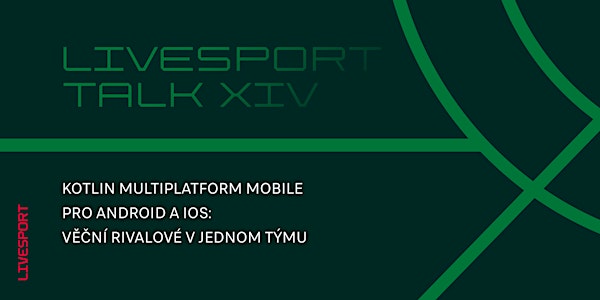 Livesport Talk XIV.
Livesport Talk XIV – Kotlin Multiplatform Mobile pro Android a iOS: věční rivalové v jednom týmu
When and where
Location
Aspira Business Centre Bucharova 2928/14a 15800 Praha Czechia
Refund Policy
Contact the organizer to request a refund.
About this event
Jedna část uživatelů mobilní aplikace Livesport nedá dopustit na Android, jiná skupina fanoušků by zase "svůj" iOS nikdy nevyměnila. Operační systémy jsou dobrým příkladem soupeření, která se odehrává mimo sportovní stadiony. Co když se ale z rivality stane spolupráce? Jak si ukážeme na čtrnáctém Livesport Talku, za touto konkrétní stojí kód sdílený pomocí Kotlin Multiplatform Mobile.
Moderátor Petr Burian nejprve uvede na podium dvojici Juraj Filan–Martin Štrambach. Ta představí možnosti, které mobilním vývojářům přináší Kotlin Multiplatform Mobile pro Android a iOS. Jako nejlepší příklad toho, co sdílení kódu nabízí, poslouží studie přípravy sportovního zpravodajství do obou platforem naráz (a v rekordně krátkém čase).
Juraje s Martinem poté vystřídá Honza Decker. V krátkosti ukáže, jak spolupracuje designový tým, jehož je součástí, s kolegy z mobilního vývoje. Nastíní také možnosti, které v tomto ohledu nabízí nový design systém.
Závěr oficiální části Livesport Talku obstarají Michal Klement s Martinem Holodniokem. Promluví třeba o moderních nativních frameworcích SwiftUI a Jetpack Compose. Právě ty nám totiž společně s Kotlin Multiplatform Mobile a vlastním design systémem pomohly v tom, abychom zvládli sdílet co největší část kódu pro obě platformy.
Do Aspiry můžete přicházet už od 17:00. Oficiální program začne o hodinu později, takže budete mít dostatek času na malé občerstvení. Jako obvykle necháme dostatečný prostor na doplňující otázky. Nejen po jednotlivých vystoupeních, ale i v rámci navazujícího networkingu. Zájemci navíc dostanou možnost poznat zázemí Livesportu během neformální prohlídky.
Harmonogram
17:00 Registrace a občerstvení
18:00 Martin Štrambach (iOS Developer) a Juraj Filan (Android Developer) - Jak postavit zpravodajství pro 100 milionů uživatelů v rekordním čase
18:45 Jan Decker (UX Design Lead) - Design System jako základ spolupráce s vývojem
19:00 Martin Holodniok (Android Developer) a Michal Klement (iOS Developer) - Design systém v Kotlin Multiplatform Mobile
19:30 Networking a neformální prohlídka kanceláří Livesportu