Lives In the Balance 5th Annual International Summit on Non-punitive, Non-adversarial Interventions for At-Risk-Kids

Friday, October 16, 2015 from 8:00 AM to 4:00 PM (EDT)
Event Details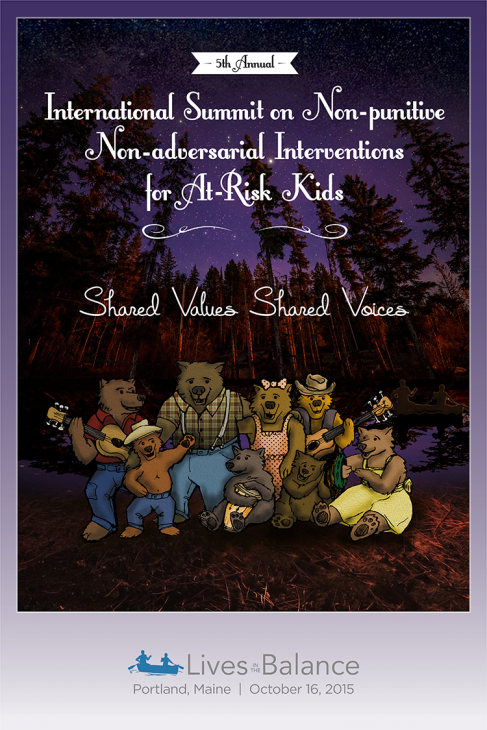 Lives in the Balance 5th Annual International Summit 
on Non-Punitive, Non-Adversarial Interventions for At-Risk Kids
Friday, October 16, 2015
Holiday Inn by the Bay, Portland, Maine
The 2015 Summit features keynote addresses by Alfie Kohn and Dr. Joan Durrant.
Morning Keynote:  Digging Deeper: Challenging Our Assumptions About Motivation, Intervention, and Kids
Alfie Kohn is the author of 14 books on education, parenting, and human behavior, including Punished By Rewards (1993), Beyond Discipline: From Compliance to Community (1996), and Schooling Beyond Measure (2015).
Afternoon Keynote: To Dream the Possible Dream: Envisioning a Society that Respects Children
Dr. Joan Durrant is on the faculty at the University of Manitoba, the principal researcher and co-author of the Canadian Joint Statement on Physical Punishment of Children and Youth, and co-editor of Eliminating Corporal Punishment: The Way Forward to Constructive Discipline.
As always, there is a vast array of breakout sessions on various non-punitive, non-adversarial interventions. You'll let us know which morning and afternoon breakout sessions you'd like to attend when you register (fair warning: you're going to have a hard time choosing). Many (though not all) of the morning breakout sessions are introductory; many (though not all) of the afternoon breakout sessions are more advanced.  Breakout session titles, speakers, and descriptions are as follows: 
Morning Breakout Sessions:
Continuing the Conversation: Moving Beyond Non-Punitive Strategies
Alfie Kohn, Morning Keynote Speaker
Join our keynote speaker for a more extended discussion of praise, curriculum, unconditional relationships, and other topics introduced in the morning keynote.
Intro to Collaborative & Proactive Solutions (CPS)
Ross Greene, Ph.D., Founding Director, Lives in the Balance 
For those new to Dr. Greene's empirically-supported CPS model -- as described in The Explosive Child and Lost at School -- this is the perfect introduction to the basic themes, the Assessment of Lagging Skills and Unsolved Problems (ALSUP), and the three Plans (one in particular). (There's an advanced session on CPS in the afternoon.)
Tuning Into Kids: Emotion Coaching
Julie Dunsmore, Ph.D., Associate Professor, Department of Psychology, Virginia Tech
Tuning in to Kids, an empirically-supported parent training program developed by Dr. Sophie Havighurst and Ann Harley in Melbourne, Australia, will be described, along with its key component -- emotion coaching -- which is a style of parenting in which parents are aware of and validate children's experience of emotions and actively teach children how to express and deal with their emotions in a socially appropriate way.  When parents engage in emotion coaching, children show better response to treatment for behavior problems.  Evidence for the effectiveness of emotion coaching in reducing behavior problems will be presented, and ways to combine emotion coaching with behavioral approaches will be illustrated.
Positive Discipline in Everyday Parenting
Joan Durrant, Ph.D., Professor, University of Manitoba, and Afternoon Keynote Speaker
This session will provide an overview of a parenting program that helps parents replace punishment with problem solving.  Created in Canada, this program is now implemented in more than 30 countries around the world.
Conscious Discipline I: Self-Regulation, A Skill Worth Teaching
Amy Speidel, Loving Guidance Associate, Conscious Discipline
Participants will learn ways to help children achieve balanced regulation by first building connective pathways that jumpstart the brain for maximum learning. When we know how to better manage ourselves during conflict, we are able give children the tools needed to solve problems and stay in the social game.
The 4Rs: Fostering Social & Emotional Learning in the Classroom Through Evidence-Based Curriculum
Tala Manassah, Deputy Executive Director, Morningside School for Teaching Social Responsibility
Participants will learn about the 4Rs (Reading, Writing, Respect & Resolution) program of the Morningside Center for Teaching Social Responsibility. The 4Rs Program integrates social and emotional learning (SEL) and the language arts for pre-kindergarten to middle school, and builds on an engaging, interactive curriculum that uses great children's literature as springboard. By highlighting universal themes of conflict, feelings, relationships, and community, the 4Rs curriculum adds meaning and depth to literacy instruction.
Positive Discipline and SEL: What To Do Instead of Punishment
Tonje Molyneux, Senior Program Developer, Second Step
Participants will understand the negative outcomes research has linked to harsh, punitive, exclusionary discipline practices and will be introduced to positive discipline practices -- including Restorative Justice, trauma-­sensitive practices, and School-wide Positive Behavior Interventions and Supports (SWPBIS) -- that schools can employ instead.
The Sanctuary Model of Care: A Trauma-informed Organizational Culture Change Model
Joseph Benamati, M.D., Senior Faculty, The Sanctuary Institute
The Sanctuary Model is a blueprint for clinical and organizational change which, at its core, promotes safety and recovery from adversity through the active creation of a trauma-informed community. This workshop will cover the 4 Pillars of the Sanctuary Model of care and how trauma impacts the individual.
Engaging Youth to Disrupt the School-To-Prison Pipeline
Honorable Jay Blitzman, JD, First Justice, Middlesex (Massachusetts) Division of Juvenile Courts
We are witnessing the unintended consequences of practices that threaten to criminalize normative adolescent behavior, including increased referrals of youth from schools into the justice system. These retributive practices exacerbate dramatic racial and ethnic disparities in our juvenile justice and child welfare systems. This session describes the Massachusetts Middlesex County Juvenile Diversion Restorative Justice program, now rolled out across the state's largest county, and explores strength-based models of engaging youth that can change school culture and affect the school-to-prison pipeline.
 
Afternoon Breakout Sessions:
Advocating on Behalf of Behaviorally Challenging Kids and Their Caregivers
Ross Greene, Ph.D., Founding Director, Lives in the Balance 
Lives in the Balance is gearing up its advocacy efforts ~ including the launch of the Kids Advocacy Action Network (KAAN) ~ and you're invited to help us organize the effort and get involved.
Collaborative & Proactive Solutions II: Recent Advances and Revisions in the CPS Model
Kim Doheny, R.N., and Kim Hopkins-Betts, LICSW, Lives in the Balance trainers
There have been a lot of updates to the CPS model over the past five years or so, and a lot of new research findings as well. You'll get caught up on all the revisions and the most current data in this breakout group. (There's an Intro to CPS breakout session in the morning.)
Tuning in to Kids II
Julie C. Dunsmore, Ph.D.
This is an advanced session on Tuning in to Kids, a parent training program developed by Dr. Sophie Havighurst and Ann Harley in Melbourne, Australia (there's an Intro session in Tuning in to Kids in the morning).
Conscious Discipline II: Five Steps to Managing Emotional Mayhem
Amy Speidel
If you're looking for a more advanced discussion of Conscious Discipline, this is it!  (There's an introductory session on Conscious Discipline in the morning.)
Second Step II: Helping Positive Discipline Work Better with Second Step Skills
Tonje Molyneux
Participants will understand how Second Step program skills and concepts align with positive discipline practices and recognize how social-emotional skills like those taught in the Second Step program can help make positive discipline practices more effective. (There's an introductory session on Second Step in the morning.)
Positive Discipline in Everyday Teaching
Joan Durrant, Ph.D.
Participants will be introduced to a program that helps teachers understand the underlying causes of conflict with students, and to shift their responses from punishment to problem solving. (There's a session for parents on positive discipline in the morning.)
Sanctuary Model II: Even Wicked Good Treatments Will Fail if the Organization has PTSD
Joseph Benamati, M.D.
This workshop will cover the impact of trauma or recurrent stress on those that work within pressured organizations. Traumatized students, stressed staff, and pressured schools are the perfect storm and can destroy the academic environment. (There's an introductory session on the Santuary Model in the morning.)
How to Create a Trauma-Informed Classroom
Barrett Wilkinson, MPP, Portland Defending Childhood
This session will explore Portland Defending Childhood's model for creating a trauma-informed classroom, including training for educators on trauma, trauma symptoms and compassion fatigue while also implementing universal social-emotional education curriculum. Participants will leave with ideas and resources on how to tailor this model to their own school communities.  
FAQs
May I sign up more than one guest? 
Lives in the Balance asks that each participant sign up individually through Eventbrite (please contact Summit@livesinthebalance.org if you have questions).
Will lunch be provided?
Yes, lunch is included in the registration fee of $99.00.
How may I order an invoice or purchase order? 
You may request an invoice or purchase order during the registration payment step.   
Is my registration/ticket transferrable?
Your registration is transferrable. Please send changes to Summit@livesinthebalance.org by November 1st in order for the correct participant's name to be reflected on the guest list. 
What are my parking options at the conference?
Parking is available onsite at Holiday Inn by the Bay (88 Spring Street). Carpooling is encouraged.  Other parking garages are located near the hotel, however, capacity is unknown on the day of the Summit.
Where can I stay if I need overnight accommodations?
Holiday Inn by the Bay, 88 Spring Street, Portland, Maine, is the host hotel and has overnight rooms for a dicounted rate of $130. Located 15 miles from the Portland International Jetport, the hotel provides airport shuttle service (www.innbythebay.com). Please contact Sally Page, Director of Sales @ 207-775-2311x2141. 
Who will be the conference audience?
Professionals who work with children and families, including physicians, nurses, social workers, mental health counselors, parents, psychologists, educators, businesses, human resources, medical and juvenile justice professionals.
Will Continuing Education Units be provided? 
This conference meets the requirements for approval of 6 CEU credits for social workers, mental health counselors and psychologists.

 
How will I know which two breakout sessions I will be attending? Your name tag will have the titles of your breakout sessions the day of the Summit.
How can I receive Summit handouts? Lives in the Balance is going as green as possible this year. Materials for all sessions will be available online for printing or (preferably) downloading prior to the Summit.
Where can I contact the organizer with any questions? 
You may contact Lives in the Balance at Summit@livesinthebalance.org. 
Have questions about Lives In the Balance 5th Annual International Summit on Non-punitive, Non-adversarial Interventions for At-Risk-Kids?
Contact Lives in the Balance
When & Where

Holiday Inn by the Bay
88 Spring Street
Portland, ME 04101


Friday, October 16, 2015 from 8:00 AM to 4:00 PM (EDT)
Add to my calendar
Organizer
Lives in the Balance
Lives in the Balance is the non-profit organization founded by child psychologist Dr. Ross Greene, originator of the empirically supported Collaborative & Proactive Solutions (CPS) approach.  Our vision is to foster collaboration and empathy, transform lives, and inspire change for all children (especially the most vulnerable), to heighten awareness of the detrimental and counterproductive effects of punitive interventions, and to address the systemic issues that impede our progress. The mission of Lives in the Balance is to provide vital, accessible resources and programs to caregivers of behaviorally challenging kids; to bring the plight of these kids into the public consciousness; to address the systemic issues that cause many of these kids to slip through the cracks; and to promote parenting and disciplinary practices that foster the better side of human nature in all children.
Lives In the Balance 5th Annual International Summit on Non-punitive, Non-adversarial Interventions for At-Risk-Kids