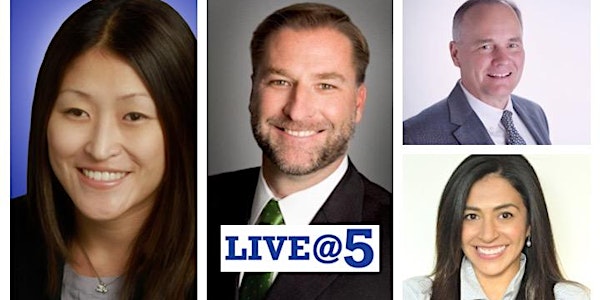 Live@5 ESG & SEC and WHY it Matters to THEE
Live@5's monthly show features leaders in ESG -- Environmental, Social, and (Corporate) Governance -- on how ESG impacts your company
About this event
Join Live@5 on the 3rd Tuesdays each month in 2022! We'll gather online at 5 PM PT with top talent interviewing newsmaking experts. More at peoplemedia.live
You're Invited!
Live@5 will feature a livestreamed roundtable on ESG – Environmental, Social, and (Corporate) Governance – and new SEC rules on how companies manage and report their ESG compliance. Did you know that Dun & Bradstreet now tracks your ESG rating and compares it to an industry standard, right on your D&B listing? The discussion will be led by Jim Tyson, Senior Reporter for CFO Dive, and Laura Moreno Lucas, Partner at LAT VC, a venture capital firm investing in Latino-led businesses. Participants include Brent Baldwin, Senior Counsel, Legal & Regulatory Affairs, Direct Relief, one of the world's largest NGOs , and Paige Kuroyama, a Partner at CNM where she leads its Technical Accounting Group. Paige is considered one of CNM's top experts on ESG. Prior to CNM Paige was a Partner at RSM US LLP.
On its website Nasdaq says, "ESG data has increasingly become an important resource for investors seeking performance indicators, but also for public companies trying to increase operational efficiency, decrease resource dependency, and attract new customers and employees."
ESG is top of mind – or soon will be – with CEOs, CFOs, and CPO/CHROs.Register Here for Live@5 Livestream 5-6 PM Tuesday, July 19, 2022.
FREE to attend.... just register!
Live@5 airs on the third Tuesday of each month from 5-6 PM Pacific Time and can be viewed on YouTube, LinkedIn, Facebook and Twitter. For upcoming show listings and links to past shows please visit www.peoplemedia.live