Live@5's monthly show features the "Voice of Business" in Southern California -- Frank Mottek from KABC!
About this event
Join Live@5 on the 3rd Tuesdays each month in 2022! We'll gather online at 5 PM PT with top talent interviewing newsmaking experts. More at www.peopletalentagency.com
You're Invited!
Our next Live@5 focuses on the top headache for business leaders this winter – attracting and retaining talent.
Elves in the Off Season – An Online Forum on Best Practices for Finding and Retaining Talent in 2022
Live@5 Online on YouTube, Facebook and LinkedIn
Tuesday, January 18, 2022, 5-5:50 Broadcast
Host/ Anchor: Frank Mottek, the "Voice of Business" in Southern California, formerly at KNX News Radio (CBS) now at KABC Radio
Roundtable/ Panel Guests:
Michael Lundberg, Partner, Deloitte
Kathleen Thompson, former Chief People Officer at Limoneira
Jackson Gilliam, Director at Merchant-Edge LLC, Capital Advisory and Merchant Banking Firm
Mike Fitzsimmons, CEO and Co-Founder, Crosschq
Bev Wiesen, Principal, Apex Executive Search
Kathleen Fellows, Attorney, LightGabler HR Law firm
John Lockhart, Chief Marketing Officer, People Talent Agency
FREE to attend. Just register!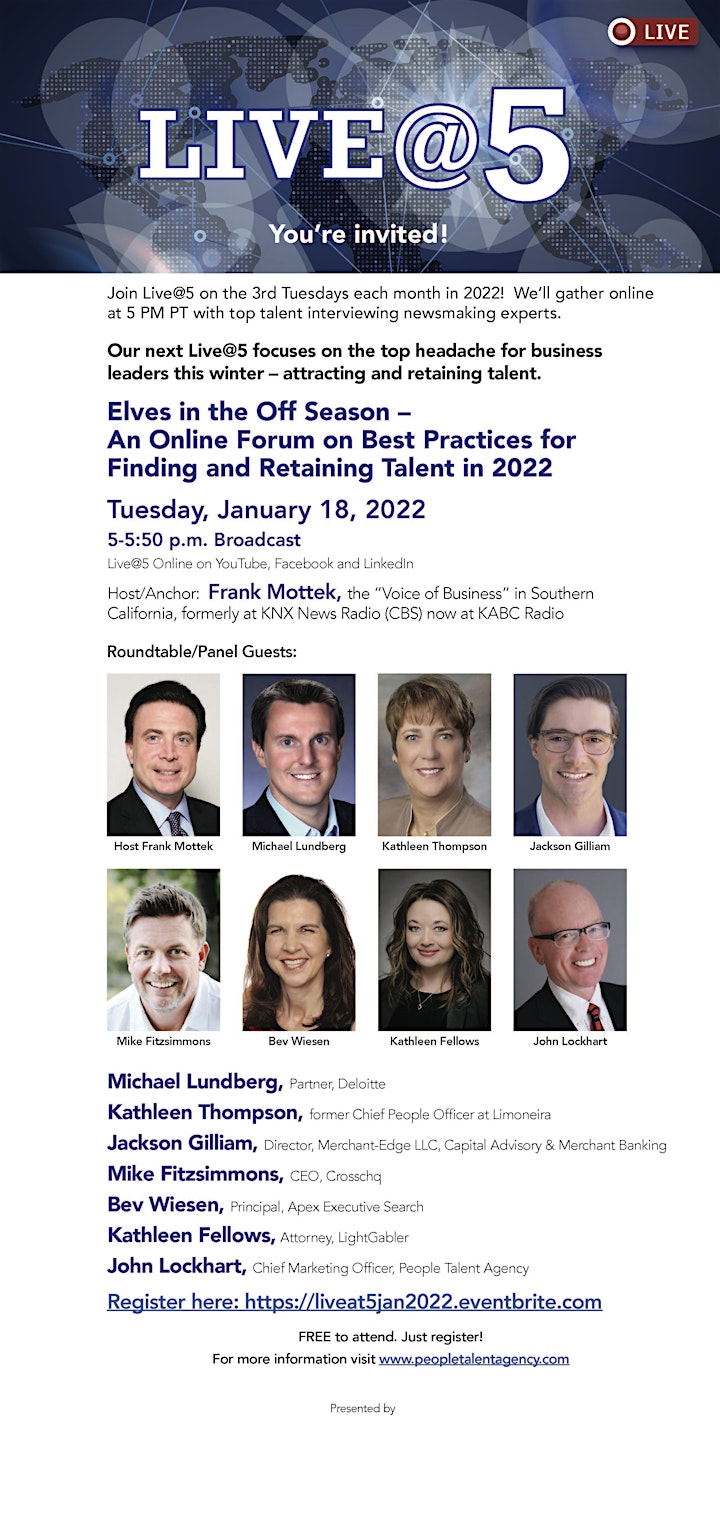 Organizer of Live@5 Elves in Off Season with Frank Mottek
PeopleMedia.Live helps organize and produce events live and on livestream.  Professional gatherings, all hands meetings, concerts and performances are all now avialable on our platform.  Learn more at www.peoplemedia.live