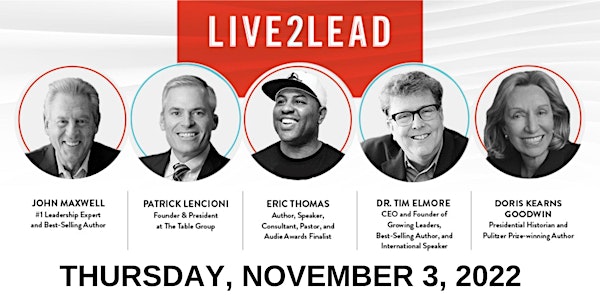 Live2Lead:Dayton 2022
Inspiring and Equipping You to Lead Yourself and Others More Effectively Learn strategies and insights from world-renown leaders.
When and where
Location
Sinclair Community College Conference Center (Building 12) 444 West Third Street Dayton, OH 45402
About this event
LIVE2LEAD:Dayton - Who You Learn From Matters
Join Live2Lead:Dayton 2022 at Sinclair Community College to hear from world-class speakers (by video) and amazing Dayton Area leaders (in person). Spend time during breaks and lunch networking with leaders from all streams of influence in the Dayton Area.
Live2Lead is a leadership event designed to offer individuals and teams who work and lead in corporations, businesses, industry, sports, technology, government, education, non-profits, healthcare, ministries, and churches fresh perspectives and practical tools for personal growth and professional success. Attendees will learn practical and impactful strategies and insights from world-class leadership experts and be prepared to act and implement with renewed passion and energy. If you lead or work with people at any level in any capacity, don't miss this unique opportunity to have your life and organization transformed by the ideas and wisdom of this year's amazing speakers and leaders -- Dr. John C. Maxwell, Patrick Lencioni, Eric Thomas, Dr. Tim Elmore, and Doris Kearns Goodwin. Join over 50,000 people worldwide in over 30 countries!
This year's event also includes breakfast, snacks, networking breaks, and the opportunity to unpack the speaker content with a panel of local Dayton area leaders. Local Leadership Panelists TBD soon. Visit our website for more information: live2leaddayton.com or email info@live2leaddayton.com.
Add a $10 Lunch Ticket to stay and enjoy a delicious catered meal in the Sinclair Atrium to debrief and strategize with your team or to network and make new friends.
Proceeds this year will benefit at-risk youth through Dayton Urban Young Life.
SPONSORSHIPS/PARTNERSHIPS available. Live2Lead:Dayton is proud to promote and grateful for the local businesses and organizations whose generous financial underwriting enables emerging student leaders, active and retired military, and first responders the opportunity to attend Live2Lead at a substantial discounted $40 ticket and creates an affordable leadership experience for ALL by reducing the General Admission ticket price from $99 to $69 each. Call Cristy at 937-974-5117 to sposor and support leadership development in the Dayton Area.
• Contact our Team for more information at info@live2leaddayton.com
• "Like" LIVE2LEADdayton on Facebook to stay connected and informed.
LEARN FROM WORLD-CLASS SPEAKERS, LEADERS, AUTHORS
PATRICK LENCIONI, is founder and president of The Table Group, a firm dedicated to protecting human dignity in the world of work, personal development, and faith. For the past twenty-five years, Pat and his team have been providing organizations with ideas, products, and services that improve teamwork, clarity, and employee engagement. He is also the co-founder of the Amazing Parish organization. Pat is the author of twelve best-selling books with over seven million copies sold and he is the host of three podcasts, At the Table with Patrick Lencioni, The Working Genius Podcast, and The Simple Reminder.
ERIC THOMAS, Ph.D., is a critically acclaimed author, World-renowned speaker, educator, pastor, and audible.com Audie Awards Finalist. ET, as he is better known, has taken the world by storm, with his creative, common-sense approach to living a successful, satisfying professional and personal life. Through a significant social media presence and regular domestic and international tours, "ET, The Hip Hop Preacher" has become a global phenomenon!
DR. TIM ELMORE'S passion for leader development began in 1983 when he worked alongside and was mentored by best-selling author, Dr. John C. Maxwell. Since then, he's emerged as an author, leadership expert, and keynote speaker who's trained more than 500,000 leaders in hundreds of organizations worldwide. He's also the Founder and CEO of Growing Leaders, a non-profit team that equips students & young professionals around the world to become life-giving leaders. has a
DORIS KEARNS GOODWIN is a world-renowned presidential historian, public speaker and Pulitzer Prize-winning, New York Times #1 best-selling author. Her seventh book, Leadership in Turbulent Times, was published in September 2018 to critical acclaim and became an instant New York Times bestseller. Goodwin's career as a presidential historian and author was inspired when as a 24-year-old graduate student at Harvard she was selected to join the White House Fellows, one of America's most prestigious programs for leadership and public service.
DR. JOHN C. MAXWELL, the #1 New York Times bestselling author, coach, and speaker who has sold more than 26 million books, was identified as the #1 leader in business by the American Management Association® and the world's most influential leadership expert by Business Insider and Inc. magazines in 2014. In that year, John also received the Mother Teresa Prize for Global Peace and Leadership from the Luminary Leadership Network. His organizations — John's Maxwell Leadership Enterprises, including EQUIP —have trained more than 6 million leaders in every nation.
THURSDAY, NOVEMBER 3, 2022 (Sinclair Conference Center Building 12)
7:30am - 8:15am Doors Open, Registration, Coffee/Breakfast, Networking
8:15am-10:15am Welcome & Live2Lead Speakers (via video)
10:15am-10:45am Break - Snacks & Networking
10:45am - 12:45pm Live2Lead Speakers (via video)& Local Leadership Panel (ln person)
12:45pm - 2:00pm Lunch & Networking in the Sinclair Atrium
$69 GENERAL ADMISSION TICKET and $40 MILITARY, FIRST RESPONDER, AND STUDENT TICKETS include free parking in the Sinclair Parking Garage, light breakfast, all Live2Lead world-class speaker sessions, mid-morning snacks, networking, and panel discussion with Dayton Area leaders.
The additional $10 LUNCH TICKET is for a delicious catered meal in the Sinclair Atrium. Debrief and strategize with your team or network and make new friends.
*FREE PARKING in the Sinclair Parking Garage