About this Event
DEVELOPING LEGACY LEADERS
WHAT IS LIVE2LEAD?
Live2Lead is a leadership and personal growth event developed by The John Maxwell Company and hosted LIVE in Atlanta each year. For almost a decade, this incredible annual gathering has delivered leadership and personal growth principles to a live audience in over 400 simulcast locations around the world. Live2Lead is designed to meet the needs of organizations, entrepreneurs, and individuals, wherever they are in their life. Each year the popular request from the thousands of leaders who share in the Live2Lead simulcast experience has been "More people need to experience this. Please bring more Encore Presentations to other cities." ProThink International is doing just that on november 15th.
Who Should Attend?
If you want to be equipped and empowered to learn, grow, and achieve success in your personal and professional life; to be confident that you are walking in your purpose; to be assured that you are being the servant leader you are called to be; if you are a CEO, Entrepreneur, Parent, Pastor, Ministry Leader, or have responsibility for anyone, then this event is for you.
Why Should You Attend?
This is your once-a-year opportunity to be greatly inspired and learn success secrets directly from the world-renowned masters at minimal cost. You will also learn how to immediately apply these principles within your company, within your church, and within your other non-profit organization. You CANNOT AFFORD to miss this incredible experience and be left with regret at the end of the day.
Other Rewards If You Attend
You will get to network with other local leaders, meet other like-minded thinkers, renew old acquaintances going in the same direction, share wins for common challenges, team up to positively impact your own community, and have access to powerful leadership as well as growth tools and resources.
Why Should You Sponsor?
As a leader you can set ambitious goals but you can only achieve those goals if you invest in your people and help them to succeed personally and professionally. When YOUR PEOPLE are succeeding, the ORGANIZATION is succeeding, and YOU are definitely succeeding as a leader. Sponsoring this particular event is an excellent Investment not just for yourself but for Developing Legacy Leaders around you.
To purchase a GROUP TABLE, or to be a SPONSOR, email gooden.ella@gmail.com
Your ticket includes Refreshments & Lunch. Tickets are non-refundable, but transferable.
Giving HOLIDAY GIFTS this year? Give LIVE2LEAD Tickets to:
Your TEAM, your CLIENTS, your FAMILY, your FRIENDS, your NEIGHBORS, your kids' TEACHERS, your BANKER, to VETERANS, and YES! to the down-n-out HOMELESS!
CHANGE a life this year. Plant a seed TODAY and it will bloom for a LIFETIME! They will love you for it... AND…You'll be glad you did!!
ADDING MORE VALUE TO YOU
The first 25 Ticket Holders who opt in to the new online course taught by John Maxwell himself, will be given the course book free. This online course How Successful People Think will include on-demand, lifetime access to all the course content! You do NOT want to miss out on this special offer. This course goes back to the retail price soon.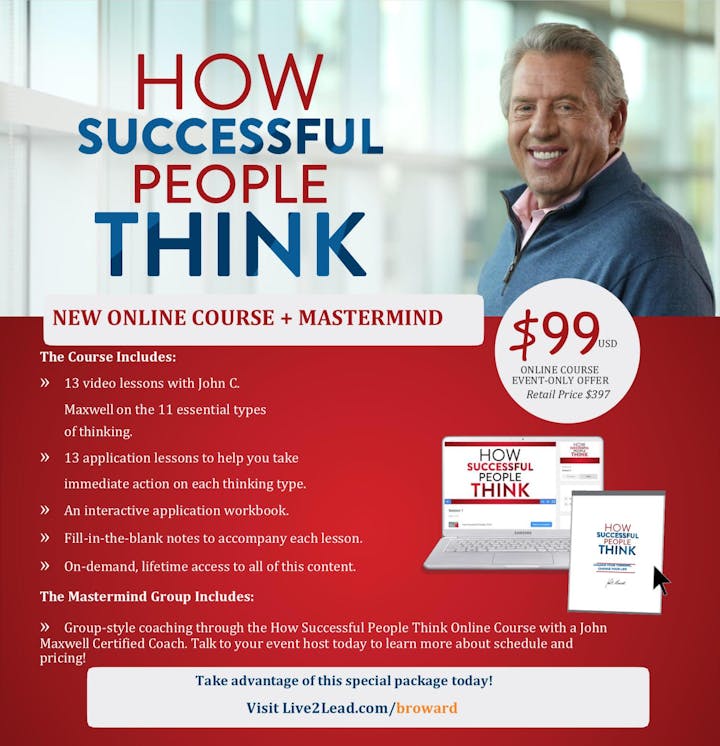 We take your Growth & Development seriously. At the end of this LIVE2LEAD event you can apply for General CEUs. You can also apply for SHRM's PDCs that will count toward re-certification if you are holding a SHRM-CP or SHRM-SCP credential.
Start 2020 with a BANG!