World-class Speakers. Meaningful Connections. A one-day event for you to invest in your leadership and your personal growth.
About this event
Our speakers
John C. Maxwell: the #1 Leadership Expert and Bestselling Author
Jamie Kern Lima: New York Times Bestselling Author and Founder of IT Cosmetics
Valorie Burton: Certified Personal and Executive Coach and Bestselling Author
Jeff Henderson: Author, Entrepreneur, Communicator, and Business Leader
Ed Mylett: Bestselling Author and Host of the top-rated Max Out Your Life Podcast
Our Fifth Annual Live2Lead South Florida at the Global Event Center is on Friday, October 29, 2021.
Doors open at 7:30 am for registration and check-in.
We have a fantastic, interactive experience prepared for you.
Our event is a rebroadcast that allows us to enjoy each speaker's content, pause and discuss what we learn with our teams, and hear the best ideas from everyone in the room. We experimented with this format last year, and the response was overwhelmingly positive. Everyone requested we do it again this year. We listened to you.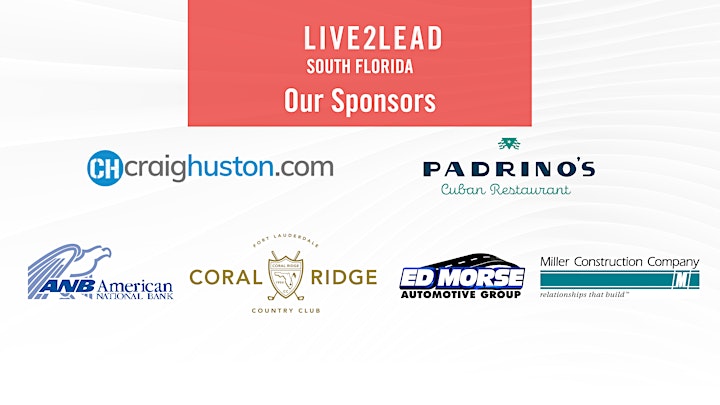 Live2Lead is an annual leadership and personal growth event for intentional, active leaders and team members at all levels. Live2Lead is developed and produced by The John Maxwell Company, and our local program is curated for our community by your host, Craig Huston. Craig is an Executive Coach and an Executive Director with the John Maxwell Team.
You and your guests will learn from renowned leadership experts from various industries, gain new perspectives on relevant topics, interact with local leaders, and walk away with practical tools you can apply right away. We hope you'll join us on this incredible leadership journey.
Organizer of Live2Lead South Florida
As a John Maxwell Certified Coach, Speaker and Trainer, I offer one-on-one coaching, group and team coaching, keynote speaking, seminars and workshops focused on your personal and professional growth through study and practical application of John's proven leadership methods. Working together, we'll move you and/or your team or organization in the desired direction to reach your goals.
Over the past 30 years, I have had the privilege of coaching, mentoring and training over 10,000 indivuals throughout the U.S., Europe and Asia. I look forward to working with you.