Sales Have Ended
Ticket sales have ended
Thank you for attempting to register for LIVE2LEAD Richmond. If you are still interested in obtaining a ticket, please email Ditu Kasuyi at L2LLeadershipInstitute@gmail.com
Sales Have Ended
Ticket sales have ended
Thank you for attempting to register for LIVE2LEAD Richmond. If you are still interested in obtaining a ticket, please email Ditu Kasuyi at L2LLeadershipInstitute@gmail.com
The 5th Annual LIVE2LEAD-Richmond is a leader development experience to equip you with new perspectives, practical tools and key takeaways.
About this event
LIVE2LEAD-Richmond is a leadership, and personal growth event that will allow you to breathe new life ?into your leadership during this information-packed full-day event.
What is LIVE2LEAD-Richmond
LIVE2LEAD is a full-day leadership and personal growth event hosted in Richmond, Virginia. This event is an annual leadership gathering designed by the John Maxwell Company, presented by L2L Leadership Group. For half a decade, Live2Lead has shared leadership and personal growth principles to a live audience and over 300 simulcast locations around the world. This is the 5th annual LIVE2LEAD-Richmond. The event takes place each year on the top floor of the Federal Reserve Bank of Richmond with a beautiful view of the city and the James River.
Program Agenda:
Economic Forecast Breakfast
General Sessions with National Simulcast Speakers
LIVE2LEAD Leadership Award Luncheon
Executive Leadership Panel
Dessert Networking Reception
Youth Learn2Lead Program - An all day separate track young adult students.
Attendees learn from renowned leadership experts from a variety of industries, gain new perspectives on relevant topics, and get practical tools to take home with them.
We guarantee you will leave equipped and excited to lead and create change with renewed passion and drive.
AT LIVE2LEAD-Richmond YOU WILL...
Learn from World Class and successful local Leaders.
Learn from elite thinkers and the #1 leadership expert in the world, John C. Maxwell. Gain leadership principles and personal growth techniques from world-renowned experts and their time-tested teaching.
Past speakers include: Carly Fiorina, Daniel Pink, Tyler Perry, Debra Searle, Julian Treasure, Dan Cathy, Lis Wiseman, Simon Sinek, Cheryl Bachelder, Dave Ramsey, Warrick Dunn, Patrick Lencion, Kevin Turner, and Valerie Burton.
2019 Legacy of Leadership Honorees
Ed Baine, Senior Vice President, Dominion Energy
Christy Coleman, CEO, American Civil War Museum
Mary Kay Huss, CEO, Richmond Metropolitan Habitat for Humanity
Rita McClenny, CEO, Virginia Tourism Corporation
Jacquelyn Stone, Partner, McGuire Woods
Bruce Whitehurst, CEO, Virginia Bankers Association
Economic Update Breakfast Speaker:
Leonard Sledge is director of its Department of Economic Development.Sledge is responsible for bringing new businesses to the city, retaining existing companies and employers, and promoting growth of small businesses. Sledge holds undergraduate degrees from Morehouse College and Georgia Tech. He also holds an MBA from the University of Phoenix. He will provide an over economic update for the City of Richmond, specifically addressing the Navy Hill Project.
Luncheon Keynote Speaker:
Gail Letts most recently was Virginia market president for Capital Bank, a unit of Memphis-based First Horizon National Corp. She was president of the Richmond region and chief lending officer at C&F Bank from 2013 to 2015. And she was a longtime executive of Atlanta-based SunTrust Banks Inc. and served as president and CEO of its Richmond region from 2007 to 2013. Letts recently started Letts Consult LLC, a consulting business that specializes in working with businesses to attract, retain and develop women for executive leadership positions.
Jonathan Zur, will take his seat again this year as the moderator of the leadership panel discussion. This year's topic is, "Lessons from the C-Suite". Zur is the CEO of Virginia Center of Inclusive Communities.
Breakout Session Speaker:
Wade Randolph, CEO of Randolph Unlimited, specializes in leadership, teamwork, communication, and motivation. He is author of the book Staying Strong Through The Storms and Leadership -911: How To Lead During Times of Change, Challenge And Chaos. Additionally, He is co-author of a #1 bestselling book on Amazon.com titled World Class Speaking in Action.
Simulcast Speakers:
Angela Ahrendts was the senior vice president of retail at Apple Inc. and former CEO of Burberry. Ahrendts was ranked 25th in Forbes' 2015 list of the most powerful women in the world, 9th most powerful woman in the U.K. in the BBC Radio 4 Woman's Hour 100 Power List,and 29th in Fortune's 2014 list of the world's most powerful women in business. She was also a member of the UK's Prime Minister's business advisory council.
Marcus Buckingham started The Marcus Buckingham Company (TMBC) to create management training programs and tools. The company helped him to launch a coordinated series of products in conjunction with the publication of Go Put Your Strengths to Work. Most notable was Trombone Player Wanted, involving a young boy who wants to abandon playing the trombone in favour of the drums (apparently based on Buckingham's own experience in music classes as a boy). Together, the book and the film series became the basis of a TMBC workshop called Simply Strengths.
Chris Hogan is a best-selling author, a personal finance expert, and America's leading voice on retirement, investing, and building wealth. His goal is to help as many people as possible avoid financial traps and set their families up for the future. His book Retire Inspired: It's Not an Age; It's a Financial Number is a number one national best seller, and The Chris Hogan Show has millions of downloads. Chris is also a regular contributor to the EntreLeadership Podcast, a top podcast on business and leadership.
Rachel Hollis is an author, motivational speaker and blogger. Her self-help book Girl, Wash Your Face—since its release in February 2018—has maintained a spot in the top 10 best-selling books in the U.S. for seven months, held the top spot for 12 of those weeks and has sold more than 880,000 total copies in the United States. It was the second-most popular book of 2018 on Amazon.com. The prevailing message of the book is is one largely of female self-reliance, summed up by Hollis as "You, and only you, are ultimately responsible for how happy you are."
John Maxwell is an American author, speaker, and pastor who has written many books, primarily focusing on leadership. Titles include The 21 Irrefutable Laws of Leadership and The 21 Indispensable Qualities of a Leader. His books have sold millions of copies, with some on the New York Times Best Seller List.
Local Leadership Speakers
Reginal Bryant is Senior Vice President and Chief Information Officer for the Federal Reserve Bank of Richmond. He has responsibility for Fifth District information technology and information security efforts. Bryant joined the Federal Reserve in 2007 as an enterprise information security manager and advisor and moved into a number of officer roles, including the Federal Reserve Enterprise Information Security Program executive and group vice president.
Herb Marth is the Chief Lending Officer and Senior Banking Executive of C&F Bank. Marth is the former CEO of CVB, President of Regions Bank, and CEO of Regency Bank. Herb Marth is also the former director on the board of directors for the Virginia Association of Community Banks. He is a graduate of the University if Virginia and obtained his MBA from Columbia University.
Lenora G. Reid is the Acting Chief Administrative Officer. Before being appointed Acting Chief Administrative Officer, Ms. Reid served as the Deputy Chief Administrative Officer of Finance and Administration She is a Certified Public Accountant licensed in the Commonwealth, holds a Bachelor of Business Administration degree in Business Management and in Accounting from the University of the District of Columbia, where she graduated Summa Cum Laude. Ms. Reid holds a Master of Business Administration degree with a concentration in Human Resources from Strayer University.
Impact Your Community
Whether you lead a large organization or want to be a better mentor to those around you, you will gain meaningful and relevant insights so you can return home and work ready to implement your new action plan and lead with renewed passion and commitment.
Make Meaningful Connections
This event is an opportunity for you to network with like-minded leaders who share your passion for leadership and learning. Make new connections or build on the ones you have during this event.
Emerging Leaders Youth Learn2Lead Program
The conference has a specially designed youth track for high school seniors and college students to equip them with tools to successfully navigate the early stages of their leadership journey.
2019 Sponsors & Supporters
Federal Reserve Bank of Richmond, Urban Financial Services Coalition, L2L Leadership Institute, Lee Law Office, AspireOne Realty Group, City of Richmond, Letts Consult, Metro Richmond Habitat for Humanity, and SunTrust Bank
Planning Hosts: Adrienne Whitaker of AD2Consulting and Ditu Kasuyi of Kasuyi & Associates
LIVE2LEAD is a John Maxwell Company brand name. The Richmond event is organized by the L2L Leadership Institute and hosted by Urban Financial Services Coalition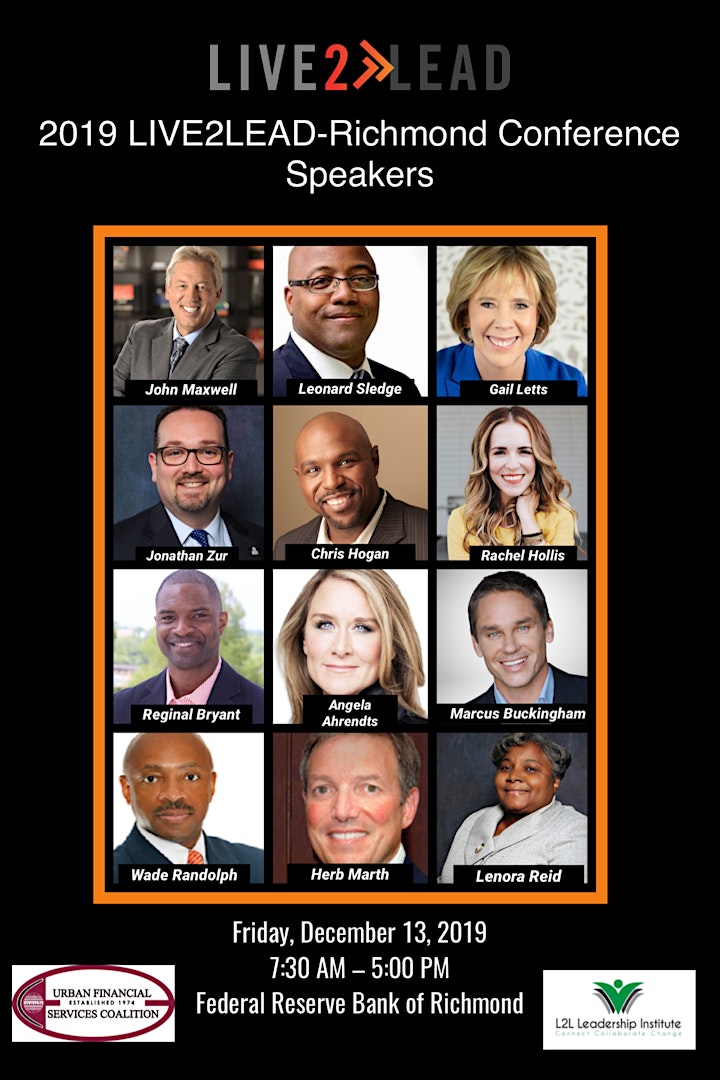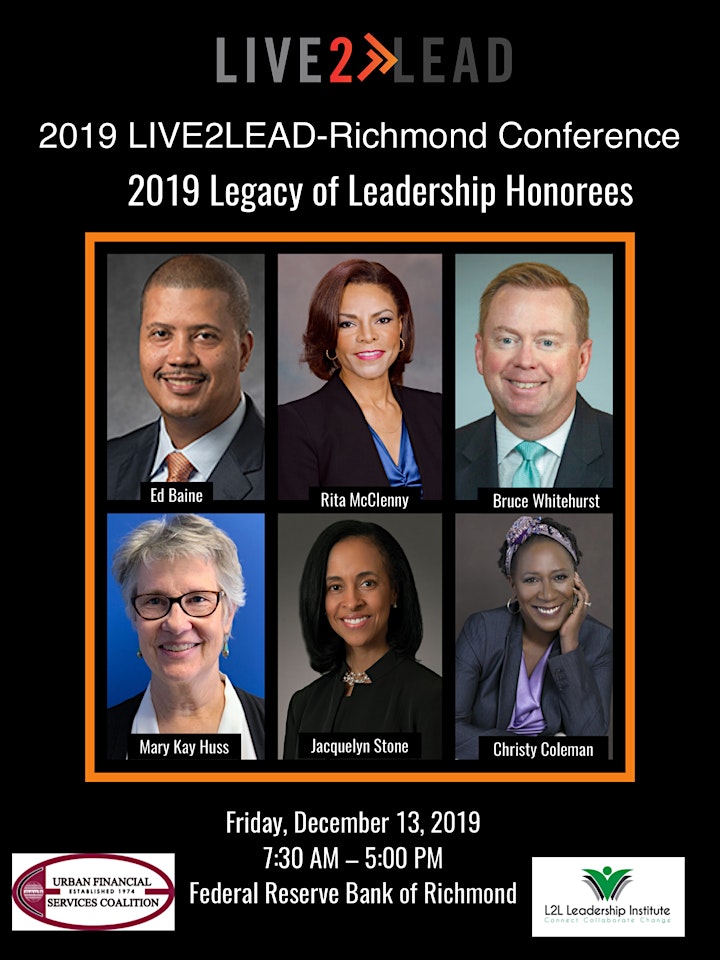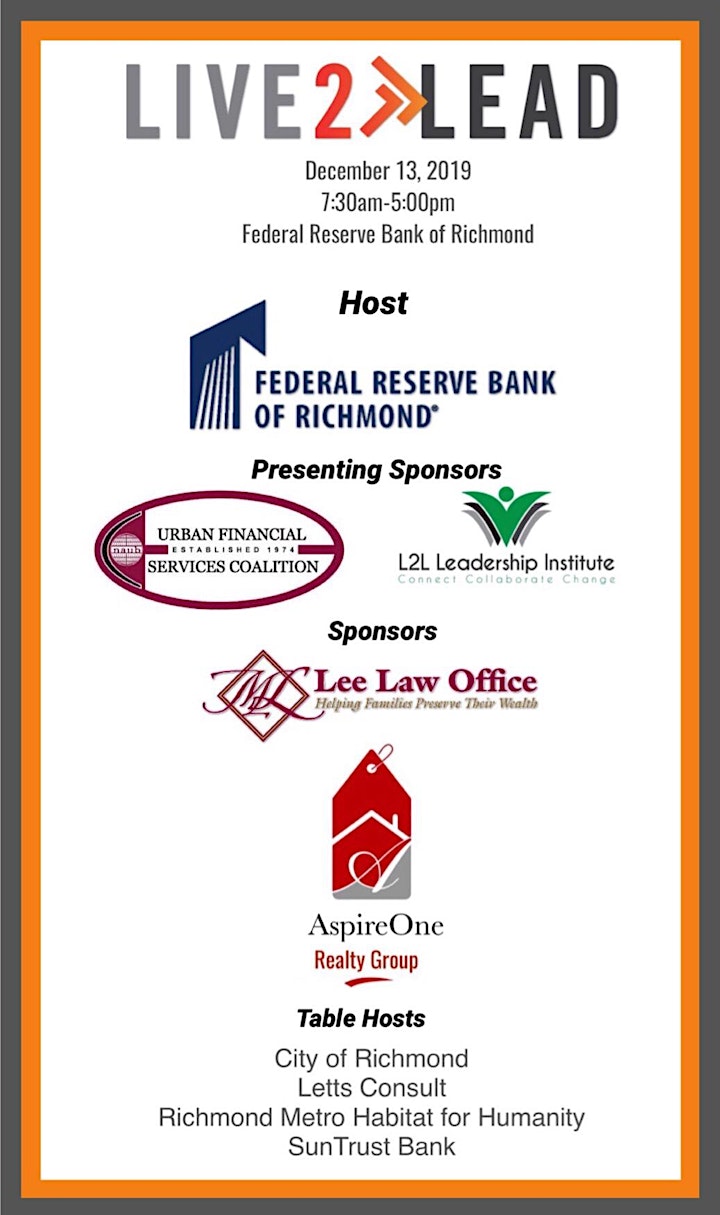 Organizer of LIVE2LEAD- Richmond Conference 2019
Conferences, seminars, webinars, coaching sessions and activities designed to help maximize the leadership potential in organizations and individuals. Certifield Leadership and Sales Coaches with mastery level expertise in the following practices:
John Maxwell
Richardson
Cohen Brown
Cannon
Brooks Group