Sales Have Ended
Ticket sales have ended
Thank you for attempting to register for LIVE2LEAD Richmond. If you are still interested in obtaining a ticket, please email Ditu Kasuyi at L2LLeadershipInstitute@gmail.com
Sales Have Ended
Ticket sales have ended
Thank you for attempting to register for LIVE2LEAD Richmond. If you are still interested in obtaining a ticket, please email Ditu Kasuyi at L2LLeadershipInstitute@gmail.com
Welcome to the most anticipated leadership conference in the RVA region
About this Event
LIVE2LEAD-Richmond is a leadership, and personal growth experience that will allow you to breathe new life into your leadership during this information-packed half-day event.
LIVE2LEAD-Richmond 2020
LIVE2LEAD-Richmond is a half-day leadership and personal growth experience hosted by the L2L Leadership Institute and designed by the John Maxwell Company. The five keynote speakers this year are: John C. Maxwell, Kat Cole, Steve Harvey, Alan Mulally, and Craig Groeschel
What can you expect? Provocative speakers will share leadership and personal growth principles to stimulate positive change. Although our conference will be virtual this year, it will still have many of the interactive components that have made the Richmond, Virginia event sell out every year over the past 5 year.
We will have breakout sessions that allows our participants to interact and learn from each other....and develop meaningful business connections.
Networking has always been the cornerstone of the LIVE2LEAD-Richmond conference and you won't be disappointed this year. Yes, you will have an opportunity to meet other participants through our interactive platform and activities.
Basic Pass for $79—-2020 Speaker lineup and live breakout sessions on event day with certified trainer for a personalized experience.
Leader Pass for $99—- All benefits of the Basic Pass AND
Virtual Event + On-Demand Pass to Access at convenience for 5 days to watch and rewatch at your convenience.
Get full virtual access to the run-of-show & enjoy amazing talks leading into the big day
Watch & rewatch on your own schedule
Enjoy the live event for 6 days of on-demand in brilliant HD
Personal Notes
Take private notes for each lesson
Live Chat
Network with like-minded leaders and make new connections
Leadership Training BONUS
Receive guides to L2L materials and links to official L2L resource
Keynote Speakers:
John C. Maxwell, Best-Selling Author, Coach, and Speaker
Kat Cole, COO and President, FOCUS Brands North America, and Former President of Cinnabon, Inc.
Steve Harvey, Businessman, Comedian, Award- Winning Show Host and Entertainer
Alan Mulally, Former CEO of Boeing and Former CEO & President of Ford Motor Company
Craig Groeschel, Pastor Life Church and New York Times bestselling author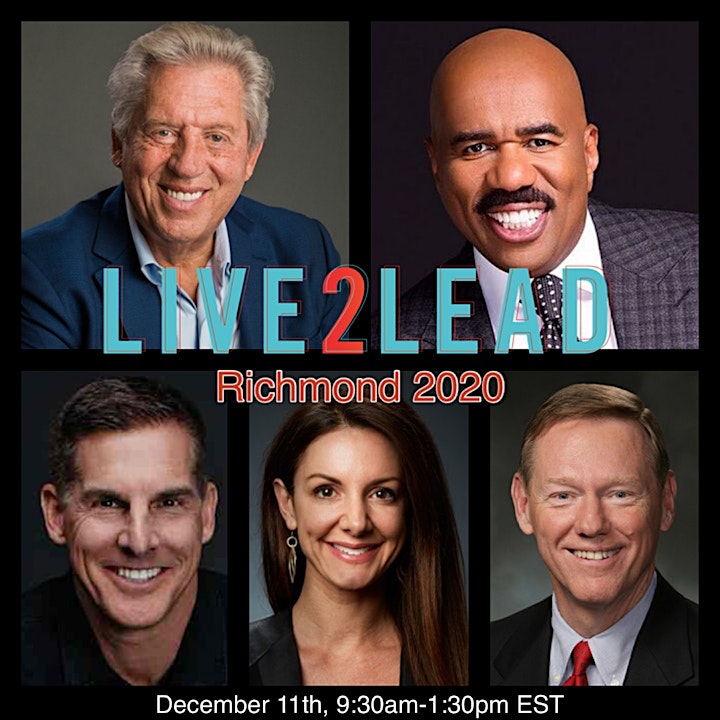 2020 LIVE2LEAD-Richmond Conference
Date and Time: December 11
Time: 9:30am - 1:30pm EST
Location: Virtual
Cost: $79 Basic Pass and $99 Leader Pass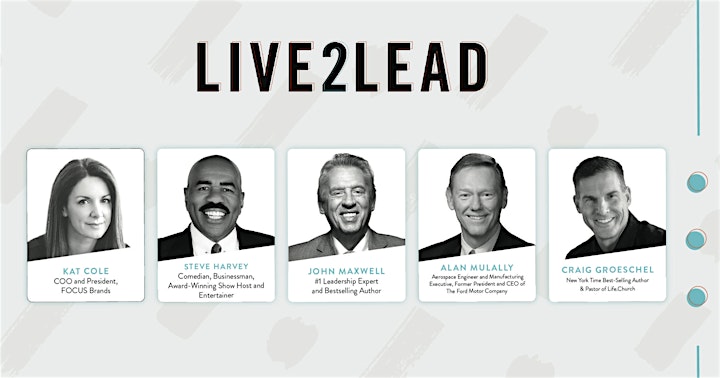 John C. Maxwell
Best-Selling Author, Coach, and Speaker
A #1 New York Times bestselling author, coach, and speaker who has sold more than 30 million books, has been identified as the #1 leader in business by the American Management Association® and the world's most influential leadership expert by Business Insider and Inc. magazine. Dr. Maxwell has also received the Horatio Alger Award, as well as the Mother Teresa Prize for Global Peace and Leadership from the Luminary Leadership Network. His organizations—The John Maxwell Company, The John Maxwell Team, EQUIP, and the John Maxwell Leadership Foundation—have trained millions of leaders from every nation in the world.
Kat Cole
COO of FOCUS Brands North America, Former President of Cinnabon, & Former VP at Hooters
She is the COO of FOCUS Brands North America. Prior to FOCUS Brands, Kat was President of Cinnabon, Inc. and a Vice President at Hooters at age 26, making her one of the youngest executives in chain history. She has been featured in The Wall Street Journal, The New York Times, Forbes, Fortune, Cosmopolitan and many others. She is the top Ranked Female Speaker of all-time within all Speakers Bureaus.
Steve Harvey
Emmy® Award-winning entertainer, New York Times best-selling author, businessman and philanthropist.
He is known as the busiest man in Hollywood. But when he's not entertaining, he's a dedicated mentor and motivator. Mr. Harvey's passion is helping people, which led to the Steve and Marjorie Harvey Foundation, helping underprivileged children receive the tools for success. In 2017, he started Steve Harvey Global, to create entertaining and motivational content, products and experiences for his worldwide audience. In 2019, he launched Vault Empowers, a learning platform for future leaders, entrepreneurs and corporate visionaries. Steve and Marjorie Harvey are devoted to each other and to their children and grandchildren, Mr. Harvey's proudest accomplishment.
Alan Mulally
Former CEO of Boeing Commercial Airlines & Former CEO and President of Ford Motor Company
Served as president and chief executive officer of The Ford Motor Company and as a member of Ford's board of directors from 2006-2014. Mulally led Ford's transformation into one of the world's leading automobile companies and the #1 automobile brand in the United States.Prior to joining Ford, Mulally served The Boeing Company for 37 years as executive vice president, and president and CEO of Boeing Commercial Airplanes and of Boeing Information, Space and Defense Systems. Throughout his career, Mulally has been recognized for his contributions, industry leadership, and service, including being named #3 on FORTUNE's "World's Greatest Leaders", one of "The World's Most Influential People" by TIME magazine and "Chief Executive of the Year" by Chief Executive magazine. Mulally currently serves on the board of directors of Google, Carbon 3D, and the Mayo Clinic.
Craig Groeschel
Craig and Amy Groeschel married in 1991 and have six children and three sons-in-laws.
Craig and Amy started Life.Church in a two-car garage in Edmond, Oklahoma in January 1996. Since then, Life.Church has grown to include dozens of locations all over the United States but its mission statement remains the same: to lead people to become fully devoted followers of Christ.
Craig is a New York Times bestselling author of books on a wide variety of topics, including dating and marriage, social media, purpose, direction, church leadership, and more.
As one of the most respected leaders in the Church, Craig speaks frequently at leadership events and conferences worldwide. Glassdoor has also named him in the top 10 CEOs in the U.S. (small and midsize companies) and named Life.Church the #1 Place to Work under his leadership.
This event is presented by L2L Leadership Institute and hosted by the Richmond Chapter of Urban Financial Services Coalition (UFSC-Richmond)
$20 discount off the 10/9 event price on November 9th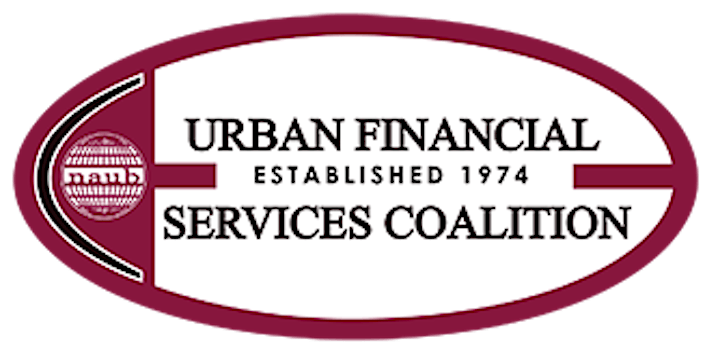 The Richmond Chapter of Urban Financial Services Coalition (UFSC-Richmond) has a three-part mission.
Economic Empowerment:
Improving the financial condition of our ethnically and culturally diverse communities through financial literacy/education programs, home ownership, entrepreneurship, advanced wealth building workshops and local economic development initiatives
Educational Advancement:
Delivering a wide variety of programs to assist minority youth pursuing careers in financial services, such as (1) educational, technical and advisory assistance where needed (2) scholarship programs for undergraduate/graduate studies and (3) mentorship and internship opportunities for college students and newly hired professionals
Professional Development:
Supporting the exchange of experiences, ideas and interests in order to promote career and professional development including a premier job bank of experienced minority professionals and commensurate career opportunities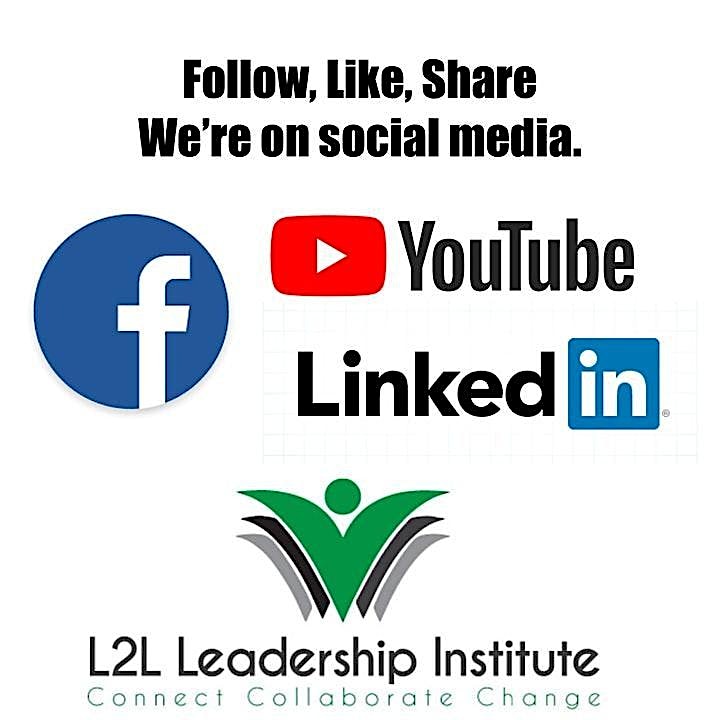 The L2L Leadership Institute promotes development to current and emerging leaders in the private, public and non-profit sectors The Institute is committed to identifying and nurturing the next generation of diverse leaders through leadership training and personal growth by offering programs for leadership development, leadership coaching, wellness initiatives, group facilitation, and talent development. Our team of leadership practitioners are change agents who also specialize in diversity and inclusion.
Our executive leadership programs provide one-on-one development coaching, as well as cohort-based learning opportunities. Shorter-format professional workshops provide opportunities to enhance your skills and stay current in your practice, or acquire new skills. We also host special events and programs to create unique opportunities for you to come together with members of our community and learn through shared experiences.
The L2L Leadership Institutes presents the annual LIVE2LEAD - Richmond Conference jointly with Urban Financial Services Coalition. The host location for the annual event is the Federal Reserve Bank of Richmond.
You can follow-us on Facebook, YouTube, and LinkedIn.