Sales Have Ended
Ticket sales have ended
Thank you for choosing to join us at Live2Lead this year. This is going to be an amazing event with other leaders like you!
Sales Have Ended
Ticket sales have ended
Thank you for choosing to join us at Live2Lead this year. This is going to be an amazing event with other leaders like you!
Live2Lead 2021 is a Global Leadership Development Event guaranteed to provide insights to raise your level of leadership!
About this event
Live2Lead is a GLOBAL leadership development experience designed to equip you with new perspectives, practical tools and key takeaways. You'll breathe new life into your leadership during this information-packed event. This will be an experience for growth, connecting with your community and gaining insights that you can apply immediately after the event.
Leadership isn't possible unless we're willing to shift. Shift perspective. Shift mindsets. Shift habits. We have all had to shift and this year, our amazing speakers will focus on how to continue to shift, focus and keep the momentum. Building leaders that don't just react to moments but respond to opportunities.
We have an amazing group of leaders who will be speaking and sharing key insights you can apply immediately! We will be live streaming this event from Atlanta, GA and join audiences from around the world!

What you will gain:
Renewed Energy: Live2Lead is designed to deliver the very best leadership content that inspires and motivates all who attend.
New Relationships: Grow your own leadership as you connect with other influencers in your local community. Expand your network with relationships that produce tangible results.
New Ideas: Live2Lead is a world-class Global leadership experience full of rich content, key takeaways and easy-to-implement action plans.
Live2Lead is a full-day leadership and personal growth event hosted LIVE in Atlanta, GA, on October 8, 2021 – we will live-stream this event in Independence, OH. The event begins at 8:30 am EST and ends at 4 pm EST. This simulcast will be a Hybrid event, we will gather in-person and provide virtual opportunities to participate as well.
IF YOU WANT TO ORDER 10 OR MORE VIRTUAL TICKETS - REACH OUT TO ME DIRECTLY FOR A DISCOUNT - email me at jillwindel@talentspecialists.net
See a quick preview, of last year's event below:
Learn more about the event and why NOACC is a proud sponsor year over year! Check out the video below:
Following the live-stream simulcast, we will facilitate activities designed to help you:
• Understand your leadership values
• Learn more about your own leadership style
• Share insights and ideas to put into action
Bring your team to this event to grow the leadership of your organization. Sponsor the event to demonstrate your focus and value in leadership development. There are multiple sponsorship opportunities and I look forward to talking to you more about this.
Want to bring this event to your entire leadership team? Reach out to me directly at jillwindel@talentspecialists.net
Brought to you by: Jill Windelspecht, President of Talent Specialists Consulting - Executive Coach, Leadership Expert, Speaker & Organization Consultant and Member of the John Maxwell Team
Contact Jill: 440-823-153, jillwindel@talentspecialists.net
Web: https://thetalentspecialists.com/
Proudly Sponsored by:
NOACC, Northern Ohio Area Chambers of Commerce
Indiana Wesleyan University
Cleveland Woman's Journal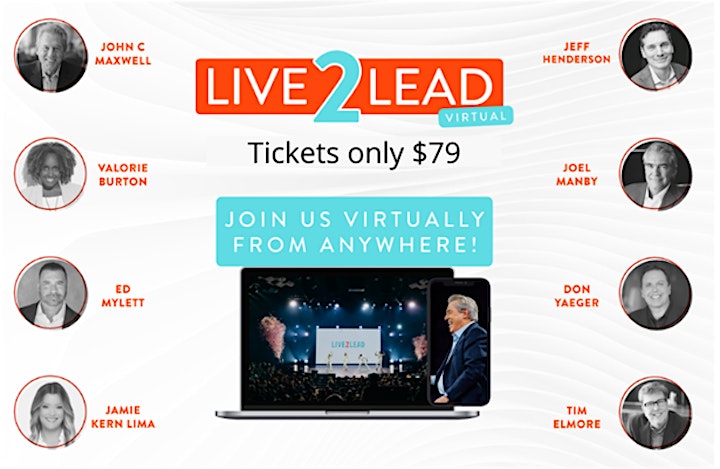 Have you wanted to attend a Live2Lead event, but couldn't work out time off, travel, or you were on a tight budget?
I have exciting news for YOU! This year, we are bringing back the VIRTUAL Live2Lead event! We are bringing this incredible leadership event to wherever you are. Starting at $79, you get 5 (or more!) incredible sessions with world-class leaders, bonus content interviews with Steve Harvey, Warrick Dunn, Angela Ahrendts (just to name a few!) in your library immediately, and so much more!
The world is in need of people to step up, lead the way, and change the world for good. And this is your opportunity to learn how to do just that from incredible, world-class leaders that will equip you with actionable steps to transform your world for good.
Ready for our SECOND big announcement?
When you purchase the Virtual Ticket you have the opportunity to hear from EIGHT speakers! This is the largest line up in Live2Lead history! In the full day pass, you will hear from:
• John C. Maxwell: the #1 Leadership Expert and Bestselling Author
• Jamie Kern Lima: New York Times Bestselling Author and Founder of IT Cosmetics
• Valorie Burton: Certified Personal and Executive Coach and Bestselling Author
• Jeff Henderson: Author, Entrepreneur, Communicator, and Business Leader
• Ed Mylett: Bestselling Author and Host of the top-rated Max Out Your Life Podcast
• Dr. Tim Elmore: CEO and Founder of Growing Leaders, Bestselling Author, and International Speaker
• Joel Manby: Former CEO of 25+ years including Sea World. SAAB, Saturn, and Herschend Enterprises, Author, Expert in Culture Transformation, and Speaker
• Don Yaeger: Award-winning Keynote Speaker, Business Leadership Coach, 11 Time New York Times bestselling Author, and Longtime Associate Editor for Sports Illustrated
Organizer of Live2Lead 2021 - Premier Leadership Event
I have a passion for helping leaders and organizations grow to their full potential - going from success to significance.  I work with mid to senior level executives and business owners to reach their potential and help create organizational climates that lead to lifelong prosperity. I help executives develop their leadership and communication skills so that they can build a strong, cohesive team and break through any barriers holding themselves and their team back....and not have to burn themselves out by doing so!