Learn how to use StreamYard to crush the livestreaming game in 2021!
About this Event
In 2020, the world went virtual and live streaming has quickly taken center stage as an excellent way to promote & sell products, services, and events. The #1 thing I am teaching and coaching my clients on right now is a platform called StreamYard. While the StreamYard platform interface may seem "simple" at first glance, there are some key tricks and hacks that I have learned after using this platform over the last year that I am excited to share with the world in this 2 hour workshop. My intention for 2021 is to help entrepreneurs around the globe LIVE THEIR LIVESTREAM LEGACY IN 2021!
With Streamyard you have the ability to:
Interview guests to keep your audience coming back
Get more views
Connect with your audience
Call your audience to take action
Brand your broadcast
Stream to up to 8 platforms at once seamlessly
Stream to Facebook, Youtube, Twitch, LinkedIn, Periscope
Record Streams for share at later time
Screen share videos and presentations
Engage with your viewers across multiple platforms at once
Download your content for use in podcasts on Instagram TV and more!
If you want to sign-up for StreamYard in advance use this link for a discount - https://streamyard.com?pal=4776506786578432
Watch the Video Invitation here: https://youtu.be/p8zPLL1wxjk
VIRTUAL EVENT TICKET OPTIONS:
~ Eventbrite Love Offering General Admission - $44 ((Virtual Event Entry + Replay Video Access)
~Eventbrite Love Offering VIP Admission - $44 (Virtual Event Entry + Replay Video Access + 1-hour of 1-on-1 Coaching scheduled after the event.)
CONNECT WITH THE MANIFESTATION MEDIA COMMUNITY: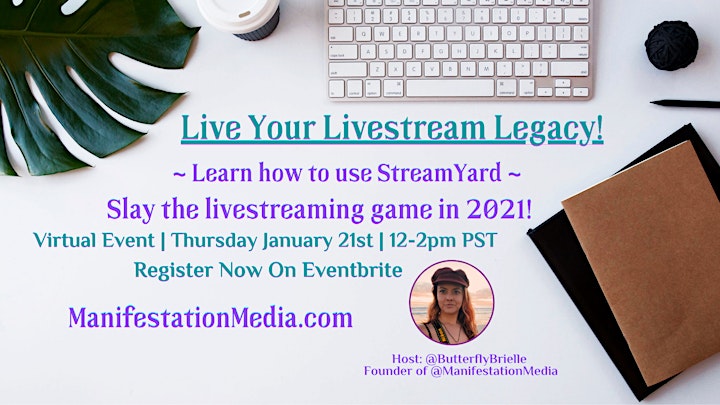 Date and Time
Location
Refund Policy