Live Your Legend Meetup - San Antonio, TX

Monthly Event - First Tuesday of every month: 7:00 PM to 9:00 PM (Azores Standard Time Portugal (Azores) Time)
Event Details
"Never doubt that a small group of thoughtful, committed citizens can change the world; indeed, it's the only thing that ever has."

 

- Margaret Mead
When We Surround Ourselves with Passionate, Inspiring & Inspired People, Everything Becomes Possible...
On January 7th, 2014 things are going to change in a big way.
Over 180 Live Your Legend LOCAL meetups are happening in 44 countires around the world. All on the same day!
The Event Theme Is: "What Are You Doing that Matters - to You & to the World?"
Our Focus Is Pure & Simple: To help us all find and do work that makes us come ALIVE. And provide a support team to hold us accountable to what matters to us in 2014 and beyond!
Imagine for a minute what could be possible if all of us had a group of people, in our hometown (in the real world!) ready to support and encourage our "crazy" ideas to make a difference in the world.
And imagine if that group met at least every month to discuss and build upon their big ideas.
What would that look like?
We're about to find out. And we want you a part of it - so that we can create a global community of inspiring and inspired individuals to make the impossible not only possible, but normal.
All We Ask of You Is this: Show up, be who you are, share what matters to you, be willing to support and encourage others and make some genuine connections that quite possibly might last a lifetime! The rest will take care of itself.
If possible, we ask that each attendee bring along a guest - a friend, spouse, parent, child, colleague. This can be anyone you believe would benefit from our community and add to the fun!
*Important: All Live Your Legend LOCAL Events are non-commercial. 100% of any ticket revenue will be reinvested back into making the event as fun and successful for the group as possible. Any additional ticket revenue will be donated to the LYL partner charity, impossible2Possible, inspiring kids to push their mental and physical limits of what socieity tells them can be done.
We also ask that there's no selling or pitching. Sharing your ideas on business, life and career is strongly encouraged, but direclty pitching your products is not. It's important that we make this as welcoming and as safe a place as possible.
You can download the full list of Host & Attendee Core Values here.
Are You New to Live Your Legend?
If so, welcome to OUR Revolution! To learn more about our dedication to helping the world find and do work they love, please read The 15 Rules of OUR Revolution. We hope you'll agree ;).
We cannot wait for you to join us for Day 1 of what we believe will be a totally new approach to finding and doing work that makes us come alive.
And remember...
Environment. Is. Everything.
And it's 100% in your control. The fastest way to do the things you don't think can be done, is to hang around people already doing them.
That all beings on January 7th in a town near you.
Welcome to the party!
-Scott and the whole LYL LOCAL Event & Host Team
P.S. Got question for your local host? Join the conversation on the LYL LOCAL Facebook group for San Antonio, TX
P.P.S. And in case you really want to get fired up, give a listen to the offical Live Your Legend Pump Up Them Song. It's called "Be The Change." Our favorite line is...



"If you follow your heart and act real bold, next time it'll be your story that's told."
P.P.P.S. And for a taste of the kind of fun we have at our events, here's a snapshot from the last one we held in San Francisco at the gorgeous Samovar Tea Lounge...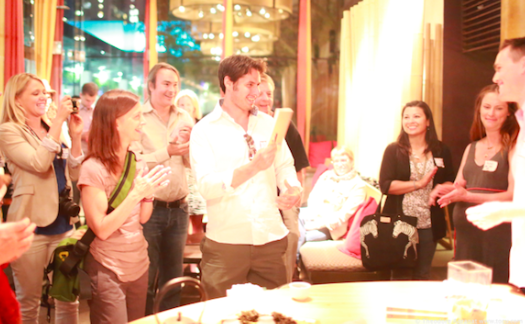 Where

Whole Foods Market - Alamo Quarry
255 E. Basse Rd. Suite 130
San Antonio, TX 78209


Monthly Event - First Tuesday of every month: 7:00 PM to 9:00 PM (Azores Standard Time Portugal (Azores) Time)
Add to my calendar
Organizer
Steve Arensberg
Hi! I'm Steve, a freelance writer and editor who's fascinated by the power of story and its ability to change lives.
I operate C4Wordcraft.com, my writing/editing services business, and FreeofGravity.com, a site about finding your inner hero and using the power of your story to inspire others.
And I'm a husband, dad, scifi/fantasy geek, Tai Chi novice, and the proud owner of Hobbes, the English bulldog.
Live Your Legend Meetup - San Antonio, TX